In the wake of yet another mass shooting at a school, it is sickening how the feelings of fear and helplessness come over us in a familiar way. Every time I read a headline about a shooting, I have the same reaction: my hands go cold, my stomach drops, and I shove the lump in my throat away like I'm dry-swallowing a big pill. 
Portland-based community college instructor Melissa Duclos has had enough with politicians and their lack of action to protect the safety of our country. Duclos published "An Oregon teacher's letter to lawmakers: We don't need your prayers, we need your courage" on Oct. 2, the day after the shooting at Umpqua Community College in Oregon, which took the lives of 10 people and injured seven more. 
Should teachers be allowed to have a gun in class? Two teachers with opposing views weigh in @MelissaDuclos http://t.co/6yLFizVcAy

— Poppy Harlow (@PoppyHarlowCNN) October 4, 2015
"According to my school's Emergency Response Guide, I should attempt to evacuate my students if it is deemed safe to do so… The next option, according to my college, is to lock the door. This unfortunately is not possible, as the door to my classroom can only be locked with a key, a key that I do not have and won't ever be given. Left, then, in my third-floor classroom with its unlocked door, I am instructed to turn off the lights and lower the blinds, to use the tables to build a barricade, and get everyone out of the line of fire. I am further instructed to "arm [myself] with classroom items (e.g., stapler, chair, fire extinguisher) to fight back with in the event that the shooter attempts to enter [my] room."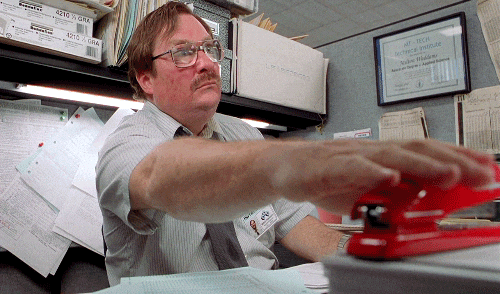 "In the next paragraph, I am told what to do if that shooter does in fact enter our classroom: 'There is no one procedure that can be recommended in this situation,' the manual informs me with grim honesty, before adding, 'if you must fight, fight to win and survive.' Fight to survive. I am a teacher, with a master's degree in creative writing, and this is part of my job."
The letter strikes a chord, with Duclos' description of her 5-year-old son's future filled with drills during school hours to practice safety measures in the case that a shooter steps foot on campus. She also describes the ludicrous safety measures laid out for her as an instructor, where she is to arm herself with classroom supplies and "fight to survive." Obviously, since staplers stand up to guns every time. 
"The next time you have an opportunity to sponsor or vote on common-sense gun legislation, instead of fearing the attack ads the gun lobby will undoubtedly launch against you, the lost campaign revenue, or the threat to your job, I hope that you think of me and my students, of the rest of the educators and students across the country, who have been asked to stand up to gunmen because you are too scared to stand up to a handful of lobbyists."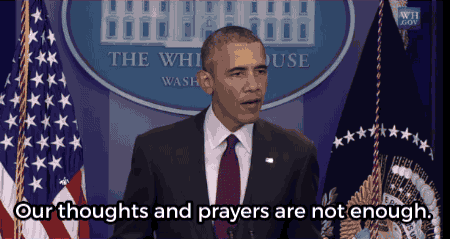 President Obama expressed the same sentiments as Duclos in his speech following the shooting. "Our thoughts and prayers are not enough," he said, urging for cooperation from Congress and local lawmakers to work with him on the issue. Hopefully they listen. Instead of protecting our outdated constitutional right to bear arms, lawmakers should be protecting our right to go to school, places of worship, and even the damn movie theater without the fear of getting shot. Fundamentally, it seems like gun control should be an obvious solution to the mass shootings that occur nearly every day in the United States. 
And unlike Donald Trump's suggestion to put guns in the hands of teachers, Duclos makes the argument that she, and other instructors alike, are not trained to shoot people and that should not be a burden placed on them in the event of a crisis situation. The solution seems pretty clear: keep guns out of public circulation. It is seriously time for the right wing to learn how to interpret the constitution through a historical lens and bring policies up to speed for what we need today – not 200 years ago. 
Unfortunately, politicians are clearly not in the game to keep this country moving forward but are in it not to ruffle the feathers of lobbyists. Like Declos said, it's time for these politicians to just say no to their fears of losing funding, and stand up for the American people. Otherwise the shootings will continue to be routine.
Read Duclos' entire letter originally published in Salon.

Photos via Flickr/begemot_dn, CNN and Flickr/Christopher Dombres.

More from BUST.com: 
Another Mass Shooting Happened – What Now?
Amy Schumer Takes On Gun Violence
School Clerk Amazingly Prevents Mass School Shooting