Monday night, politicians Zoomed in all over the U.S. for the Democratic National Convention; but not one of their speeches could quite hold a candle to Michelle Obama's, whose address harbored the authentic, non-withholding dose of reality we all need right now.
Michelle addressed the American people last night from her living room, a simple "VOTE" necklace donned, making it clear right away that she was not just speaking as the former first lady, but as an American citizen and a mother. "I know a lot of folks are reluctant to tune into a political convention right now," she began. "Believe me, I get that."
"This generation is seeing a nation that is failing not just on matters of policy but also on matters of character." – Michelle Obama. A First Lady like we have never seen. A speech like we have never heard. Truth. Power. A call to action " like our lives depend on it " pic.twitter.com/eJD73zOjzi

— Michelle Norris (@Michelle_norris) August 18, 2020
The speech was a heartfelt appeal to the hearts of the American people, who have been subject to 150,000 deaths and significant economic decline due to the Coronavirus pandemic; police brutality and racist violence that catalyzed protests all over the country; and the intense lack of empathy on part of the Trump administration. However, it was also a call to action: reminding us that our voices matter now more than ever.
"If you take one thing from my words tonight, it is this," she spoke earnestly into the camera. "If you think things cannot possibly get worse, trust me, they can; and they will if we don't make a change in this election."
Michelle pulled no punches in calling out President Donald Trump for coddling white supremacists, refusing to acknowledge the racism in American policing, and the fact that Black Lives Matter as a statement is still met with "derision from the nation's highest office." She went on to say, as blatant as she was sincere: "Donald Trump is the wrong president for our country…It is what it is."
While she acknowledged Biden is not the perfect candidate, she iterated the urgency of the situation. "If we want a chance to pursue any of these goals, any of these most basic requirements for a functioning society, we have to vote for Joe Biden in numbers that cannot be ignored," she said. "We have got to grab our comfortable shoes, put on our masks, pack a brown bag dinner and maybe breakfast too because we've got to be willing to stand in line all night if we have to."
We'll meet you there, Michelle!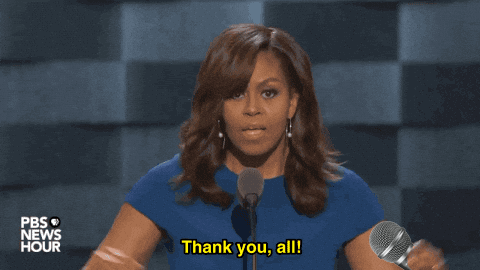 Header screen still from Youtube
More from BUST
Suffragette City: Meet The Young Women Behind The Suffrage Movement In The U.S.
How Racism Split The Suffrage Movement
These Suffragette Cats Are EVERYTHING