Another day in the patriarchy! In an interview with CBS This Morning earlier this week, head of Apple Music Jimmy Iovine discussed how he came up with the idea for the recently aired Apple Music commercial, featuring Kerry Washington, Mary J. Blige, and Taraji P. Henson.
Iovine said that he was inspired to create the commercial because "women find it very difficult at times — some women — to find music." Digging himself into an even deeper hole, he continued: "I just thought of a problem. Girls are sitting around… talking about boys, right? Or complaining about boys. Or they're heartbroken or whatever. They need music for that, and it's hard to find music."
Iovine's comments reveal what is arguably the most maddening shade of sexism: the belittling kind that sounds fair and harmless at first, but that's actually loaded with condescension and patronizing mansplaining.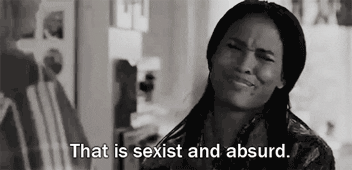 I know I'm not the only millennial woman who has been using Apple's iTunes since the early 2000s. I also know that sometimes (most of the time) I like to have actual conversations with my lady friends about things that don't have penises. So maybe, just maybe, we're capable of both of using the Internet AND talking about more than our love lives. 
Iovine has since apologized for his comments, saying, "We created Apple Music to make finding the right music easier for everyone — men and women, young and old. Our new ad focuses on women, which is why I answered the way I did, but of course the same applies equally for men. I could have chosen my words better, and I apologize." 
If you're a woman, lost and alone in the great depths of music streaming services, might we recommend the BUST music section, which has provided comprehensive music reviews for the last, I don't know, twenty-two years? 
Photos Via YouTube and Giphy
More from BUST 
Grimes' 'Art Angels': Album Review
Missy Elliot Drops First Video In 7 Years – Drop Everything And Watch It Right Now