Like (maybe? hopefully?) many of you, I spent the past weekend binge-watching the new season of House of Cards. If you haven't finished it yet, beware — there are spoilers below.
There was a lot that I loved about House of Cards Season 4 — Remy and Jackie driving off into the sunset; the intense drama of the assassination attempt; Neve Campbell playing a brilliant campaign advisor; Cicely Tyson being a badass; and basically every single Claire Underwood scene. In short, I agree with Nicole Cliffe:

There were several plotlines I found boring, but only one I really, really hated: Zoe Barnes returning to the show as a sexy ghost hallucinated by Frank Underwood while he waits for a liver transplant.
In the scene, Zoe wears a skintight white dress (that's how you know she's a sexy ghost) and makes out with both Frank Underwood and the ghost of Peter Russo in the Oval Office. And she doesn't say one. single. word.
I'm wondering what the producers told actress Kate Mara when they asked her (or maybe told her, depending on what her contract was) to come back. "You're going to need to look really, really hot. You're going to sexily make out with two older men. Oh, lines? What lines? You don't have any of those. LOL, why would you have lines?"
That's right: In House of Cards season 4, Zoe Barnes is a wordless, sexy ghost who has nothing to do other than menacingly make out with people. And that's reducing one of House of Cards' most interesting characters to some sexy scenery.
Now, Zoe Barnes was never a perfect character. She fell into the sexist trope of being a fictional female reporter who sleeps with her source to get the story, a plot point that has been rightfully criticized.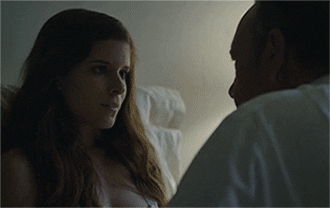 But I loved Zoe Barnes. I loved her passion for her work and her determination to get to the bottom of the story by any means necessary. I found her far more interesting than any of the other writer characters — Tom Yates, who plagiarized his only successful book but somehow spends all his (boring) screentime waxing poetic on word choice; Zoe's boring boyfriend Lucas Goodwin (I was so annoyed when I realized he was getting out of jail); the scheming (and boring) Kate Baldwin who never seems to come out on top; and Tom Hammerschmidt, the (boring) former editor of the Washington Herald who finally publishes Zoe's story.
Tom Hammerschmidt. Ugh.
That's another way that House of Cards fails Zoe Barnes: by letting the story she died for finally get published — and a former (older! male!) editor of the Washington Herald takes all the credit for it. Remember, Zoe quit the Herald to write for Slugline, a sort of Politico-meets-BuzzFeed website — she was all about new media and untraditional reporting. By having a Washington Herald editor break the story by using a recorder and a map of Post-It notes, House of Cards is implying that old school journalism is what effective journalism looks like — not the kind carried out by young women like Zoe Barnes.
Zoe Barnes Vs. Tom Hammerschmidt, back in season 1
If Zoe Barnes had to return to House Of Cards as a ghost, there are many more interesting and less sexist ways to do it: Use flashbacks to show her uncovering the story as another (young! female!) reporter puts it together in the present, or have a draft of Zoe's story get published posthumously so that she can haunt her murderer's career from beyond the grave — literally, if need be.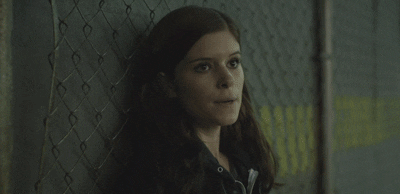 RIP Zoe Barnes
I was disappointed when Zoe died, but at least her death was interesting. You can't say the same about her afterlife. House of Cards would have done better if they had let Zoe rest in peace — anything rather than reduce her to her sex appeal and nothing else.
More from BUST
This Painful 'Fantastic Four' Interview Is Sexist And Racist And The Stars Aren't Having It
Here's The Ugly Truth About Why Rey Was Missing From 'Star Wars' Merchandise
A Feminist Defense Of Quentin Tarantino