Winnie Mandela Dies At Age 81
The famous anti-apartheid activist recently passed away after a lifetime of campaigning against racial division in South Africa. After her former husband, Nelson Mandela, was incarcerated in 1964, Winnie became a worldwide symbol of the fight for racial and economic equality. In recent years, Mandela has become a more controversial political figure — but her struggle against apartheid will never be forgotten. Read more about her life and legacy at CNN.
New York Bans Domestic Abusers From Owning Guns
While the nation stalls on comprehensive gun reform, New York is leading the charge with sensible and necessary legislation. This Saturday, Governor Andrew Cuomo announced that anyone convicted of domestic abuse would have to turn over all of their firearms — amending a previous law that only applied to handguns.
"New York is once again leading the way to prevent gun violence, and with this common sense reform, break the inextricable link between gun violence and domestic violence," Cuomo said in a press release. "This legislation builds on our gun laws — already the strongest in the nation — to make New York safer and stronger." Read more at The Hill.
A League Of Their Own Is Back — With Broad City's Abbi Jacobson 
Baseball season is back, folks — but with a wonderfully feminist spin. This Friday, The Hollywood Reporter announced that Amazon was developing a TV-reboot of the 1992 drama A League Of Their Own, with Broad City's Abbi Jacobson at the helm. The show won't stick directly to the original plot, but will instead present a modern take infused with national politics. Get ready — because even though there's no crying in baseball, there's certainly room for excitement. Read more at the Hollywood Reporter.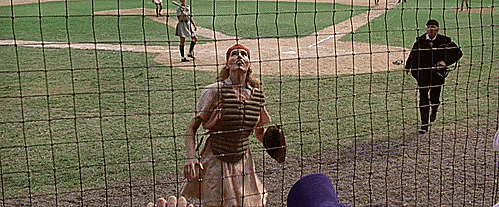 via Giphy
Stephon Clark Protestor Hit By A Sheriff's Car In Sacramento
Activist Wanda Cleveland was hit by a sheriff's car last Saturday while she was protesting the shooting death of 22-year-old Stephon Clark in Sacramento. After hitting Cleveland, the driver allegedly sped away; the incident is now under investigation by the California Highway Patrol. Cleveland has since been released with minor injuries. Read more at the Los Angeles Times.
Chinese Feminists Are Using Emojis To Fight Government Censorship
As the Chinese government cracks down on dissident feminist voices, the women involved have found ever-more creative ways to fight back. One of these ways is through emojis. After the Twitter-like service Weibo banned #MeToo, for example, local feminists started circulating the rice and bunny emojis–because "rice bunny," in Chinese, is pronounced "mi tu." Read more about their emoji efforts at Wired.
Trump Has More Tweets About Immigration
After BuzzFeed reported Friday that a large group of Mexican migrants is traveling towards the US border, Trump unleashed yet another Twitter firestorm. Tweeting Sunday night and Monday morning, Trump announced that he would no longer seek a DACA deal with democrats and urged Republicans to "use NUCLEAR OPTION" (read: changing Senate rules to establish a 51-vote threshold instead of the current 60) to pass more conservative border legislation. Read the full story at Politico.
New York Bans Officers From Having Sex With Inmates — Finally
New York wins this week's "did this seriously just become illegal now?!" award, after passing a law that forbids officers from having sex with inmates who are in their custody. Previously, laws permitted "consensual" sex between prisoners and officers, totally disregarding the power dynamics between them. The consequences of this loophole drew national attention last September, after Anna Chambers (a pseudonym) accused two police officers of raping her in the back of their police van, and they defended themselves by claiming the sex was consensual. Learn more about Anna's story and the law it inspired at Refinery29.
It's World Autism Awareness Day 
April 2nd is World Autism Awareness Day, a time to reflect on how we can best serve individuals on the spectrum. This year, the United Nations has chosen to honor the day by focusing on gender disparities, noting that women with autism face additional challenges in educational access, employment, and sexual health care. Read more about the UN's efforts at UN.org.
Photo Credit: Still from Winnie.
This article was published on April 2nd, 2018. 
More from BUST
The Sutherland Springs Shooter Was Yet Another Man With A History Of Domestic Violence
A Teenage Girl Says She Was Arrested, Then Raped By Two NYPD Cops. Five Months Later, She's Still Fighting For Justice.
Trump Fails Dreamers By Pledging To Scrap DACA