Thanks to COVID-19, Lady Gaga's new album isn't the only thing to be pushed back this year. The pandemic also affected the 2020 elections, causing many states to delay or change their primaries. To find out when voting is happening in your state, you can click here.
Now that you've figured out when your state is voting, what's next? Here are some simple action steps you can take to make sure you get your voice heard in this election cycle.
Visit Your State Election Website. You can look up your state election website online to find credible sources on your state elections and info about the national election, too. Visit their website and find info related to voting.
Look Up Your Registration Status. You can click here if you need to check up on your registration status before requesting your ballot.
Request a Vote by Absentee Ballot. Keep yourself COVID-clean and request an absentee ballot for your state here.
Have some time to kill before the big day?
Sign a pledge to vote!
Recent research shows that pledging to vote can significantly increase voter turnout. Sign a pledge and manifest those intentions.
Lastly, don't underestimate your peer power. Call your friends! A 2008 study by Harvard psychologists showed that the most effective method of encouraging others to vote is to ask them three specific questions: qhat time they would vote, where they would be coming from, and what they would be doing beforehand. These questions allow voters to make a concrete "voting plan," which increases their likelihood of actually voting. Use Social Media. Don't be afraid to get out on Instagram or TikTok to share your resources and info. Researches have also found that when people see their friends sharing voting-related information online, they're more likely to vote. 
So, New York, Kentucky, and Virginia are next to up to have an election, on June 23, 2020.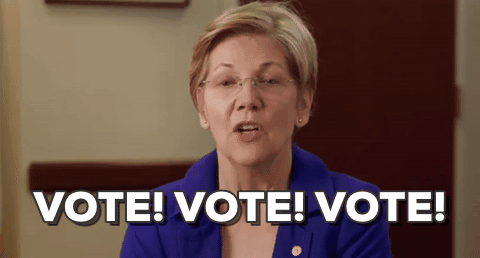 Header image by element5digital via Unsplash
More from BUST
Planned Parenthood Endorses Joe Biden: Here's What It Means For Abortion Rights
Meet Jennifer Carroll Foy, The Future First Black Woman Governor In America
8 Minneapolis Funds And Organizations That Could Use Your Donation Right Now