Samantha Bee, reigning queen of late night television, let America know that she's had it with this election cycle on a Late Show appearance Friday. We hear ya, girl. We hear ya.
Colbert asked the Full Frontal host if she's "enjoyed" commenting on this year's presidential race, acknowledging the "double-edged" nature of the endeavor: "You get to make great jokes about Donald Trump. On the other hand, he could be president of the United States."
Bee's response made it clear that she is indeed exhausted by all the controversy. "Enjoy is a strong word. It's certainly a buffet of wonderful things to draw upon to make a comedy show. I want it to be over so badly. I want to live my life, I want America to be happy again."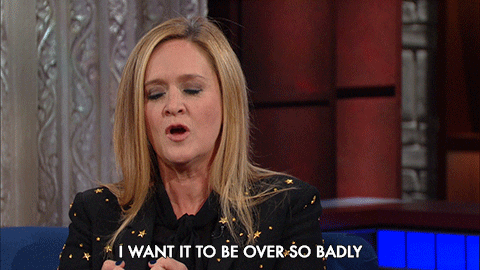 We couldn't agree more– we're all exhausted by the onslaught of enraging Trump news that keeps surfacing daily. Thankfully, we have Bee's show to keep us laughing despite the looming threat of a Trump presidency. Hopefully, America will have the sense to keep that "tangerine-tinted trash can fire" out of office come November. Until then, hang in there, Sam. We need you.
Full Frontal With Samantha Bee Airs on Monday Nights On TBS
More From BUST
Samantha Bee's Message To Trump Following His 'Birther' Speech: "Oh Fuck You!"
John Oliver Has An Urgent Message For Voters Who Don't Trust Hillary Clinton, And It Involves Raisins
5 Ways Hillary Clinton Vanquished Mansplaining At The Debate