Imagine you have everything you could have ever wanted, or that you've checked most of the boxes on your "to get in life" list. Then what? If you're a young, ambitious woman like me, then it's not surprising if after achieving one goal, you already have your sights set on your next big accomplishment, leaving little to no time for self-reflection on what's in front of you in the moment. In fact, the idea of taking time to enjoy life as-is or live in the gray area is somewhat looked down upon in our society. We're conditioned to be on autopilot and pushed to "go, be and do." And, as a result, these messages, which are usually intended to encourage us to reach our potential, lead many of us to feel as though we aren't doing enough, and rewards only come to those who work nonstop.
Although we see examples of this IRL, even our favorite leading ladies on TV mimic the sentiments of many of us who struggle with knowing when to relax and let life take its course, constantly working towards and searching for more. Remember how on Scandal, our beloved Olivia Pope's longest vacation was her being held captive against her will and forced to retreat leading her team of gladiators, all while unsuccessfully navigating her love affairs? Annalise Keating, the wildly intelligent professor of defense law in How To Get Away With Murder, exemplifies a woman who works on autopilot at "getting shit done" but rarely takes time to sit still and be present for life. And we won't forget Claire Underwood in the political-saga cult favorite House of Cards, who handles her professional life and marriage with such an intensity that her emotional needs are often underserved.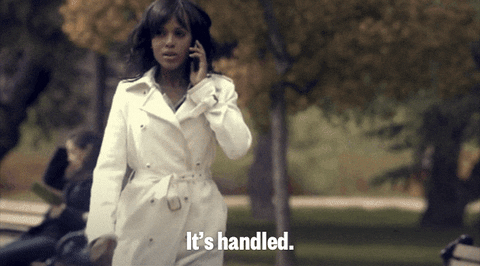 Don't get me wrong, I applaud, commend, and am a part of the successful women in society who are go-getters and work extremely hard both professionally and in interpersonal relationships. I'm also a feminist to the core. However, being in a perpetual cycle of aiming for the next big thing in life discredits the beauty of experiencing living in the now.
As a recovering millennial perfectionist, I know this story all too well. Our generation is fortunate to be instilled with the notion that the world was ours, and there was no limit to our dreams. At the same time, we were told sleep is for the weak and someone is always working harder than you, hence their success and your lack of. These messages stem from false beliefs about how life works, as well as our natural instinct to survive in a world that belittles those who are content and not stressed out.
With the help of some kickass support from girlfriends who've been there and done that, and therapists who saw me spin like a hamster wheel for years, I've developed a new mindset that allows me to show up for life without running myself into the ground. Here's what I've learned:
1. Live In The Now
A few months ago, I started a new job and was eager to learn every single thing about my company and role. As soon as possible. Emotionally, I was a rollercoaster. I beat myself up for not having the so-called right answers in team meetings, forgetting important names of the hundreds of employees, and feeling like I could've just done better. The truth is, I was not expected to learn everything overnight — no one is, in a new job. Instead of harping on everything I didn't know, I eventually chose to take things one day at a time. I simply showed up for work and only focused on the day in front of me, leaving the results up to the universe. Inspired by The Power of Now by Eckhart Tolle, I found that most fears and anxieties exist because we're worried about the future and not living in the now. Only when we're truly present are we able to naturally advance in life while enjoying the process.
2. Celebrate Life's Milestones
My one regret in life is that for years, I didn't take the time to let major transitions sink in. After landing my new position, I jumped into tackling more freelance work and getting started on writing my first book. Beginning a new job is a huge deal, and just like other big life changes, such as relocating, having children, or even traveling, it's important to acknowledge how important it is, and take stock of the feelings that accompany it. This is almost impossible to do if you don't take time to stop let life unfold.
3. Take Time to Relax — You Won't Miss Out On Life
Trust me, you won't be a failure at work if you disconnect while you're on vacation. And the rug won't be snatched from underneath you when good things happen. Of course, there's always the chance that things can go south, but we can't spend our lives obsessing over outcomes we can't control. I'm most happy when I'm not worrying about tomorrow, next week, or what my life will look like in five years. I accept that I'm okay in this moment, and when necessary, I simply take the next right action to get shit done.
We're all worthy of the dream job, fulfilling relationship, and other indications of happiness and successful lives. Just be sure to allow yourself time to fully appreciate them. Life is meant to be lived, not rushed.
Top photo via macaroon22.tumblr.com
More from BUST
Posture Magazine Is A (Gender)Queer, Trans-Run Media Platform: BUST Interview
Watch Poet Rupi Kaur Answer, 'What Happens When Your Life, Your Body, Is Attacked?'
5 Books For Little Feminists Going Back To School