Here at BUST we know a thing or two about running our own business. And though it's rewarding being in charge, every hardworking 'trep deserves an occasional break from the real-world grind. Whenever we need to recharge, we like to gain inspiration from these leading ladies:
1. Leslie Knope, Parks and Recreation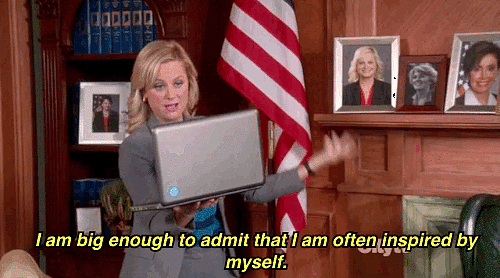 Leslie Knope is the quintessential overachiever. Whether running for city council or throwing a funeral for a miniature horse, Leslie is 110% dedicated to every project. Her intense tenacity is tempered by a sincere love for her community and a genuine desire to do what's right. Like most perfectionists, Leslie struggles to accept failures and defeats gracefully. She sometimes needs a gentle reminder to sit back and reflect on everything she's already accomplished — an important tip for all boss babes!
2. Ilana Wexler, Broad City
Ilana represents a specific breed of boss babe with untapped potential. Maybe you have a millennial friend like Ilana (if you do, introduce us!) who exhibits bursts of initiative and insight while owning her status as a hot mess (a term we think Ilana would lovingly use for herself). These seemingly directionless souls are often just visionaries waiting for the right inspiration. Ilana's intentional lack of career goals doesn't preclude her from being a boss babe; far from it. Because Ilana is her own boss. She aggressively touts her causes and beliefs, trusts her own instincts above anyone else's and never apologizes for putting herself first. Plus, she totally rocks that white "power suit," stained or not. Yas, queen!
3. Rosa Diaz, Brooklyn Nine-Nine
Rosa doesn't take crap from anyone — ever. As a detective for the NYPD, her favorite sport is intimidation. Rosa may pretend not to understand what the word "feelings" means, but she definitely has some soft spots: She's loyal to her friends, true to her word and has even been known to apologize (once). Rosa is one woman we'd never want to cross, but there's no one we'd rather have on our team.
4. Cookie Lyon, Empire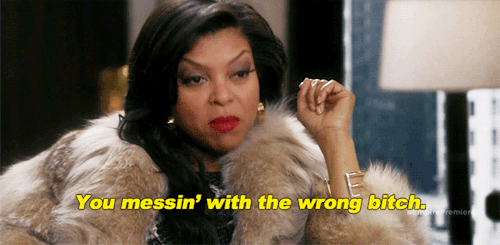 Hell hath no fury like a woman scorned (or cheated out of half of a record company). Cookie has a chip on her shoulder, a bone to pick and any other metaphor you can think of for being pissed off at the world. Her swagger knows no bounds. She can bargain or bully her way through any obstacle in her path. And even though Cookie's success has questionable origins (ahem, drug money), we respect the heck out of her determination to reclaim what's rightfully hers.
5. Claire Fraser, Outlander
A boss babe even by 1940s standards, Claire doesn't buy the idea that women should be seen and not heard. She returns from her stint as a WWII field nurse, hoping to never see blood again, only to be transported to 18th century Scotland, where "antibiotic" is a foreign word. While trying to find her way home, Claire goes toe-to-toe with Scottish lairds, Red Coat soldiers, a priest who accuses her of witchcraft and even her own husband. It's hard to believe she could be any more of a boss in the next season of Outlander, but we have a feeling Claire will try to change history — literally.
6. Samar Navabi, The Blacklist
Can you get more badass than being a covert agent for Mossad? How about being a double agent who works with a top secret division of the FBI at the behest of a notorious criminal? (Don't worry — he's a good guy…sort of.) The events of Samar's past have made her wary of most people, but she'd give her life for a worthy few. Samar is the kind of boss babe who makes and plays by her own rules. Her personal agenda is often a mystery, but we always know she's up to something big.
7. Sophia Burset, Orange is the New Black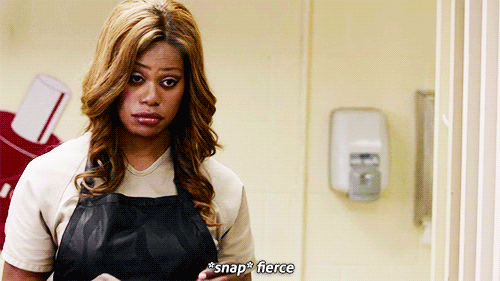 As the unofficial prison hairdresser, Sophia comes up with some seriously fierce convict coiffures. But her true greatness hinges on her personal triumphs and inner strength. On top of the usual difficulties one would expect in prison, Sophia's status as a transgender woman exposes her to suspicion and intolerance from every direction. Despite challenges from guards and fellow inmates, her young son who comes to visit and even the state prison system (those hormone pills aren't standard commissary items!), Sophia owns her identity and always stays true to herself.
8. Liz Lemon, 30 Rock
Liz Lemon is our soulmate. She expresses every insecure thought we've ever had, and somehow seems more self-assured for it. She's also hysterically funny. Liz's candor, humility and self-awareness make her a fabulous friend and boss. She advocates for herself and for her employees, sticks up for others when they're treated unfairly and never takes herself too seriously. We love Liz for proving that you can have your cake and binge eat it, too.
There are countless boss babes we haven't covered here: Olivia Pope, Peggy Carter, Mindy Lahiri and Daenerys Targaryen, to name just a few. Who's your favorite TV boss babe, and why? Let us know in the comments section! 
Guest post brought to us by Maren Jepsen and Material, a new free ecommerce site (built by and for entrepreneurs.)
Top photo: Orange Is The New Black
More from BUST
Get Ready, A Golden Girls Cafe Is Opening!
Uzo Aduba On 'Orange Is The New Black' And Why She's A Feminist: BUST Interview
7 Reasons Why Netflix Needs To Pick Up Agent Carter