You probably know Diane Guerrero as Orange Is The New Black's Maritza, the Latina inmate who loves pizza, is best friends with Flaca, and always has an impeccable cat eye. Or you might know her as Jane the Virgin's Lina, Jane's party girl bestie and coworker. Offscreen, Diane has become an advocate for immigrant rights after going viral with an LA Times op-ed and CNN interview last year. You might have seen the video: In it, Diane tearfully tells the story of her parents' deportation to Colombia when she was just 14, and explains how she — the only American citizen in her family — was left on her own in the US afterwards.
Now, Diane is telling her story in a memoir titled In The Country We Love: My Family Divided, out today. BUST talked to Diane about becoming a spokesperson, what her parents think of the book and, of course, what's next on her two hit shows.
I wanted to start by talking about how this book came to be. You went viral last year and very suddenly became a spokesperson.
It happened so fast that I didn't know what to expect. I wasn't planning on being a spokesperson for immigration reform. Obviously, I wanted to be part of the conversation because it was driving me insane not being able to contribute on something that I was personally so affected by. My story is unique, I don't think you've ever heard from a citizen child of a deported parent speak out about the issue. I started getting a lot of media calls, and book agents and publishers caught wind. And it all happened from there.
What was it like to write the book and revisit your memories? It sounds like you hadn't spoken much about your story before.
It was really difficult reliving all those experiences. It was also therapeutic because I was remembering things that I forgot. Obviously, in the op-ed and in my interview on CNN, you saw that I had missed my parents and that I felt abandoned, but I hadn't really expressed the psychological and emotional damage that this does to a family and to a person. I wanted to talk about that as well, because you forget that there are real people, real families, that are being affected.
How involved were your parents while you were writing the book? Did you talk with them about your memories of your childhood?
I did ask some questions, but I really wanted to write the memoir with my own perspective and my own lens. That made it easier for me, because it was tough to put my parents' business out there. I'm protective of myself and what I went through, but honestly, most importantly, I'm protective of my family. I love them and I value them and I respect them.
What was their reaction when they read it? Have they read the whole thing?
They haven't read the whole thing. It's actually on the way. But I did tell them about it. They're aware that it's my memoir, and I think if they told their own story it would be completely different from how I remember it.
I wanted to ask you about the title, In The Country We Love: My Family Divided. That's a very pro-America title.
I love the US, it's my home, it's my country, I'm an American, I'm just as much an American as any other American. In the book, I talk about how desperately my parents were trying to make this country their own and to be fully accepted legally and stop living in fear. I say in the country we love because this is the country we love, and my parents still want to be part of this life with me, and they want to live here with me, and I want them to be here too. I don't want to be separated from them any longer. And my family divided comes to two points. My family was divided because obviously my parents were taken away, but also we were divided when we were living in this country as well: I was a citizen and they weren't. That in itself is an experience.
This election season, particularly with Trump, there's so much anti-immigration rhetoric going on. What's your reaction to the levels this talk is reaching?
At first you're very angry, but at the same time I understand that there are other viewpoints and people who don't understand, and that's why there are initiatives to bring this issue to light. As much as this is such a polarizing issue and so politicized, I think that most people in this country want to see immigration reform. I refuse to believe that most people think and feel like Trump does. I know that there are more people who want a positive solution to this. Not hate, not abolishing the 14th amendment. That's not helpful to anyone and I think it's a joke, honestly.
Have you seen your story change people's minds?
Yes, I have. I have people writing to me constantly saying how they really didn't understand the issue and until it was put so simply and they saw that there are real people behind this. People have this stereotype of who an immigrant is. Sometimes if that's what we grew up with and if we don't see other stories and meet other people who are going through this personally, then you'll never know because all you hear is, "1,000 people just jumped the river and they're taking our jobs." You're not hearing, "Here's Diane's family who's been here since the '80s and they're trying and trying and trying to legalize their situation."
Has going public with your story had any negative effect on your acting career? The shows you're on have been rightfully praised for having diverse casts, but unfortunately there aren't so many shows that are so accepting.
I don't know if it's hurt my career or not. I'll tell you what, I was concerned about that in the beginning. But honestly, I want to work on projects and with people who are likeminded. If anyone is going to not hire me because of my political stance, then that's their issue. I've learned not to be afraid of that.
Diane as Lina on Jane the Virgin
Jane the Virgin has put immigration reform in the forefront with some of the storylines involving Jane's grandmother, even having facts about legislation going across the screen. What's your reaction been to that?
To be part of shows that use their platform and use them well is so amazing. Jennie Snyder Urman is a great, great showrunner and she's a wonderful person to work with, so I really was not surprised that they brought light to that issue. Especially since it's about a Latino family living in Miami, so it would be silly not to bring up that point — or, not silly, but it was smart and kind that they did bring it up. But that's why people love that show so much, too, they can relate to it. And it shows the Latino family in such a positive light. Jane is such an incredible character. She's a smart young woman and she has values and passions and she highlights a part of the Latino woman that we often don't see. Often we see these stereotypes of Latino women as the sexpot, but no: she's a young mother, but she's also a student, she's a writer, she's a romantic, she's a person who values her family and values doing the right thing, and I think that's so important.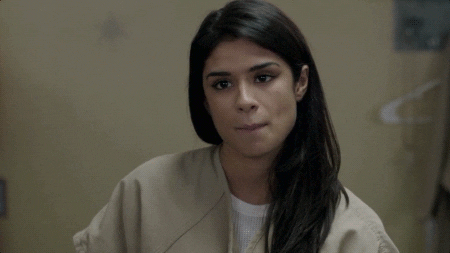 Orange Is The New Black is coming back soon, so I was wondering if you could tell me anything about the next season and if we'll be seeing more of Maritza.
Oh, yes. You will be seeing more of Maritza. It's going to be so good. Honestly, the fourth season so far is my favorite. I feel like everyone always says that about the new season, but this season is going to be fire. Seriously, it's so freaking good. It touches on some really, really important issues. I think that's part of the effect of the show is that it brings to light real issues. Of course we can go into fantasy and admire all that in period pieces and everything, but we also want to see portrayed what we're living on a day to day life.
More from BUST
Laverne Cox Spills On Self-Acceptance, Finding Love And Battling The Patriarchy: BUST Interview
Matt McGorry On 'Dating While Feminist'