Are you excited for the Rio Olympics this year? Personally, I'm not much of a sports watcher, but when it comes to Olympics, I am cheering on the international hopefuls from the edge of my couch. I'm not always cheering for US athletes; I'm cheering for any and all young teenagers and twenty-somethings that are just trying their best. Something about that young, bright enthusiasm for personal achievements just gets me all pumped for the Summer Games.
My favorite athletes to watch? Definitely the women; and the reason why isn't because I am one, but because I know those girls on the track have had to go through a lot of obstacles (considerably more than male athletes) just to get to the games. It's an unfortunate fact in our current era; female sports are undervalued, underfunded, and underappreciated. The fact that female athletes have even made it to the games just goes to show how dedicated they are to their sport.
Although women's sports are still struggling through the muck of gender inequality, there have been some impressive improvements since London in 2012. Let's take a look at what has and has not changed in the past four years for women in sports around the world.
Serena Williams
Tennis Sexism, Despite Equal Pay
After the 2015 Wimbledon Tennis Championships, tennis star Novak Djokovik made waves with his remark that male tennis players should be paid more because they brought in a larger audience. These remarks followed those of tournament director Raymond Moore, who stated that women in tennis should be thankful for their male counterparts because "they have carried the game."
Wimbledon, and other tennis championship matches, are some of the only equally paying sports in the world. Both male and female winners in 2015 walked away with £1,880,000; this equal pay has happened since 2007.
Fortunately for female tennis players, they don't need to worry about Djokovik's remarks coming true. Research after the match showed that there was no noticeable difference between the audiences of the male and female final matches.
This equal-audience-trend is a growing one, as well. When looking at the evolution of women's sports there is evidence that — despite a lack of airtime for female-led sports — women are more heavily engaged in watching sports. This trend, along with a noticeable shift in who is purchasing sports equipment and memorabilia, has meant a change in marketing for sports organizations. Sports manufacturers such as Under Armor can now rely on one third of their profits coming from women. So at least they are seeing that women are worth targeting in marketing campaigns, right?
I might not count that as a win for equality, but I will say it's a step in the right direction.
US women's soccer
FIFA and women in the business
FIFA is taking steps towards gender equity with the Rio Olympics looming. They recently announced a women's football division after electing a female staff member, Fatma Samoura, to the position of Secretary General for the international corporation. They have also been conducting a Female Leadership Development Program, and Moya Dodd, a member of the FIFA executive committee, stated that with "better gender balance, [FIFA] would be a better organization."
Dodd seems to be echoing what large corporations, such as Alibaba of China, have been discovering in recent years: that women in business is good for business. Women can break up the "boys club" mentality of sports, introduce creative ideas, ingenuity, and strong emotional intelligence skills.
It's a relief that a large international organization such as FIFA is finally catching on. It's too bad that the FIFA World Cup still suffers from one of the largest gender wage gaps in sports, but I'm hopeful that these changes to the organization will make that gap smaller year by year.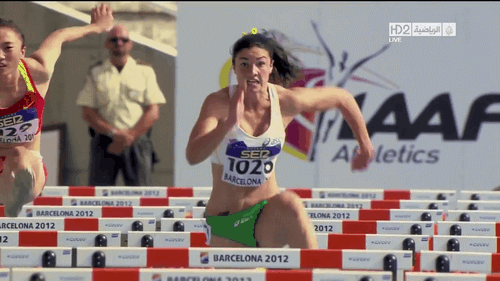 Australia's Michelle Jenneke running hurdles
Progress from Down Under
Australia has been doing its part to better the future for women's sports. The country recently established the Australian Womensport and Recreation Association (AWRA) and "A Sporting Chance" that is aimed at reviewing nationally funded organizations that do not promote equal pay between the respective gendered sports. Carol Fox, AWRA President, said, "AWRA's election platform priorities are aimed at ensuring our tax dollars are used equally and fairly to level the playing field for women and girls in sport and active recreation."
The Australian Football League (AFL) is also creating an inclusive space for women, with the upcoming launch of the women's league in 2017. The exciting announcement that 8 female teams would join the league made waves in mid-June of this year.
The announcement of the female league has sparked an interesting conversation among feminists and sports fans, all stemming from the question: "Why are women less likely to be involved in sports?" Research into the inclusion of female bodies in sports has shown that lack of gender diversity may be due to negatively misleading stereotypes on the female body. Sports are viewed as masculine, and females that fit that mold are called "butch" or "tomboys" in an effort to discredit their femininity.
Luckily, women involved can feel comfortable expressing themselves in whatever way they feel fit, and more women are embracing that freedom through women's leagues. Slowly, with more representation in sports, more girls can grow up with athletic role models of their own.
Sarah Attar at the 2012 Opening Ceremony, via Facebook
Diverse Representation and the Middle East
Something that always gets me invested in the Summer Games is the diverse parties that come to play. Last time, the London 2012 games marked the first year Saudi Arabia allowed sportswomen to represent their country. Only two women were allowed to attend under the Saudi national flag, but it was an exciting moment to see these women proudly fight for the international spotlight. Sarah Attar, a runner of Saudi and American citizenship, and Wojdan Shaherkani, a Saudi judoka, were the two Saudi sportswomen, and were announced to be a part of the games just three weeks before they began.
Sadly, the women received little attention from their supporting country. Despite this, Sarah Attar expressed excitement at attending the 2016 Rio games if she was invited yet again to run for Saudi Arabia. Currently, the outlook is not positive as no women are listed on their team. However, the case may be where another last minute addition will send women back to the Games for Saudi Arabia.
This year, I am hoping — along with many others — to see an even greater turnout for women from the Middle East. Qatar is planning on sending more female athletes to the Rio games, and has spent the past few years investing in female sports complexes. Currently, there is only one female listed on the team for Qatar, but we may see more added as the games get closer.
Gabby Douglas
The Future of the Games for Women
There is still a ways to go for equity for women in the sports industry, but we are making steady progress towards a more inclusive Summer Games. Future projections from the International Olympic Committee state that 2020 is when female Olympians will have full "equality" in the games. This meaning there will be equal amount of medal opportunities in all sporting events for both men and women. The London games brought the numbers to 46% women's events and 54% men's events, the closest year so far in terms of equal games. The Rio Games may reveal an even closer number, but the numbers have not been announced yet.
As the days get closer, I look forward to watching women and men across the globe compete for the opportunity to be the best in the world at the Rio Games. I just hope that the successes that will occur this year will lead to a more inclusive arena for female athletes across the globe. We are making steady progress, but that doesn't mean we should let up even for a second. Make noise, watch women's sports, get excited, and get out and play!
Top photo: four-time Olympic gold medalist Serena Williams, via Facebook/Olympics
More from BUST
Pat Summitt, 'Most Winningest' Coach In Basketball History, Dies At 64
10 Women You Didn't Learn About In History Class But Should Have
Mia Hamm's Most Inspiring Moments