I think last night was the first and only time I have ever and will ever feel pity for a Fox News correspondent. And of course, only someone as foul as Republican frontrunner Donald Trump could cause me to feel for Megyn Kelly.
Thursday night at the Fox News Republican primary debate in Cleveland, Kelly asked Trump about his history of disparaging comments about women. And what followed was yet another foul, sexist attack on women and Kelly herself.
In the opening minutes of the debate, Kelly said to Trump, "One of the things people love about you is you speak your mind and you don't use a politician's filter, however, that is not without its downsides, in particular, when it comes to women. You've called women you don't like fat pigs, dogs, slobs, and disgusting animals." Here, Trump interjected with LAUGHTER saying, "Only Rosie O'Donnell."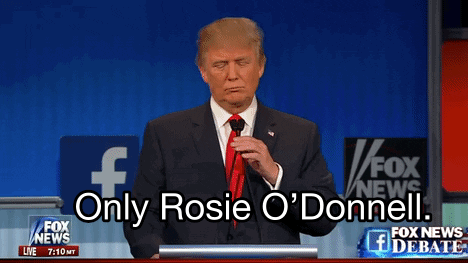 Kelly quickly fired back, "For the record, it was well beyond Rosie." She then noted that Trump had told one contestant on Celebrity Apprentice that it would be a pretty picture to "see her on her knees" (btw, this is where my mouth dropped open and my brain exploded). Kelly concluded by asking "Does that sound to you like the temperament of a man we should elect as president?" (Nah girl, it doesn't).
Trump didn't apologize or even deny the comments. Again I feel like I shouldn't be surprised by this, but it's just like how the hell is he a frontrunner?? People like him?
Trump defended his comments saying he didn't have time for "political correctness." (Boi, you better make time).
"I think the big problem this country has is being politically correct. I've been challenged by so many people and I don't, frankly, have time for total political correctness. And to be honest with you, this country doesn't have time, either," said Trump.
Then he turned his attacks directly at Kelly claiming that she hadn't been "nice" enough to him. WTF? Grow up, Donald.
He finished off by insisting that all the heinous things on his Twitter feed were meant to be "fun," "kidding," and "a good time." Ohhhhh you mean all those offensive things about women were supposed to be funny? Thanks for clearing that up. My bad.
One positive thing that came out of this disgusting display of sexism is that people were PISSED, most notably, many Conservative women, and they took to Twitter to air their grievances:
Marjorie Dannenfelser, president of Susan B. Anthony List said, "Trump: it is not funny to demean women or anyone." 
Lila Rose, president of Live Action, said she was "baffled at why people are clapping for @realDonaldTrump as he makes denigrating comments about women's appearances as a candidate for" president. "Sorry, @realDonaldTrump, sexist comments aren't leadership."
Amanda Carpenter, a former communications director to rival Ted Cruz, praised Kelly's question and tweeted out "THANK YOU FOR CALLING TRUMP ON HIS ANTI-WOMAN RHETORIC, MEGYN!" She continued, "Jesus. Calling women fat pigs isn't a PC thing. It's a basic matter of respect. If the best thing that comes out of this debate is that Trump is fully exposed as a jerk to women, I'll be totally happy."
So there you have it; people are starting to see that Trump is a complete sexist jerk. It's pretty absurd that this is what it takes since he already called breastfeeding gross and sexually assaulted his ex-wife, but I'm glad we're finally opening our eyes.
Watch the full exchange here:
Via CNN, Mashable, Washington Times
Images via CNN, giphy
Read more on Bust.com
This Donald Trump Butt Plug Is What He Deserves
5 Reasons Why Ted Cruz Becoming President Would Be Bad For Women
Three Ways Hillary Clinton Is Totally Killing It With Potential Voters