We love Jennifer Lawrence. She's incredibly talented, laugh-til-you-cry hilarious and isn't afraid to speak out about issues like the pay gap and body image. But for all we love JLaw, we have to ask:
Why does she keep playing characters who are 15 years older than she actually is???
In Silver Linings Playbook, American Hustle, and now Joy — all directed by David O. Russell — 25-year-old Jennifer Lawrence plays jaded thirty- or forty-somethings. Her characters' ages aren't specified, but it's clear that JLaw is much younger than her characters are supposed to be.
In Silver Linings Playbook, Lawrence's character is an angry, unemployed widow whose husband has been dead for three years – but Lawrence shot the film when she was just 21 so unless the characters got married at senior prom, she's playing much younger. In the novel on which the film is based, the character is 39.
In American Hustle, Lawrence's character is a housewife and mother. She's married to a con artist played by 41-year-old Christian Bale and has an affair with a character played by 33-year-old Jack Huston. Again, her character's age is unspecified, but she was based on the real-life Cynthia Weinberg, who was in her late 40s at the time of the film's events.
Now, there's Joy, a biopic about Joy Mangano, who goes from struggling mother of three to millionaire after she invents the Miracle Mop. The real-life Joy Mangano invented the Miracle Mop when she was 33, and from trailers, it looks like the bulk of the movie takes place after the Miracle Mop's invention, focusing on how Joy develops her own business and fights to keep control of her product. Yet again, her love interest is Bradley Cooper, who has said that he would never date Lawrence in real life because "I could literally be her father."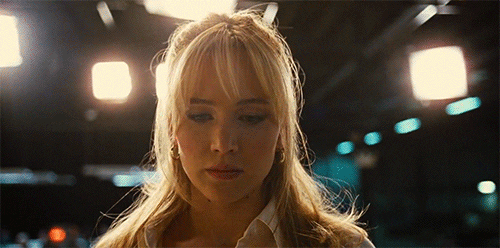 Let's ask again: Why does David O. Russell keep casting Jennifer Lawrence as characters who are 10, 15 or even 20 years older than she actually is? It's not like there's a shortage of talented actresses in their 30s and 40s who could play the same character. Even if we just limit it to Oscar nominees, there are still dozens of actresses to choose from.
This isn't a knock against JLaw's acting abilities — her Oscar noms are well deserved. But there's something unsettling about seeing a baby-faced, 21-year-old JLaw playing a 30-something housewife. It's like David O. Russell is telling us that all women in their 30s and 40s should look like 21-year-olds — and it's contributing to the disappearance of roles for actresses over 30.
In her recent Vogue profile, Lawrence said, "I am obviously too young for all of David's characters. But none of that comes from David wanting a young girl in his movies. That's not even in his atmosphere."
Amy Adams told Vogue that JLaw and David O. Russell work together so often because Lawrence is one of the only people who can put up with his bullshit – or, that's how we're translating this quote: "Well, if you mean he doesn't treat people like a lady, I can agree with that. You have to have a certain kind of personality to be able to understand David's direction without emotionally attaching yourself to criticism. And she's able to do that. That's why she gives such controlled performances in his films, because she's able to go into the deep and heightened places where he operates from."
Here's where we bring up how notoriously terrible David O. Russell is. The Sony leaks detail how cruel he was to the cast and crew of American Hustle, particularly Amy Adams. And it isn't talked about much, but in 2011 he groped his 19-year-old transgender niece against her will — and admitted to it. 
It's no surprise that JLaw would choose to keep working with David O. Russell — he gets her Oscar nominations and a considerable paycheck. But given how reluctant Russell seems to be to work with actresses out of their 20s, we wonder how long it will be before he decides Lawrence has reached her "last fuckable day." 
Images via Joy, Vulture
More from BUST
10 Fearless Female Film Archers, From Mulan To Katniss
Jennifer Lawrence, Jessica Chastain And Oprah Get Real About The Hollywood Wage Gap
Amy Schumer And Jennifer Lawrence Are Making A Movie Together And We Couldn't Be More Excited