Stranger Things

On July 15, the world met its new Nerd Queen.
With mauve ruffles cresting her blouse; high-waisted mom jeans; oversized, champagne-tinted glasses; and a signature Trapper Keeper, Barb, bestie to Nancy, moved among the Stranger Things world with droll regard and unapologetic, DGAF swagger.
There she was: serving up the biggest eye roll she could muster as Nancy spilled the deets about her new flame, the popular-but-skeezy Steve.
There she was: begrudgingly stuck behind the wheel, driving her best friend to a party she had no interest in attending.
There she was: giving into peer pressure and un-coolly slicing her hand open while attempting to shotgun a beer.
Does a hot cheerleader come along and charitably offer to give Barb a makeover? Does Barb's tenacity and wit make a boy finally see her in the crowd?
No. Loyal Barb patiently waits for Nancy to finish hooking up with Steve Harrington and his perfect hair so she can safely get her best friend home. Our underdog is rewarded for this selfless act by being sucked into another dimension by The Demogorgon, a horrifying combination of Hexxus from Fern Gully and an Alien Facehugger.
No good deed goes unpunished. The Goody Two-Shoes of the world know this. #We. #Are. #All. #Barb.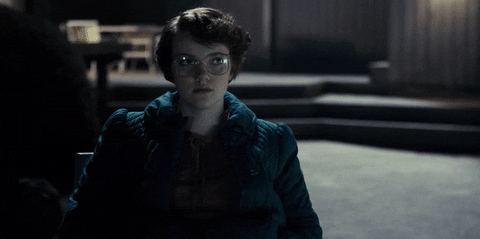 Back in the boob tube days, a minor character like Barb may have been the passing subject of next-day water cooler banter. But this is the Golden Age of Binge Watching, and the Internet has the power to turn even the most obscure shadow dwellers (Left Shark, anyone?) into unexpected heroes. Overnight, Barb was Queen — and the coronation changed first-time actress Shannon Purser's life.
One day, the 18-year-old was slinging popcorn and up-selling sodas at a movie theater in her Georgia hometown, anxiously waiting to hear back on an audition for a new Netflix series. Months later, Purser had to retire her work visor for good because Barb fanatics were tracking her down at her day job. A simple Google search showed Purser's face graffitied on walls, her curves immortalized in parodic rap anthems, her memory upheld on Jimmy Kimmel Live.
As Stranger Things fanatics organized candlelit memorials in Barb's memory, created BARBie dolls, and cosplayed her at conventions, Purser revealed herself to be just what her adoring public had hoped for: a down-to-earth, naturally redheaded sweetheart with killer makeup skills, stunning selfie game, a penchant for comics, and her own star-struck tendencies (she lost it when she heard that Kristen Bell and John Stamos were demanding #JusticeForBarb).
Being a Meme Queen has its perks: As fans howled in mourning of Barb, Stranger Things creators The Duffer Brothers announced that, while they don't necessarily foresee a Barb return, Season 2 will tie up some loose ends.
"We'll make sure there's some justice for Barb," Matt Duffer promised IGN. "People get very frustrated, understandably, that the town doesn't seem to be really dealing with Barb. That stuff is all happening. We're just not spending any screen time on it."
Barb met her demise, but Purser's career is just getting started. She's been zipping off to L.A. to meet with casting directors at CBS, NBC, Fox, Warner Brothers, Marvel, and more.
For her next big project, she'll star as Ethel Muggs in Riverdale, a teen drama TV series based on characters from the beloved Archie comics.
The Ethel of the original Archie series had some very Barb-ish characteristics: tall, a bit of an outsider, and a sci-fi nerd. Early versions of the comic were a little cruel to Ethel, portraying her as homely, but it's a new era in Riverdale. Purser's Ethel will pal around with protagonists Betty and Veronica; the trio will even team up to take down Reggie Mantle, a big bully who also happens to be Archie's rival.
via Wikimedia Commons
Riverdale is scheduled to debut in The CW's 2016-'17 season; the pilot was filmed over March and April, and production on the remaining 12 episodes kicked off on September 7. Look for the premiere around January or February 2017, timed perfectly with Archie's 75th anniversary.
Purser's also about to be surrounded by some of our favorite ladies on the big screen, having landed a role in Life of the Party, a comedy directed by Melissa McCarthy's fella Ben Falcone (he previously directed Tammy and The Boss) and co-written by the hysterical couple.
When housewife Deanna (McCarthy) is unexpectedly dumped by her husband, she decides to start anew and earn a college education…at the same university her daughter (Molly Gordon of Animal Kingdom and I Am Sam fame) attends. Mom and daughter learn about themselves and explore their newfound freedom.
Look for Purser in Life of the Party alongside the likes of Maya Rudolph, Gillian Jacobs, Julie Bowen, and more in what's sure to be a hysterical romp coming out May 11, 2018.
Whether she's sashaying down hallways in pleated khakis or cavorting around Riverdale with the best of 'em, Barb fans can count on Shannon Purser to bring her natural acting chops and instant likeability to a variety of characters. There's no justice like following your dreams. 
More from BUST
The Many Faces Of Stranger Things' Jonathan Byers
'Stranger Things' Has Been Renewed For Season 2!!!!!!!!!!!!!
We Can't Get This Song About Barb From 'Stranger Things' Out Of Our Heads