c/o: Ruven Afanador for EW
It's been an entire decade since Mean Girls was released! The anniversary called for a reunion of the Plastics and their "drug dealing" teacher, Ms. Norbury in Entertainment Weekly. The cast revealed some interesting secrets about the movie.
 1.    Cady Wanted to Play Regina and Regina Wanted to Play Cady
Lindsay Lohan had just finished filming Freaky Friday and was in the midst of filming Confessions of a Teenage Drama Queen. In those movies, Lohan had not played the cool girl and wanted a change. Rachel McAdams originally auditioned for Cady but got the role of Regina. Director Mark Waters told her, "I see Cady a little bit younger, but I think it makes sense if Regina kind of grew up a little too fast."
2.    How the Chihuahua Ate Amy Poehler's Boob
One of my favorite scenes in Mean Girls is when Regina's mom (Poehler) remains composed talking to the girls while her dog is gnawing at her chest. McAdams says, "They pinned a piece of a cocktail wiener into her bra…This dog is chomping on her fake boob. I'll never forget that.
3.    The Real Glenn Cocco
Tina Fey had used her older brother's good friend's name Glenn Cocco when writing. She said, "Someone said to me you could buy a shirt at Target that says, 'You go, Glenn Cocco!" That was unexpected."
4.    The Future of The Plastics
When asked about where their characters would be today the actress' predicted:
Karen: Manage or own a store that sells really cool dog attire, like Swarovski dog collars and Halloween costumes for animals.
Cady: In Africa with Oprah working at children's schools with family, teaching girls to be nice.
Gretchen: Running the Toaster Strudel Empire. She has curly hair and worked everything out with Jason.
Regina: She's a Real Housewife and has found all her other Reginas.
But what happened to Janis? Or Damien? Did Kevin G continue his rap career while dominating the mathletes? I would like to think that maybe these characters didn't get any coverage because of a possible sequel but Tina Fey is quick to shut that down. Fey regretted not doing a sequel at the time saying, "Now I look back and I'm like, 'Why?' But now, no – it's too late now."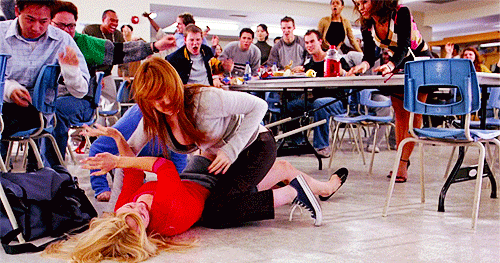 image c/o: Entertainment Weekly, giphy.com