"Tell your friends, tell your enemies, tell your families," Issa Rae, the badass co-creator and star of the HBO show Insecure, just tweeted a video announcing the date of Insecure's Season 2 [remiere. Psst, it's July 23rd.
Rae wouldn't comment on the relationship status of Issa (Issa Rae) or Molly (Yvonne Orji), but she did say "it's about to get hot this summer" and that the already dope show is about to get "doper than ever!"
'When does season 2 of #InsecureHBO premiere,' you ask? pic.twitter.com/PtyKm2QHNw — Issa Rae (@IssaRae) March 14, 2017
Based on her YouTube series, Awkward Black Girl, Insecure follows the adventures and misadventures of Issa and her friend Molly as they navigate work, relationships and the general confusion of being becoming an adult. We are big fans. If you haven't watched it yet, you can catch up on the first season on HBO.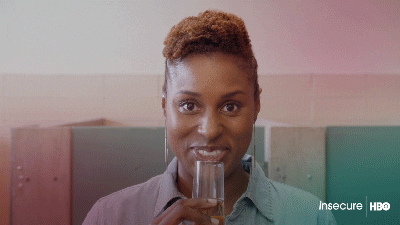 Images via Insecure 
More from BUST
Women Of Color Get Major Golden Globe Nominations, But Let's Take A Closer Look
10 New Lady-Friendly TV Shows You Need To See This Fall