To The Person Who Vandalized All BUST's Hillary Clinton Covers At The Sacramento Barnes & Noble,
Fuck. You.
Over the weekend, Instagram user @missmuffcake tagged us in a photo she took showing several of our Hillary Clinton issues — someone had scratched Xs over Hillary's face in pen. She explained that she saw the issues at a Barnes & Noble in Sacramento, California, and that she bought one of the defaced issues to show support for Hillary (thanks, @missmuffcake, you are the best).
To whoever vandalized those issues, we say, well, fuck you. We're not sure if you support Trump, Johnson, Stein, or none of the above; we're not sure what your gender is; we don't know if you're a longtime BUST reader who's not happy with this particular editorial decision, or if you've never heard of us before and just go around defacing anything with Hillary Clinton's face on it. 
But we do know that this is a pretty shitty thing to do. Take to the comments section, write a letter to the editor, blog about it, send us a tweet, or just, you know, vote with your dollars and don't buy this issue — but vandalizing our magazine in this way is pretty awful. We're a small, independent, women-owned, women-run, feminist publication, and it's pretty shitty of you to come for our business like that. And, you know, scratching a letter X over a woman's face — especially a woman politician who has faced multiple death threats from her opponent — creates a pretty violent and misogynistic image.

We think that @missmuffcake put it best here: "#imwtherher #fuckthat."
In other words: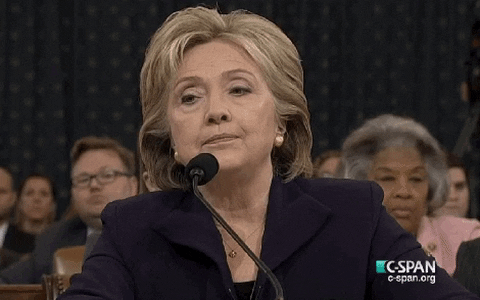 And, for the rest of you, you can buy our Hillary Clinton issue on newsstands now.  Here's a list of where to find us! 
More from BUST

Lisa Bonet Says, 'When Your Great-Great-Granddaughter Asks What You Did In The 2016 Election, What Will Your Answer Be?'
5 Ways Hillary Clinton Vanquished Mansplaining At The Debate
BUST's October/November Issue Featuring Hillary Clinton Is On Newsstands Now