This week on Broad City, Abbi's gray hair takes her on a a journey of a lifetime and Ilana comes to terms.
When Ilana discovers Abbi's gray hair:
Danielle: Have you ever had a gray hair?

Lindsay: Oh, I have a lot.

Danielle: I've never noticed.

Lindsay: I hide it well.

Danielle: You do.

Lindsay: Would you dye your hair when it started to turn gray?

Danielle: I don't know. It's definitely ageist.

Lindsay: I'd probably change it every color for fun until I get too lazy and let it grow out. Wait. Is that what happens when you get a gray hair? You turn into a witch?

Danielle: I don't think that happens.

Lindsay: I don't know. I've gotten a lot of gray hairs this year, but also learned a lot about astrology.

Danielle: That may not be how it works.
How to say acai:
Danielle: Oh that's how you say it? A-sigheeeee.

Lindsay: I just avoid saying it to anyone.

Danielle: When I order it I just say "that bowl."
When Abbi's sitting at her table:
Danielle: How did she get that table there? Did she bring it on the subway? When I see people with a duffel bag on the subway, I just think they're really brave.

Lindsay: Her table says Young Abbi! Because of one gray hair?

Danielle: Do you think that woman's older Abbi or she's just a witch?

Lindsay: Older Abbi
 When Ilana visits the sex therapist:
Danielle: Massage? Is that what she's doing?

Lindsay: I think she's paying to jack off.

Danielle: Oh, she must be a sex therapist.

Lindsay: She's making up being horny all the time!

Danielle: Why would she lie about being horny all the time? Is she insecure about coming?
Lindsay: Why doesn't Ilana just tell Abbi? They're best friends!

Danielle: Ilana has no filter around Abbi, I don't understand.

Lindsay: Oh my god, she named her vulva Abbi.
When the Trump montage happens:
Danielle: Oh no, no, no.

Lindsay: This is traumatizing.

Danielle: Why is it still happening? Oh my god! They bleeped out Trump's name!

Lindsay: I'm very uncomfortable.
When the women montage happens:
Lindsay: I could watch this at the beginning of every day.

Together: MARGE AND LISA SIMPSON!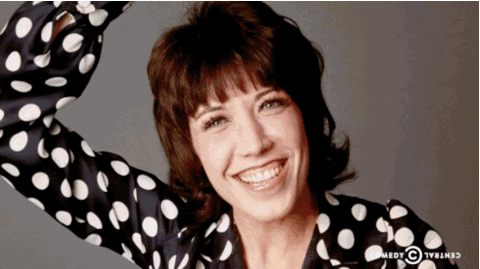 When Jeremy stops by Abbi's table:
Lindsay: The neighbor!

Danielle: The guy she pegged!

Lindsay: GASP.

Danielle: IS THAT HIS KID?

Lindsay: Ugh, I hate him.

Together: HIS WIFE CALLED HER ZABBI.

Lindsay: Oh my god, he called her a "struggling artist."

Danielle: Girl, take his money.
When Abbi's at the doctor's office getting her face done:
Danielle: She's sweating.

Lindsay: She looks horrible.

Danielle: Nooooooooooooooooooooooooo.

Lindsay: So much white supremacy in this doctor's room!
When Abbi and Ilana go to the location old Abbi gave them:
Lindsay: It IS old Abbi!

Danielle: It's gonna get weird. Do you think Hillary Clinton is going to be there? Remember when someone found her in the woods?

Lindsay: Oh, I remember that!
When Ilana is dying Abbi's hair and find more gray hair:
Lindsay: That's what happens. They creep up behind you, right under your hair. You have no idea it hit you.
After the episode:
Danielle: I think Ilana's storying in this is really weak in this one.

Lindsay: But it had that amazing scene

Danielle: What scene?

Lindsay Not the traumatizing one.

Danielle: But I know sex writers who have had more sex since Trump.

Lindsay: Because you only live once.

Danielle: Right, nothing matters anymore.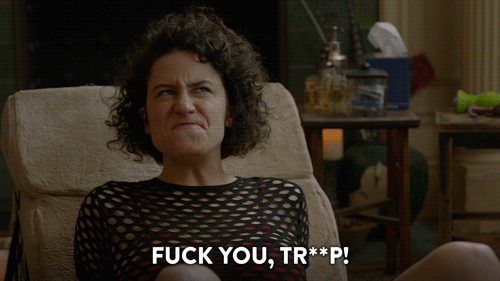 Images and gifs via Comedy Central/Broad City
More from BUST 
"Broad City" Recap: Season 4, Episode 5 — "Witches"
"Broad City" Recap: Season 4, Episode 4 — "Mushrooms"
"Broad City" Recap: Season 4, Episode 3 — "Just The Tips"