Calling all broads! In a recent video interview, the women of Broad City Abbi Jacobson and Ilana Glazer dished about the making of season two of their hit Comedy Central show. The duo discussed taking the show to absurd levels, achieving a recognizable New York City, and most importantly of all, pegging.
As any fan knows, the most important feature of the show is the absurd situations the girls find themselves in. Like when Abbi turns out to have a drunken alter ego named Val would sings at an underground speakeasy – WHAA?? When asked how they take the show to those surreal places in season two, Abbi explains, "I think that's what's so fun about it for us. We're getting to tell what I think is a pretty grounded friendship dynamic and then we get to like heighten it and amplify it…"
They definitely do just that, and we love every minute of it.  Specifically, the pair discusses the scene in which Abbi gets high on painkillers and then goes on a shopping spree at Whole Foods with giant blue stuffed animal pal Bingo Bronson. Ilana says, "We love the contrast of mundane and absurd." Abbi continues, "Taking that mundane thing – that desire to have nice things – while so fucked up on painkillers is just so fun to us."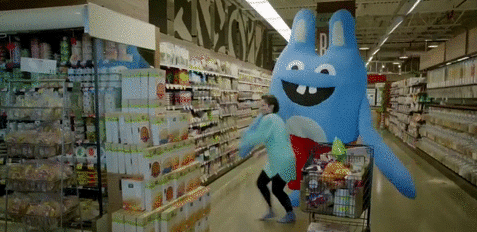 The interviewer praises Broad City for showing one of the most recognizable New Yorks on TV.  Ilana and Abbi confess that they are both suburban transplants, which contributes greatly to their perception of New York and how they present it in the show.  Ilana says, "there's still this awe and inspiration even in the grossest, dankest moments of New York." Abbi further explains, "even when you're next to the most disgusting thing in the world, you can turn the corner and then it's the most beautiful, most recognizable buildings in the whole world. Those juxtapositions are so New York, and we really try to play those things." 
Having just moved to New York myself, I can attest to the many incredible and repulsive layers of the city.  Broad City uses all those crazy layers to present a New York City that feels more authentic than any other show from the past.
Finally, the interview turns to one of the most memorable moments of season two: You guessed it, the pegging storyline that occurs between Abbi and her long-time crush Jeremy.  After two seasons of build up between Abbi and Jeremy, the writers knew they had to do something big when the couple finally went on their first date in episode four, "Knockoffs." 
Ilana describes pegging as a "gray area."  She says, "It's not like an old family tradition that we like drew upon or something."  The storyline served as a grounds for people to argue about who was really right in the end—Abbi or Jeremy.  They like how the lack of a wrong or right answer is "More like real life, when its like 'what just happened there?'." 
Here at Bust, we're looking forward to many more "what just happened?" moments in the upcoming third season of the show. Abbi and Ilana, keep doing your thing. 
Watch the full interview below:
Images via youtube and complex.com
Read more on Bust.com
The Broad City Map Of NYC (Literally Everywhere Abbi & Ilana End Up) Is AWESOME
Broad City Talks Friendship, Feminism, And F*Ck/Marry/Kill