Are you ready to swim in treats, Augustus Gloop style? The holidays may be over but, that doesn't mean we can't still indulge in all the delicious holiday foods. These snacks will introduce you to a whole new world of sugary goodness.
This New York based business focuses on handmade truffles designed to taste as luxurious as they look. As owner Tracie says, "One bite and you'll be swept away." She offers her classic flavors, such as Mexican Coffee, a chocolate delight swirled with dulce de leche, and Banana Foster, a banana-caramel flavored bite coated with sugar crystals. She also creates seasonal flavors, like Apple Pie that's been finished with crushed cinnamon toast cereal and a Key Lime Pie delicacy for the summertime. On top of all of this, Twizzles offers vegan options too! Vegan Pumpkin Spice topped with gingersnap crumbs? How about a dark chocolate blended with raspberry filling, called Vegan Dark Raspberry?
Twizzles Tasty Treats sells personalized boxes online, offering custom orders and are gladly willing to work with you to create custom flavors.
Got dietary requirements that make sugary treats off limits? Don't fret, Krunch Kitchen is here to fill us all up with crunchy, nutritious, handcrafted deliciousness. Designed to be a fun way to enhance meals throughout the day, their granola is perfect to eat by hand while you shop the rest of our vendors. But don't forget to get a different flavor to bring home; Krunch Kitchen granola tastes aah-mazing over yogurt, milk, or for those with a sweet tooth, even ice cream.
Be prepared to choose between flavors such as Quinoa Krunch, Peanut Butter, a Passover friendly Matzah Krunch, and many more. Offering sizes of ½ lb and 1 lb by either the bag or mason jar, Krunch Kitchen is perfect for bringing home or gifting over the holidays. And don't panic- a sample trio is also available for those of us that struggle with making decisions.
Macaron Parlour is an amazing NYC based bakery, with Macarons you have got to get your hands on! They've got some bold flavors too: Apple Cider Caramel, Candied Bacon with Maple Cream Cheese, S'Mores, and Cheetos, a Cheetos infused white-chocolate ganache with cheese dust. Cravings we didn't even know existed will be fulfilled. For those of us less daring, the traditional flavors such as Dark Chocolate, Carrot Cake, Lemon, and Pistachio are available as well.
4. Yoosh's
Here's some egg-cellent news: cookies—without eggs! That's what Yoosh's, an Indian influenced mini cookie and cracker company, prides itself on. Be prepared for flavors such as cinnamon, lemon-ginger, cranberry and orange, roasted almond, ginger snap, and even pina colada. They also offer all-natural, healthy crackers, just in case you're looking for savory over sweet. Try flavors like South African Peri Peri or Green Chilli and Oregano.
Cake. It makes the world go around, right? Monsoon Sweets takes cake to the next level by incorporating South and Southeast Asian flavors in their cakes. Founder Roopa Kalyanaraman infuses the Indian influence of food she grew up with into her sweets, the only baker in N.Y.C to do so. She creates cake flavors such as Bangcock Blackout, Masala Chai, and Coconut Lemongrass. Her deliciously unique cookie flavors include Pistachio Cardamom and Turmeric Ginger. 
This company is also happy to customize an order to any preferences and has done all sizes of cakes. All cakes are buttercream and made from fresh, natural ingredients. Designs can be mastered with sprinkles, luster dust, and other personalized, natural decors. If cakes aren't your scene, Monsoon Sweets also has cupcakes, macarons, fruit tarts, and more.
Tea parties are not just for kids. Influenced by traditional English tea service, The Awkward Scone aims to muffle out the hustle and bustle of coffee based N.Y.C. with the concept of slowing down, relaxing, and chatting over soothing tea and fulfilling pastries.
Awkward Scone also offers a Citrus Poppy Scone Mix for those who would like to host their own English tea party and bake for their guests. Tea flavors include Rosie Palmer, Olive You, and Horchata Rooibos in looseleaf form. Plus, during the holiday season, this Teapot Gift Set is the perfect gift for a friend in search of their zen.
Chocolate is arguably everyone's guilty pleasure. Element's Truffles takes away that guilt, priding themselves in being a company that provides vegan, gluten-free, non-GMO chocolate bars. Plus, 25% of all profits are donated towards the education of underprivileged children. Opulence and philanthropy? Yes, please. Element's Truffles flavors include Orange Pistachio bar with Turmeric Infusion, Peppermint Truffles with Lavender Infusion, and Rose Bar with Cardamom Infusion. An assorted box of Truffles is also available.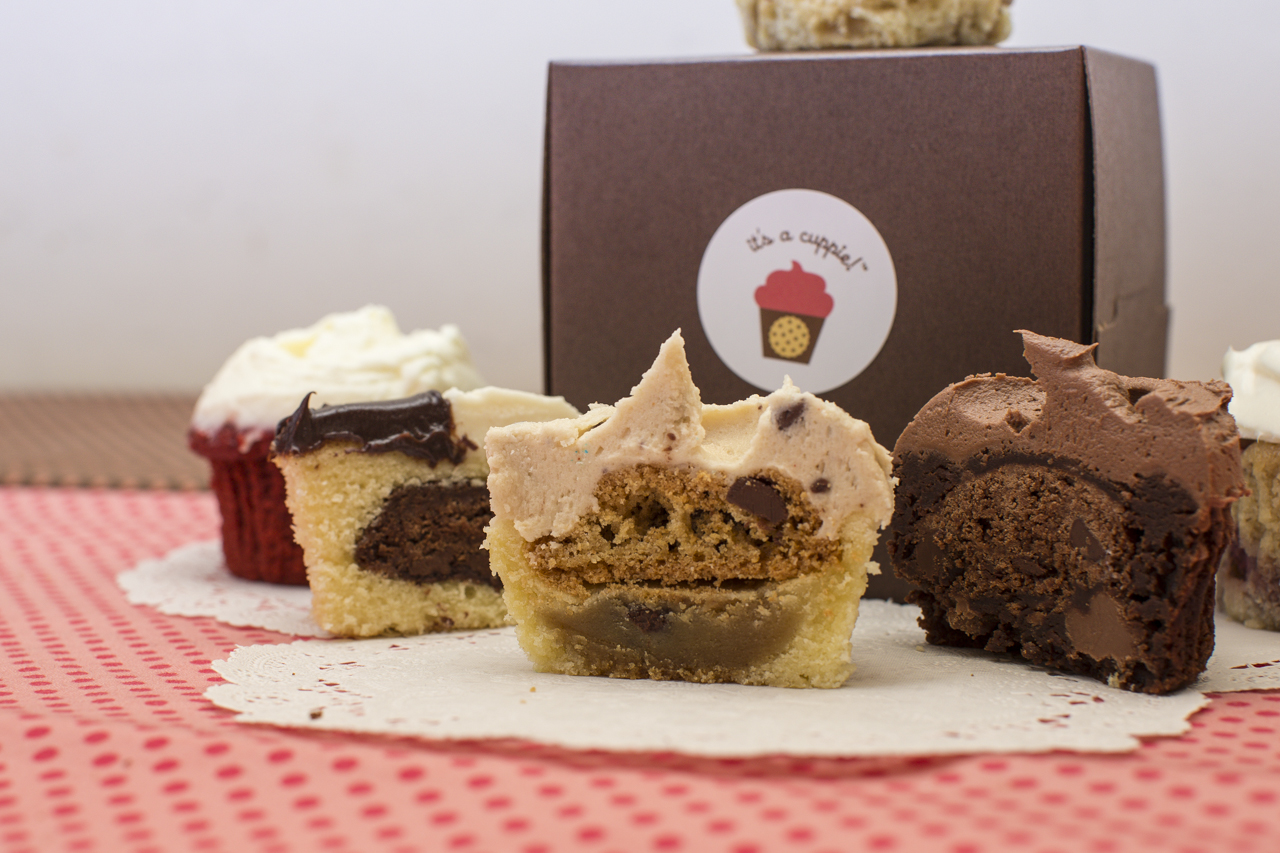 Cupcake + Cookie = Cuppie. A cookie within a cupcake. Need we say more? It's A Cuppie combines the best cupcake recipes with a variety of cookie flavors to create an amazing textural and gastronomic experience. Who knew magic could be so simple. With names like King of Fluff and Immaculate Confection, how can you pass up on these adorable bites of heaven? There's even an option to create your own Cuppie, by choosing your own cake, cookie, and frosting.
More from BUST