Like most, I binge-watched the first season of Orange is the New Black over a few days last summer. During the bleak winter months without the show in my life, I had time to reflect on its feminist, spunky, exciting and suspenseful moments. However, what I managed to forget was that this show is damnnn sexy.
I mean, with a cast that prominently features so many powerful and talented ladies, you can't help but swoon. As I fell down the Netflix rabbit hole of OITNB's second season, vacant-eyed and slack-jawed, I began to feel as though the lovely jailbirds were beckoning directly to me, right through the screen. After watching so many hours of fictionalized prison life and being forced to contemplate what that must be like, you go a little squirrelly yourself, amIright? Cabin fever's got nothing on SHU, but still.
Anyway, if you're like me and fell in love all over again with several characters from the series, here are some panty-droppers from the new season. Feel free to make use of them on babely OITNB obsessives… You're welcome.
"You f***ing tickle me." – Nicky 

"Your ass haunts me." – Caputo

"I like your sweater…it's soft." – Piper

"We can sandwich toast to orgasms." – Red
And like Boo, if you get flipped off, turn around and go, "That's right, f*** me." Just make sure to go over what you're about to say in your head at least once to make sure it doesn't sound like a line Mendez might use on an inmate. 
But if a dreamboat is making eyes at you and you're looking to get conjugal, here are some other pick-up lines that are sure to get any big OITNB fan harder than a life sentence. 
1. First off, never fail to compliment yourself.
2. Be realistic, but don't sell yourself short. You've got a lot to offer.
3. As long as you say it with a cute pouty face, feel free to drop some truth.
4. Don't be afraid to use a little innuendo, and don't listen to the downers.
5. Combine your shared nerd love of TV, Greek poetry and ancient lesbians. Who could resist?
6. Not their thing? Ok, what about documentaries?
7. Be self-deprecating where it counts.
8. Or you could just cut right to the heart of the matter.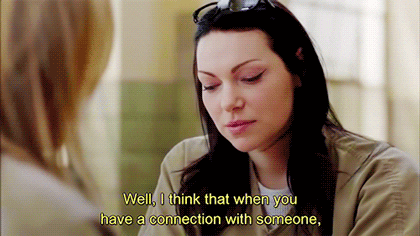 9. Maybe if things goes well, it could get serious.
10. Whether you wind up alone, or as Pennsatucky would put it, "lesbianing together," at the end of the night, there are some things you can rely on no matter what.
I know the last one would work on me, anyway. Tell us who you think is the sexiest character from Orange is the New Black in the comments below (and what you'd say to get them to be your bunkmate).