This past month, both Vulture and The New York Times have published stories about the under-representation of women in Hollywood. After reading both "100 Women Directors Hollywood Should Be Hiring" and "The Women of Hollywood Speak Out," I was straight-up PISSED. With statistics like, "In both 2013 and 2014, women were only 1.9 percent of the directors for the 100 top-grossing films" and "20th Century Fox, Sony, Paramount, and the Weinstein Company have not released a single film this year that was directed by a woman," how can you not be pissed?? Of course, it's ridiculous for us to have to prove that women are capable of directing entertaining, emotional, beautiful, hilarious, groundbreaking films, but for any of the doubters out there or for anyone just looking for a great flick, here's a list of ten amazing movies directed by women you need to watch immediately. 
1. Desert Hearts (1985)
Donna Dietch directs this lesbian-themed romantic drama loosely based on the Jane Rule novel Desert of the Heart. The story follows Vivian Bell, a 35-year-old English professor who moves to Nevada to get a quickie divorce. While there, she starts up a love affair with Cay Rivvers, a younger, free-spirited sculptor. Brace yourself for a very sexy kissing scene in the rain. 
2. Clueless (1995)
This teen party flick, directed Amy Heckerling, is about a rich high school student who tries to boost a new pupil's popularity and makes an important realization about herself and her life in the process. If you haven't seen this movie by now, you've clearly been living under a rock.
3. Bound (1996)
This neo-noir crime thriller was the feature film directorial debut of Andy and Lana Wachowski. In it, Violet, played by Jennifer Tilly, is desperate to escape her relationship with her Mafioso boyfriend Caeser and enters into a clandestine affair with alluring ex-con Corky, played by Gina Gershon. The two women hatch a scheme to steal $2 million of mafia money. The most important thing to note about this film: Gina Gershon is sexy as hell in it.
4. Boys Don't Cry (1999)
In the most emotional movie you will ever see, assigned-female-at-birth Teena Brandon adopts his male identity of Brandon Teena and attempts to find himself in Nebraska. Kimberly Pierce directs this beautiful film based on a true story.
5. Love & Basketball (2000)
In Gina Prince-Bythewood's directorial debut, two next-door neighbors Quincy McCall and Monica Wright form a meaningful relationship based on their love of basketball and ambitions to play professionally. The story follows the progression of their professional careers and their relationship which moves from friendly to romantic.
6. Riding in Cars with Boys (2001)
Penny Marshall directs this film adaptation of Beverly Donofrio's autobiography of the same name. Starring Drew Barrymore, the story follows a woman who overcomes obstacles like being a teen mom and goes on to earns a master's degree.  
7. Bend It Like Beckham (2003)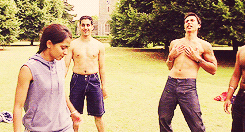 Gurinder Chadha directs this sports comedy-drama about a daughter of orthodox Sikhs who rebels against her parents' traditionalism by running off to Germany with a soccer team. Talk about a badass lady story.
8. It's Complicated (2009)
Nancy Meyers gives a little twist to the traditional rom-com in this film starring Meryl Streep, Alec Baldwin, and Steve Martin. Things get complicated when a middle-aged, divorced couple reignite the spark in their relationship.
9. Bachelorette (2012)
Leslye Marshall directs a film adaptation of her play of the same name. Kirsten Dunst, Isla Fisher, and Lizzy Caplan play three friends asked to be bridesmaids at a wedding of a woman they used to ridicule back in high school.
10. The To Do List (2013)
Maggie Carey directs the hilarious tale of Brandy Klark who sets out to become more sexually experienced before college with the help of a sexual to do list. BUST cover girl Aubrey Plaza stars as Brandy.
So here's your assignment: read those article, get PISSED, and watch all these movies. Good luck!
Image via VIMBIO
GIFs via tumblr, theodyssey, pengine, lovelace, tumblr, tumblr, giphy, tumblr, tumblr, mediacache
More from BUST
Sarah Paulson Talks 'Carol,' Cate Blanchett And The Hollywood Pay Gap: BUST Interview
We Can't Wait To See 'How To Be Single' Starring Rebel Wilson
Horror Films And Feminism: Women Who Don't Run From Danger, But Step Up To It (Thank You, Mary Shelley)