Happy Jane Austen's birthday! The writer of classic novels including Pride and Prejudice, Sense and Sensibility and Emma would be celebrating her 240th if she were still alive today – talk about Pride and Prejudice and Zombies!
Since zombie Jane can't join you for a piece of birthday cake tonight, we've rounded up 10 of our favorite Jane Austen adaptations, from the Colin Firth version of Pride and Prejudice to Clueless. (We're holding off on including the aforementioned P&P&Z until it comes out in February 2016.) Who else is ready for a movie marathon?
10. Emma (1996)
Love or hate Gwyneth Paltrow, there are other reasons to watch this adaptation: Toni Collette as the sweet but clueless Harriet Smith, Ewan McGregor as the charming liar Frank Churchill, and those costumes.
9. Bride & Prejudice (2004)
What if Pride & Prejudice was a Bollywood musical? This imaginative adaptation has some high points — the songs, the dancing, Aishwarya Rai — that make up for a meh Mr. Darcy. 
8. Sense & Sensibility (2008)
This three-hour miniseries is darker and sexier than the Emma Thompson version — plus, it stays true to the book and will satisfy Janeites who want to see every word represented onscreen. 
7. "The Lizzie Bennet Diaries" (2013)
This webseries proves you don't need a massive budget to adapt Jane Austen – all you need is a camera, a smart script and a few talented actresses.
6. Northanger Abbey (2007)
This version plays up the gothic romance aspects of the novel — with a few steamy fantasy scenes. A pre-fame Felicity Jones plays the naive and adventurous Catherine Morland, and a pre-fame Carey Mulligan plays her delightfully bitchy frenemy.
5. Bridget Jones' Diary (2001)
You might forget it at times, but Bridget Jones is loosely based on Pride & Prejudice. And even in a goofy Christmas sweater, Colin Firth makes an excellent Mr. Darcy.
4. Pride & Prejudice (2005)
You might prefer Colin Firth, but you have to admit that Matthew Macfayden does the sexy-brooding-thing almost as well. Along with Keira Knightley as Elizabeth, we get more fully fleshed-out Bennet sisters played by Rosamund Pike, Jena Malone, Carey Mulligan and Talulah Riley.
3. Clueless (1995)
That's right – Clueless is based on Emma! The strict social circles that Jane Austen satirizes translate perfectly to a Beverly Hills high school in the '90s.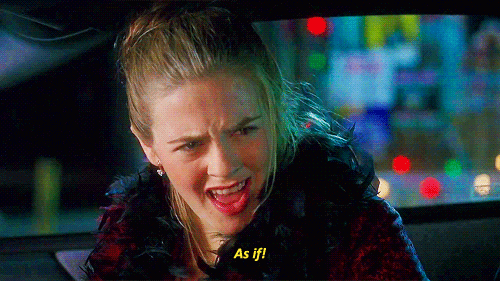 2. Sense & Sensibility (1995)
Directed by Ang Lee, written by Emma Thompson, starring Emma Thompson, Kate Winslet, Hugh Grant and Alan Rickman, this film is pretty much perfect and would be our number 1 except…
1. Pride & Prejudice (1995)
Nothing can beat the ultimate Jane Austen adaptation. This version set off "Austenmania" for a REASON.
Top image: Sense & Sensibility
This post was originally published on December16, 2015
More from BUST
15 Great Lesbian Movies You Need To Watch
BUST's 10 Best Bets For December And January