Gluten intolerance is all the rage these days. The trend started when people with an actual allergy to gluten discovered substitutes for foods containing the protein. For instance, quinoa can be used to replace oatmeal and zucchini is a pasta alternative.
These substitutes are odd, but they make sense. There is, however, one option that is completely mind-boggling: banana flour. Yes, that's right – try and wrap your head around that.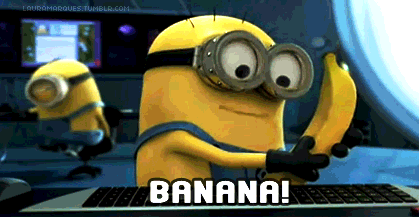 So, WTF is banana flour? Is it mushy and hard to bake with? Will all my dough products taste like banana? Can we cure cancer with it? These are the questions that haunt me at night.
According to WEDO, a banana flour manufacturer based in Utah, the flour "is packed full of healthy nutrients and can be used as a Paleo and Gluten Free substitute for the following: all cooking and baking, thickener for soups and sauces, or as a boost to your morning smoothie."
WEDO is the only company within the United States currently selling the product, but if you're desperate to try them all, Australia's Natural Evolution Foods also produces banana flour.
The flour contains a resistant starch known as RS2, which passes through the digestive system without affecting digestive enzymes. Our bodies do not produce an enzyme that breaks down all carbohydrates found in regular flour, which can lead to digestive problems, so RS2 is awesome for gluten allergies or for anyone with a backed up system.
Aside from promoting a healthy digestive system, banana flour supposedly tastes great. Shauna James Ahern of Gluten Free Girl writes on her blog, "Banana flour doesn't really taste like bananas. There's maybe a tiny hint of them. Instead, the flour has a slight earthiness to it, like wheat bran. And it actually acts like wheat in some cases."
This is great news, because the last thing we'd want is mac and cheese that tastes like bananas and Gouda. If you have no idea what to do with the flour, that's okay! The website provides several recipes including a rustic rye loaf, honey vanilla donuts, Thai peanut stir-fry, and zucchini fritters. Go crazy.
If WEDO sounds like something you'd like to try – gluten allergies or not – it ships everywhere in the U.S. or, alternatively can be found in over 400 stores. Unfortunately, the price of just one pound is $7 and anything over five pounds is $18 versus the $2 for all-purpose flour. If you're not really gluten-intolerant, is this price really worth it? 
If bananas aren't your thing, but you're dying to jump on the gluten-intolerant bandwagon (or actually have the allergy), don't fret – there are a wide variety of gluten-free flours:
1) Almond flour
This is one of the more expensive options at $15/lb, but has been praised for being easy-to-use and retains moisture in a lot of recipes, which is awesome if you enjoy baking cakes.
2) Chickpea flour
Lovers of hummus can attest to the awesomeness of a chickpea. Now, the legume comes in flour form for even more great recipes. Want to make chickpea fettuccine? You can do that. Want to bake some tasty cookies for a midnight snack? You can do that too. 
3) Tigernut flour
At this point, no flour substitute should be shocking, which is why you should try tigernuts. These small vegetables have been known to produce milk and oil, yet have the most use in flour form. Recipes range from pancakes to cream cheeses.
Now that you are officially in the know of one of the largest health trends in 2015, go out and get your gluten-free on. If you're still unsure of how to become gluten-intolerant like some of your friends, watch this video for the best tips and tricks:
Side note: Gluten-free diets can be potentially harming to those who don't actually have intolerance to the protein. Always consult a doctor before deciding to make a dietary change. 
Photo via WEDO Banana Flour and Costume Express
Read More On Bust.com:
Recipe: Tastes-Like-Ice-Cream Kale Shake!