Witches, fear not! Apple knows you have been paralyzed by the inability to express yourself via the emojis of mortals, and they have answered your call.
As of this week, WitchEmoji is available in the app store! Apple describes WitchEmoji as 'an iMessage sticker pack for all of your witchy needs': it features images of witches themselves, spell craft objects, familiars, and magic symbols. 
itunes.apple.com
My favorites are the ouroboros and the goat (who looks a lot like Black Phillip from The Witch). 
WitchEmoji also features both male and female witches of various skin tones. Like other emoji variants, WitchEmoji seems committed to inclusivity and the diverse representation of its users. And we agree—witching is for everyone. 
itunes.apple.com
WitchEmoji's current package offers 80 symbols with various color options, including a goblet, a cute lil' owl, and some rainbow pentagrams. 
itunes.apple.com
itunes.apple.com
Perhaps best of all, the WitchEmoji app was built by female curator and writer Pam Grossman (with help from emoji designer Julia Heffernan). Grossman is the creator of Phantasmaphile, a blog about esoteric and fantastical art; the author of What Is A Witch and Associate Editor of Abraxas, an international journal of esoteric studies; the co-organizer of NYU's Occult Humanities Conference; and the co-founder of Observatory (2009-2014), an art and lecture space in Brooklyn. Her work aims to explore mysticism and the occult 'via a scholarly yet accessible approach,' and WitchEmoji is her most accessible project yet!
On the WitchEmoji website, Grossman writes, 'I created WitchEmoji because I couldn't find any great witchy, magical emoji to use in my texts. Necessity (or obsessive desire in this case) is the mother of invention.'
WitchEmoji is available for iPhones and iPads with iOS 10.1 or newer, and is compatible with iMessage.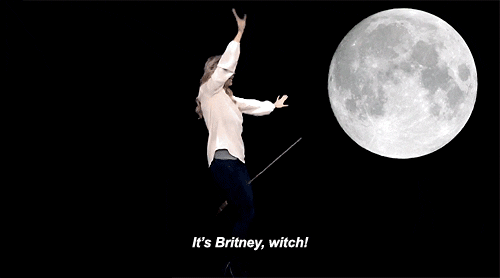 Giphy.com
Read more about how to install WitchEmoji here.
Download WitchEmoji for your iPhone here. 
Top photo: itunes.apple.com
More from BUST
Finally! A Tarot Deck Focused On The Beauty Of Diversity
Scissor Sisters' Ana Matronic Is Calling Witches To Unite Against Fascist Totalitarianism: BUST Interview
Reclaiming My Weirdness: On Witchcraft And Non-Binary Trans Identity