When I arrived at the theater for a press screening of the new Ghostbusters last week, I had low expectations. Not because I hate films starring women (hello, I work for BUST), or because I'm anti-remake (I loved Star Wars: The Force Awakens), but because, truthfully, the trailers weren't great, and while I think each of the stars is amazingly talented, each of them also has a few clunkers on their IMDB page. Early buzz wasn't good, and I tried to keep my hopes down.
But within the first few minutes, I knew the new Ghostbusters would be great. The film opens with a spooky castle tour, with a guide played by Zach Woods (The Office, Silicon Valley) telling tourists all about the castle's features, including — my first laugh — state-of-the-art anti-Irish fencing and — my second — the room where P.T. Barnum first had the idea to enslave elephants. And then come the ghosts.
The new Ghostbusters' comedy is smarter and quicker than the original Ghostbusters', and Kristen Wiig, Melissa McCarthy, Leslie Jones and Kate McKinnon are all absolutely, brilliantly hilarious — I couldn't tell you which one made me laugh the most. Chris Hemsworth as a handsome but dimwitted secretary is an amazing subversion of the trope, and — minor spoiler alert — the villain turns out to have some serious MRA tendencies, in a nicely meta move. There are many references to the old Ghostbusters that fans of the original will love, including many cameos, like Bill Murray as a ghost debunker.
This isn't to say the new Ghostbusters is perfect — it isn't. A lot has been said about the fact that Leslie Jones' character — the only black character in the movie — is the only one of the four ghostbusters who is not a scientist, and it's a valid criticism and a conversation that needs to be had. As for more minor criticisms, some of the scenes regarding Melissa McCarthy's and Kristen Wiig's characters' friendship were pretty formulaic; certain scenes went on for a little too long; certain plot points dragged a bit. But it's a solidly good, entertaining movie — I'm going to see it again this weekend with a group of female friends, and I'm paying for a ticket this time. Also, I totally got warm fuzzies at that viral photo of those little girls beaming at Kristen Wiig on the red carpet.
I first saw the original Ghostbusters when I was about 14 or 15. I liked it — it was fine! — but I didn't love it the way my brothers did. (Hmmm, I wonder why...) I just watched the first 20 minutes again and my reaction to it is still the same — a few giggles, but mostly meh. It's an okay movie! I would watch it on a plane, or around Halloween, or if a friend asked if I wanted to watch it with them. But it's not and never has been one of my favorite movies. The first Ghostbusters sold a lot of tickets and got a lot of notice for how advanced the special effects were, way back in 1984 — but that doesn't mean it's a masterpiece.
Right now, the new Ghostbusters has a 75% rating on Rotten Tomatoes and a 4.1/10 on IMDB. The critical reaction has led statistics analysis website FiveThirtyEight to publish an article called "'Ghostbusters' Is A Perfect Example Of How Internet Movie Ratings Are Broken," pointing out that the vast majority of movie reviewers are men and that, statistically, men tend to give any female-led movie or TV show lower reviews than a male-led movie or TV show.
FiveThirtyEight points out that the new Ghostbusters has an average IMDB rating of 3.6 out of 10 by male users, and 7.7 out of 10 by female users. Yeahhh. (I personally would give it around an 8 out of 10, so the female user average feels fair to me.)
This is part of a conversation that's been building over the past year — similar articles were published (including here on BUST.com) when Sisters came out, and late last year, Meryl Streep spoke out about the "infuriating" gender disparity on Rotten Tomatoes — there are just 168 official film critics who are women on RottenTomatoes, compared to 760 who are men. Also, it's worth mentioning just how much harassment female journalists who write about the new Ghostbusters are receiving — I've got my cursor ready on the Twitter block button right now.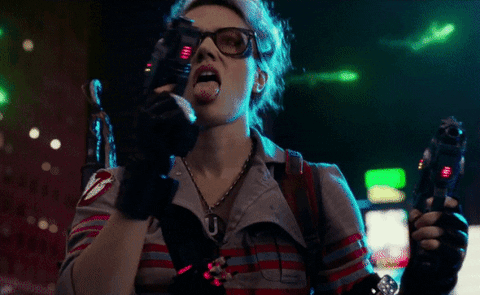 Me to MRAs
If you like the original Ghostbusters, go see the new Ghostbusters. If you don't like the original Ghostbusters, but you like Bridesmaids or Spy or Welcome To Me or Kate McKinnon's and Leslie Jones's sketches on SNL, go see Ghostbusters. If you want to see more women-led comedy movies get made, go see Ghostbusters.
Because the real ghost that needs to be busted….is the film canon because it's determined almost entirely by straight white cis men and doesn't reflect works created or enjoyed by any other group.
Because the real ghost that needs to be busted….is the patriarchy.
More from BUST
Leslie Jones and Christian Siriano Show That Women Of All Sizes Deserve To Feel Glam
10 Reasons Why We Love Leslie Jones
'Ghostbusters,' 'Lady Dynamite' And Winona Ryder: BUST's 10 Best Bets For June and July 2016