On Wednesday, City Girls—with some assistance from Cardi B—released the visual for "Twerk," and it did not disappoint. The video had been anticipated since November, when Yung Miami, one half of City Girls, issued the "City Girls 25K Twerk Challenge" in search of the world's best twerker. The top 20 hopefuls would be "flewed out" to her hometown of Miami to be featured in the video, and the winner would be awarded $25,000.
For those who are less familiar with City Girls and more familiar with Cardi B, the video for a song called "Twerk" is exactly what you would expect: lots of ass. Yung Miami, Cardi B, and 20 of the best twerkers Instagram could find, all throwing ass in Miami. If one could pull their eyes away from the hypotonic trance of Black bodies jiggling, while the presence of Black women is prominent, there is one feature that is missing.
No, it is not other half and heart of City Girls, JT, who is still serving time in federal prison for credit card fraud. The video is all and only women, and more specifically, Black women. There are no men—there are no queer men shaking ass alongside as allies, nor are there any straight men consuming the party for their own enjoyment. "Twerk" is a visual presentation of what some Black women's fun looks like in the absence of men, proving the notion that not everything women do is for the consumption of men.
A women-centered utopia in videos by female rapper is nothing new.  Lil Kim's "Ladies Night," featuring Missy Elliot, Angie Martinez, Left Eye, and Da Brat, showed a bungalow hideaway where men only exist to service women, bringing drinks and giving massages. A more recent version of the all-female utopia is Nicki Minaj's "Anaconda" video. It's an ode to large penises, a flip on Sir Mix-A-Lot's ode to big butts—however, Nicki always remembers to disrupt the male gaze. Sure, she serves girl-on-girl action by playing with another woman's butt cheeks, and imitates oral sex on a banana (feeding the fantasy), but right as viewers thinks she's about to reach the proverbial peak, she chops the banana in half and smirks. Minaj's demand for power continues, as Drake, the only man to appear in the video, is treated to a lap dance. As he's about to touch her, she swats his hand away and struts off. In Nicki's utopia, men are present, but women are always in control. In City Girls' utopia, men only exist in conversation, or rather, in verse. To hell with the male gaze; the only way to decenter men from the conversation is to simply not include them.
Hip-hop has traditionally been male-dominated since its inception, with a handful of female rappers for each generation along the way. However, despite the fact that the music is a direct reflection of the Black experience, it usually only features Black women as ornamental objects to be obtained, like cars and jewelry. For this, paired with racism, hip-hop has garnered the reputation of being more misogynist than any other genre.
Yung Miami and Cardi B mimick a lot of the misogynist actions that regularly appear in rap videos at the hands of men, changing the conversation and taking the double standard head on. The shot on the yacht is very fitting for Miami Beach, but is also very reminiscent of Jay-Z's "Big Pimpin" video. Another iconic rap video for its time, shot during Carnival in Trinidad and Tobago, "Big Pimpin" shows Jay-Z, UGK, and friends on a yacht surrounded by half-naked women; Dame Dash can be seen in several instances, pouring champagne on a woman or two. While the women are all dancing together in "Twerk," Cardi flips the Dame Dash shot and makes it her own by shaking a bottle of champagne and spraying everyone, herself included.
For many folks online, the "Twerk" video is reminiscent of another legendary rap video: calling it a female version of Nelly's "Tip Drill" video, most notoriously known from BET Uncut, an adult program that played X-rated rap videos at the Devil's hour. Nelly and the St. Lunatics shared with all who watched how derrty a rapper lifestyle really was: a mansion party in Atlanta with only a few men and a barrage of scantily-clad, some topless, women twerking. However, the video's most iconic moment is one shot: Nelly takes a credit card and slides it down a woman's butt cheeks. Of course, that transaction came at a great cost to Nelly, as it led to a boycott during a bone-marrow drive for his sister battling Leukemia. Nelly maintains that the moment was the idea of the woman in the video, yet he and his sister suffered the most from it.
The "Tip Drill" video, most other rap videos, and "Twerk" are likely to be deemed anti-feminist, as they appear to be complicit in the patriarchy and cater to men's sexual desires. However, the actual issue is a matter of consent and power dynamics. Nothing about the "Twerk" video says that these women are worried about men in the slightest.
Expressions like "Twerk" are especially important, because they show Black women ascertaining their sexuality as they want to, and not how others see it. Reclaiming twerking for Black women is also essential because in recent years, the style of dance that was once negatively associated with Black women, further hyper-sexualizing them, has been taken over and appropriated by non-Black women. This type of display of Black women's bodies and sexuality by Black women is not meant to be co-opted by non-Black women for their own sexual liberation, as they were not historically exploited for it like Black women. Hence why when a certain former Disney child star is most famously known for the dance and not The Twerk Team, it is both laughable and insulting.
City Girls and Cardi B's sexual display is, at its core, about choice and an autonomy and agency. You cannot shame a woman who is unashamed.
Periodt.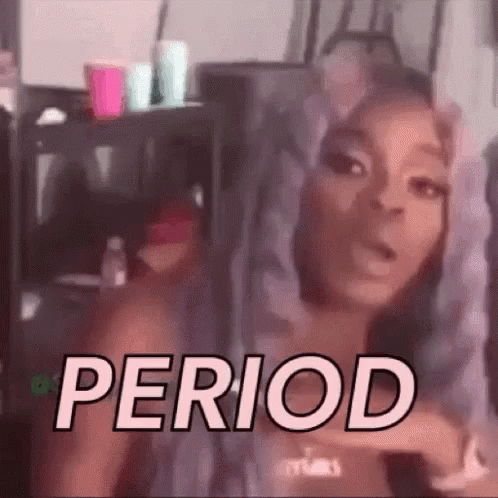 Image from "Twerk"
More from BUST
Solange Knowles Reveals The Harsh Reality About Belonging In White Spaces
Big Freedia, Queen Of Bounce, Shares Her Beauty Secrets
Amandla Stenberg Drops The Mic On Cultural Appropriation