This year marks the 20th anniversary of the death of Diana, Princess of Wales, and we have been blessed with not one but FIVE original documentaries about her life and death. If you know who Princess Diana is, then you probably know that she and the media were frenemies of the worst kind. This complicated relationship put me in a pickle. Would watching these documentaries make me complicit in her exploitation? Probably. Would she have wanted this media blitz on the anniversary of her death? I don't know, but it seems like her children and family thought she would…so off I went!
I started my Lady Di Diet with the modest Diana: Our Mother HBO documentary. In a first class move from her sons, this doc doesn't make a peep about any controversy (the name Camilla is literally never said). Instead, the two princes focus on Diana's humanitarian work and her influence on them to not grow up as spoiled aristocrats. Keep your tissues handy: Prince William has lunch with homeless old men and opens up about wishing his mum could see the rosy-cheeked Prince George.
Making a sharp left turn are two docs that have so much overlap, you could do with just one: Diana: In Her Own Words for National Geographic and Diana: Her Story for PBS. Both lean hard into scandal, but illuminate a social revolution that was occurring in the '90s. Diana wanted people to know how she felt about her private life, tears and all. In the Instagram era, this desire to be understood on your own terms is universal. When Diana did it, it was shocking enough to disrupt a monarchy. Okay, maybe watch both.
Next up was NBC's Diana, 7 Days. NBC splits the difference between tender and gritty. Like the HBO doc, this has the personal touches from both princes, though Prince Harry steals the show with a very honest interview. Waterproof mascara only on this one.
Then came the double serving of The Story of Diana, offered to me guilt-free by Diana's brother, Charles the Earl of Spencer and ABC. Spencer begins with his thesis that twenty years is the ripening period from contemporary to historical figure, and spends the next three hours dictating exactly what those history books ought to say. He doesn't omit the difficult moments, nor does he pretend that Diana handled her trials "gracefully." The Story of Diana celebrates that Diana didn't just struggle to accept a bad situation and marriage; she straight up failed at it. Not sterile or sticky, this one was worth the time.
Somewhere between commercial breaks, I became enlightened. Lady Diana was the post-feminist Anne Boleyn I had been waiting for. Diana endured and destigmatized scandals. She admitted to having lovers, an eating disorder, depression, and still kept on trucking with her public life. With each plastic wrapped bouquet she accepted, Princess Diana helped take the currency of shame off the table for women everywhere. There are still many more docs and specials to watch, but to all the networks, well-intentioned or just plain greedy, thank you for giving me 8+ hours of Diana the Disrupter.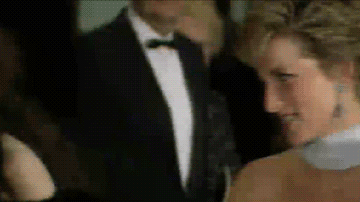 Top photo from HBO's "Diana, Our Mother" 
More from BUST
Meet The 87-Year-Old Duchess Who Was Married 3 Times,, Said "No" To Picasso, And Is More Badass Than You
Is Katie Couric Seriously Talking About Kate Middleton's Weight?Is Katie Couric Seriously Talking About Kate Middleton's Weight?