We're excited to bring you an excerpt from My Son Wears Heels: One Mom's Journey from Clueless to Kickass by Julie Tarney (University of Wisconsin Press; September 2016)
"Where're you headed?" our cabbie asked Harry, who then glanced at me.
Annoyed, I shook my head. Even though Harry was two months shy of his eighteenth birthday, cab drivers in Las Vegas continued to direct their questions to him, not me. It was the same in restaurants, where waiters set the check down in front of Harry. I felt like I was traveling with Rusty Griswold, Chevy Chase's under-age son from the '90s flick Vegas Vacation, who rode around town with an entourage of older women and who casino staff believed was high-roller wunderkind Mr. Papagiorgio. But this was 2008. Could these men really think a teenager was my escort?
"We're going to Lucky Cheng's Restaurant," I said.
Our driver hesitated. "So you're in the mood for a little Chinese food, huh?"
"No," I replied. "It's a dinner-theater drag show."
"Oh, I know that," he said, looking at me in the rearview mirror. "Just wanted to make sure you did. Some people go expecting egg rolls and chow mein."
I had no idea what the drag club would be like, but I wasn't the clueless middle-aged tourist our driver thought I was. I was excited to see the show Harry had chosen for the night and felt flattered he was bringing me into his world of drag performance. I'd told him in November that I wanted to take him to Las Vegas over Martin Luther King Jr. weekend as an early birthday present. I wanted to let Harry pick one of the shows we'd see and rattled off a list of entertainment options to him over the phone one night when he was at his dad's.
"You know, Mom, I'd kind of like to see a drag show."
My eyes blinked in rapid succession. "A drag show?"
"Yeah, I've never been to one."
Of course Harry would be eager to see professional drag queens in action. The Rocky Horror Picture Show was still his favorite extracurricular. He had joined the local cast as soon as he was legally able to, shoving a parental permission form in front of me the day after his sixteenth birthday. Now, almost two years later, he performed the role of Trixie, the sassy hostess that entertained Rocky fans waiting in line outside. His elaborate wardrobe and extensive wig collection transformed him semimonthly from high school senior to flamboyant caricatures of Marie Antoinette or Jessica Rabbit. He never wore the same look twice.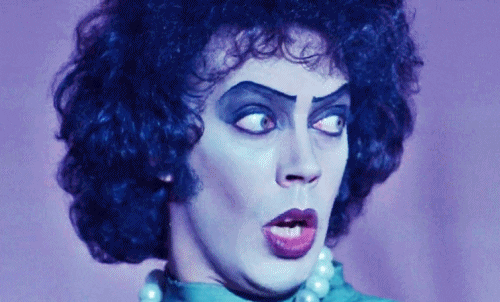 "I haven't seen a drag show either, honey, so why not? I'm searching Google right now."
"Awesome, Mom, thanks."
"There's a Lucky Cheng's Restaurant I've never heard of," I said clicking to the site. "It says, 'Drag performers sing live, lip- sync and dance throughout the dining room . . . audience participation . . . irreverent sense of humor—'"
"Definitely that one, Mom!"
The cab dropped us off in front of a darkened venue. There was no sign and the place looked closed. We stepped into a dim entryway. Three sets of stackable dining chairs stood to our right next to two fake wood laminate tables, one inverted on top of the other. Some sound equipment and cords were shoved under a long table to the left. I was wondering if we were in the right place when a very attractive woman in a strapless silver-sequined dress pushed aside a black curtain.
"Welcome to Lucky Cheng's," she smiled. "I'm Asia." Her voice was hoarse and deep; it was the only giveaway that she was a drag queen. She towered over me atop clear, Cinderella-slipper stilettos. I marveled at her supermodel-perfect hair and makeup.
"Follow me, please," she said.
As Harry whispered that her dress was really two tube tops, Asia stopped at the edge of the dining room.
"Short bitch walking and her fag," she yelled.
Everyone laughed. I felt all of my body heat rush to my face. Harry turned to look at me with a huge grin, signing with rapid head bobs that this was going to be fun.
During the preshow dinner, Asia picked up the bangle handle of my patchwork snakeskin wristlet. "Look at this!" she said to Bebe, another glam waitress and the current Miss Pride Las Vegas. "Cher here's got a cock ring on her purse!"
Harry laughed while I managed a smirk, stiffening like an over- sprayed wig.
"Who made that thing, anyway?" Bebe asked. "Jeffrey Dahmer?"
Harry was having a blast. I felt like a prude. I knew if I were with my girlfriends I'd be lapping up the funny insults and references to huge dicks, too. But I was with my son. I wanted to maintain some parental decorum. I ordered a vodka martini straight up.
During the stage show, Harry and I tipped all the queens from the stack of singles we'd been encouraged to get from the bar in advance. Harry shared critiques of the performers with me between acts.
"She looks tired and bored," Harry said of Miss Fortune, the emcee. "And she put no effort at all into her makeup."
As I watched the low-energy Miss Fortune at Lucky Cheng's, I thought Harry would have done a much better job. Just then she asked for audience volunteers to participate in a contest. Harry's hand shot up, so I watched as he and five others took to the stage. They were to perform their best imitation of Meg Ryan's fake orgasm from the movie, When Harry Met Sally. Audience applause would determine the winner.
I gulped as my heart moved up into my throat. I had to listen to my teenage son fake an orgasm? I'd never even said "orgasm" in front of him. But Harry was in his element: center stage. I knew my natural-born performer was going to give it his all. My lips curved to a frozen smile. I took a deep breath and imagined myself invisible.
Harry's fake orgasm was one of the best, but I could not focus my senses fully on the applause meter. Sound echoed in my head. I was sure the metallic sensation in my mouth was the taste of extreme embarrassment. I sat with ankles crossed and clapped like a white-gloved monarch, three fingers of my left hand gently tapping the heel of my right hand.
"Hey!" Miss Fortune shouted, pointing at me. "You're with him and you're not even clapping!"
I felt my face turn the shade of the brick I'd just been hit with. I changed my applause on cue and even shouted a few woo-hoos.
Harry took second place. I thanked my lucky stars I didn't have to watch him down the prize of a Slippery Nipple shooter.
"You did great, honey," I told him when he returned to the table. "I almost fainted, but you were awesome."
From My Son Wears Heels: One Mom's Journey from Clueless to Kickass by Julie Tarney. Reprinted by permission of the University of Wisconsin Press. © 2016 by the Board of Regents of the University of Wisconsin System. All rights reserved.  
Top photo: RuPaul's Drag Race
More from BUST
Half-Drag Portraits By Photographer Leland Bobbé
Drag Balls In The 19th Century
RuPaul Serves Up Some Sass For Hillary Clinton Haters