2014 was, by most accounts, a pretty rad year for the ladies in the crowd. Politically, we've got more woman than ever before in Congress (100 to be exact), the first African-American Republican Congresswoman,  and a blatant smack down of  extreme anti-abortion laws. Women have thoroughly flexed their social media muscles, creating trending hashtags like #YesAllWomen, #WhyIStayed and #WhyILeft that united women and allies against violence, misogyny and sexism. We convinced the Olympic Committee that our uteruses wouldn't fall out if we competed in ski jumping, the NBA got its first female coach, and Marvel Studios promised three female superheroes for the big screen in 2017.
Yes, this has been a big year, with many accomplishments, and it's great setup for 2015; however, there is still much to be done, like closing the wage gap, furthering the "It'sOnUs" campaign to end sexual violence, and for cryin' out loud, can we get a Madam President up in this White House?  To get some inspiration for the coming year, and a reminder of just how far we've come, here are a handful of women who drove the culture of 2014.
The Notorious RBG wowed us again and again with her blistering dissents and corresponding collars in fervent support of women's rights. She's fighting the good fight at the highest court in the land, and we couldn't be more grateful.
All hail the queen of the small screen. ABC's Thursday wunderkind continues to create forceful, intelligent and complex female characters for actress to sink their teeth into and audiences to enjoy. She can't stop won't stop, and we love it.
3. Gillian Robespierre and Jenny Slate
From the small to the silver screen, Robespierre and Slate were the comedy dynamo who reminded viewers that women can be funny, gross, heartfelt AND get an abortion at the end of the movie, without sacrificing quality storytelling or alienating people. We want more! #ObviousChildForever
4. Roxane Gay
The author and essayist tore it up in 2014 with two critically acclaimed books, An Untamed State and Bad Feminist, and arguably had the most thoughtful and eloquent Twitter feed of the year. Strong, unapologetic and brilliant.
Columbia student, performance artist and sexual assault survivor turned activist, Sulkowicz inspired the nation with her piece Carry That Weight. A moving reminder of the all-too-real struggle many women face, she is an inspiring face of a movement that must shout louder and demand more in the years to come.
A teenager with unimaginable courage and heart to spare wins the Nobel Peace prize and inspires us all with her life, her struggle and her work to improve the lives of women and girls in Pakistan and around the world. A true hero for equality, feminism and peace.
This list is just a TEENY TINY sampling of all the amazing women who have shaped the conversation about women's rights this year. Check out this list for a few more of your favorite feminists, and get ready to take 2015 by storm! Who was your feminist inspiration in 2014? Tell us all about her in the comments below!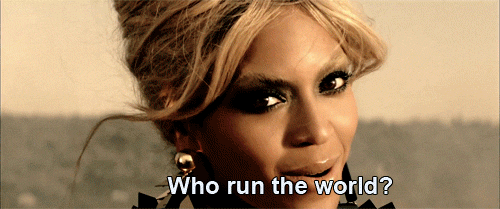 images c/o: urbantimes, giphy, huffingtonpost, thedailybeast, redeyechicago, hellogiggles, usatoday, time