Ready or not, here we go! 
1. The Pitt added to Angelina Jolie's name 
ICYMI: The writer, director and star of By The Sea is none other than Angelina Jolie Pitt. For this film that she co-stars in with Brad, she has added on the Pitt to her name. 
2. Picturesque shots of a remote town that is, you guessed it, by the sea
Throughout the film, one of the highlights has to be the sheer beauty of the setting. Filmed on Gozo off the island of Malta, the sights of light-blue ocean and white foamy waves crashing against rocky cliffs near the shore are pretty breathtaking. The setting in the film is a small town in a remote part of France during the 1970s, which is a pretty peaceful against the tumult that is the marriage between Vanessa (Jolie Pitt) and Roland (Pitt). Vintage costuming and set design, paired with the beauty of Brangelina makes for a gorgeous film. 
3. Lots of tears paired with smeared mascara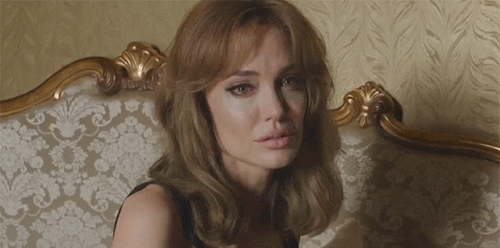 At the opening of the movie, Vanessa and Roland arrive to a hotel and immediately start unpacking. The protocol they have for immediately moving the furniture around leads you to believe they are going to pull spy gear out of their suitcases, and make for a total sequel of Mr. and Mrs. Smith, but in fact they are arranging their new digs to suit Roland's writing career–though he spends most of the film at a bar down the road. It is clear from the beginning that there is some sort of problem in the marriage, especially as the tears begin to stream from Vanessa's eyes in every other scene, complete with mascara from her perfectly done-up face streaking down her cheeks. The tears and her pill popping are the context clues that show she is not mentally stable for some reason, but you don't get to know why for a long, long time. 
4. Voyeurism that brings an estranged couple together
After a while spending time "away from it all" in their French seaside hotel, Vanessa notices a small hole in the wall that peers into the room of their newlywed neighbors, François (Melvil Poupaud) and Lea (Mèlanie Laurent). She starts spying. Not just a little peeping here and there, but she becomes obsessed with watching them–especially when they are having sex. Now this sounds a little weird, and it is a little weird, because you don't have any clue what her deal is, other than that she spends all of her time in the hotel peering either out the window or into the next room. Then things get even weirder when Roland notices the hole and also takes a peek. Eventually he catches Vanessa staring into the other room when he gets home one day, and they begin being voyeurs together. They have hole-in-the-wall picnic dinners, where they sit and watch the couple next door go at it in their honeymoon bliss. All the while, you kind of wonder what is so broken between the two main characters that she barely will let him touch her despite his apparent love for her. 
5. Confusion—stretched-out confusion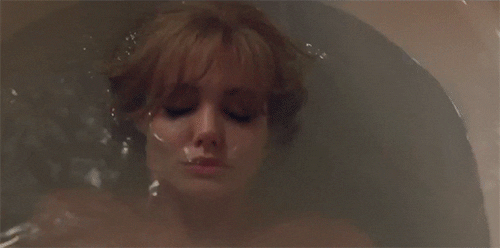 The voyeurism continues for a while, and Vanessa's obsession with the couple next door heightens. You begin to suspect that she is trying to seduce François, but then again you're not really sure if maybe she is trying to seduce Lea. Both couples go on a day trip together out at sea, and Roland notices that his wife's infatuation is growing unhealthy. He confronts her about it, but the conversation goes nowhere. Eventually Vanessa and Roland go out for a drive together, where he decides to surprise her by going out to dinner. Not dressed properly for a meal, Vanessa, who used to be a dancer, is clearly uncomfortable until he suggests they join in on the dance floor. In the middle of their dance, she spirals into an almost catatonic state where the dancing seems to have paralyzed her in some way. Red, almost bubbly hazes come into the scene as if she is flashing back to some memory, but the crux of the film has yet to arrive.
6. After a painstakingly long film, an actually really thoughtful premise with symbolism that will have you analyzing for at least an hour after the film. 
Two hours later, Roland looks through the peephole to find Vanessa in the room next door with François. Right as some boob action gets underway within the affair, Roland bursts in and punches his neighbor and brings his wife back to their side of the wall. But wait, this isn't even the anti-climactic ending that the film painstakingly leads up to. It makes sense at the end that Jolie Pitt put us through this kind of elegant torture, for the details of her mental health struggle is finally revealed at the end. The pain of the audience trying to cope with the confusing, drawn-out plot parallels the pain of Vanessa's internal struggle. 
7. An overall really moving film that confronts topics surrounding women's mental health
Written and directed from the perspective of a woman, 
By The Sea 
has faced some serious criticism. Critics from 
Rolling Stone
called it "a slow, sodden, stupefyingly dull take on a 1970s marriage gone bad," while others refer to it as a "vanity project." In reality, 
By The Sea
ventures to introspectively tell the journey of a marriage totally strained by a wife's mental health. Jolie Pitt really taps into the psychology of women and marriage in an artful way that really beautifully captures a painful experience. The message reached by the end of the film is worth the wait, as long as you're willing to ponder the meaning after the final scene.
More from BUST
Horror Films And Feminism: Women Who Don't Run From Danger, But Step Up To It (Thank You, Mary Shelley)
Lisa Vreeland Returns With Peggy Guggenheim Documentary: BUST Interview
'Room' Is A Movie You Can't Look Away From: Review