Gilmore Girls
Today, Gilmore Girls is celebrating its 16th birthday, and with Gilmore Girls: A Year In The Life just 50 days away (yes, we're counting), there's no better time to celebrate. Whether you're visiting one of the pop-up Luke's Diners all around the US, or just rewatching one of your favorite episodes, it's a good day to be a Gilmore Girls fan. As for our way of celebrating, we've rounded up five groundbreaking ways Gilmore Girls showed women on TV.
1.Gilmore Girls puts the focus on mother/daughter relationships.
So often on TV, mothers are flat stock caricatures who serve no other purpose than to nag the TV dad and cook dinner for the TV children. Gilmore Girls put the focus on mother/daughter relationships: Rory, Lorelai and Emily Gilmore were all well-rounded characters in their own right. Their relationships with each other were complex and interesting, but for all the conflict, the relationships were also always grounded in love.

2. Gilmore Girls didn't go along with the catfight trope.
When Paris Geller is introduced, it at first looks like she and Rory are about to become your typical frenemies. Instead, they became close friends who may have bickered constantly, but were also always there for each other.
3. There's not a fat joke in sight.
Gilmore Girls deserves all the props for the character of Sookie St. James, played by Melissa McCarthy in one of her first roles. Sookie is a perfectionist, clumsy, sweet, silly chef who is great at her job and a great friend, too; plus, she has a rewarding love story (well, until the Jackson-lied-about-getting-a-vasectomy storyline). And, guess what: There are Z E R O fat jokes.
4. The dudes are all love interests.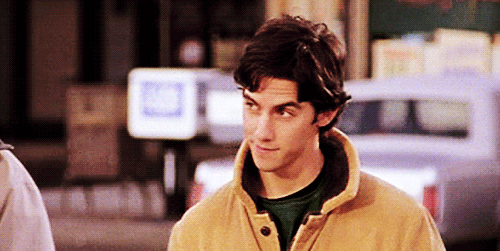 Jess, Dean, Logan, Luke, and all the other boyfriends are all well-developed characters too, because Gilmore Girls is just that well-written, but it is so refreshing to watch a show where  the women are the main characters and the dudes are the love interests.
5. Rory's career comes first.
Although there are a lot of problems with Gilmore Girls season 7, we love how it ended: with Rory riding off into the sunset to cover the Obama campaign as a journalist, on her way to achieving her career goals. It was a happy ending that wasn't tied to a love story — Rory ended the series single. Likewise, Lorelai's dreams of running her own inn were given just as much screentime as her love story with Luke. Rory's three main love interests are all returning to the series, but we're just as interesting in seeing if Rory has achieved her dream of becoming the next Christiane Amanpour as seeing if she will end up with Jess.
More from BUST
7 Things We Want To See In The 'Gilmore Girls' Revival Series
5 Things We Learned From The 'Gilmore Girls' Reunion
10 Photos That Have Us Excited For The 'Gilmore Girls' Reunion