There is a stereotype that curvy and plus size women can't wear vintage lingerie due to sizing. I am here to tell you that is absolutely untrue! Just as hard as it is for a woman with a DDD or above bra size to find a bra at Target, it is not easy to find vintage lingerie that flatters all sizes, but it isn't impossible! Below are some of my favorite vintage labels that cater to the busty and plus size market.
Busty Brands
Carnival is renowned among curvy beauties for their incredible body shapers and lingerie pieces that are available up to a size 48DDD, making it easy for women of all sizes to enjoy their retro styles.
Lady Marlene's strapless, corseted and bustier lingerie make the brand popular among plus size pinups and busty brides as the pieces range from A cups to F.
Goddard was a favorite of old Hollywood's curvy glam girls looking for sheer, sexy robes and nighties, and the label remains a staple in the closets of "in-the-know" voluptuous vixens today.
Van Raalte has been around since 1913 and is known for their accessories — gloves, stockings, tap pants and more — all the pieces that truly complete a vintage boudoir look. Bra size can change, but gloves will last forever!
Maidenform is probably one of the best known of the brands listed, as it is still a top brand today, boasting an illustrious 94 year history. They decided that instead of designing for the flappers and flat-chested ladies of the '20s, they would instead produce lingerie (and clothing) that accentuated the natural shape of a woman's figure — hence the name Maidenform. 
vintage Maidenform ad
Find Your Fit and Form
Purchased new at the time, all of these designers' pieces were of the highest quality, but when buying vintage — particularly lingerie — there are a few things to look out for:
1. Make sure it's authentic — One great way to tell the age of the garment is from its labels. Besides looking for brand/designer labels, look for union labels. Pieces manufactured from 1900-1995 had "ILGWU" printed before a series of numbers.
2. Check the quality — As with any vintage clothing, you will want to check for stains, rips, holes and the strength of the seam stitching, but with lingerie, you will want to also want to look out for pieces that are losing their stretch, lace that is beginning to fray, boning in corsets and underwire in bras that are bent out of  shape, and all hook and eye closures.
3. Don't force the fit — You may be a B cup in modern bra cup size, but that may not translate to vintage sizing. Try going up a size (or two!) if needed to get your true fit.
Where can you find these designers and others that cater to the curvy market? My store, L.A. Boudoir, is only one of many vintage shops that look for and carry these labels including Secrets in Lace, Dollhouse Bettie, What Katie Did and others.
Finding the right underpinnings isn't easy when you're a curvy girl, but as you read, it isn't a lost cause. There is something for everyone! No matter your size, once you find the lingerie you've been looking for, wear it with confidence. Put on your red lipstick, dab on some perfume, and be the pin-up goddess you know you can be!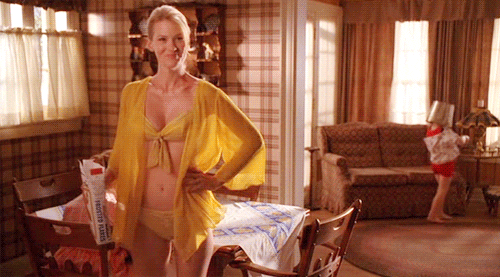 Images courtesy Lauren Arkin
More from BUST
4 Feminist Lingerie Lines To Back Your Ass Into   
I Run A Vintage Underwear Blog And The Dick Pics And Death Threats Never Stop
4 Alternative Lingerie Designers You Need To Know About