Dolly Parton is a lot of things: A country music goddess, a badass business bitch, a BUST cover girl and, above all else, a fierce fashion icon. When it comes to her style, big is better; big hair, big breasts, big lips. And she's all about that sparkle. In honor of her slamming style, here are 5 items that go way beyond a coat of many colors.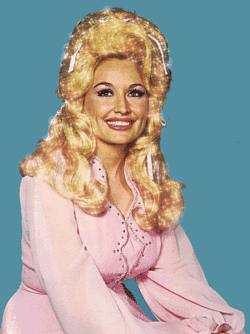 1. Dolly '72 Linen Muscle Tee from Midnight Rider, $76.00
2. Dolly Parton Illustrated Leggings, $48.00
3. Dolly Parton Hero Worship T-Shirt, $22.50
4. Pink Floral Dolly Parton Shirt, $48.00
5. What Would Dolly Do T-Shirt, $18.80
image via giphy.
More from BUST
Seven Incredible Dolly Parton Facts In Honor Of Her 7th Decade
From The Archives: Dolly Parton's BUST Interview
Dolly Parton's 'Coat Of Many Colors' Will Air On December 10th And We Cannot Wait