VFX producer Juliet Tierney and skating director and choreographer Sarah Kawahara are two of the major masterminds behind I, Tonya, the Tonya Harding biopic starring Margot Robbie. I was fortunate enough to hop on the phone with the two of them to talk about all the work behind the figure skating routines we see recreated onscreen. Tierney is an award-winning producer and Head of Production at LA/NY effects house EightVFX, and Kawahara is an Emmy award-winner for CBS's Scott Hamilton: Upside Down and NBC's Opening Ceremonies of the 2002 Olympic Winter Games in Salt Lake City (so they're both total badasses).
We chatted all the ins and outs of I, Tonya, the details of making behind-the-scenes action seem effortless, and just about everything that will make you rewind and rewatch the skating sequences twenty times over. So get out your MoviePass or hop on the Blu-Ray train, cause this ultimate dream-team's work is sure to make you watch I, Tonya with a whole new perspective.
Sarah Kawahara, Skating Director and Choreographer

In I, Tonya, the ice skating world is portrayed as harsh and competitive. How has it changed since the time showed in the movie, the '70s to the '90s?
I think that the actual caliber has been upped, and now the demands are even greater than they were in Tonya's time. But Tonya pushed the bar with her triple axel. That was really the beginning, because even today, the triple axel is not an ordinary trick; it's still an unusual trick. Mirai Nagasu [was the first American woman to land the triple axel] in the Olympics, so it's still a high bar, and it's a challenge to accomplish. 
Can you tell me a little bit about recreating Tonya Harding's routines for the film, and how much freedom you had with choreographing the skating sequences?
They bought the life rights to [Tonya Harding's] story, so we had access to all of her material, and they wanted me to recreate the routines as close as possible to the original choreography. Working with Margot, [who was] a skater that was learning for the first time, I really had to adapt the movements to fit her body to make it look like it was something she had done all her life. I made some changes to make it work for [Margot], but I kept it as close as I could to the original.
 
Is it more complicated to create a routine from scratch or to replicate one?
To replicate it, the challenge is in duplicating the style. When you make something from scratch, you could create the style within the genre, but we really had to emulate [Tonya's] body style, her style of movement, and her posture. It wasn't just the skating, it was her style of skating that we had to replicate. So in some ways, I think it is harder to replicate.
Did you have any say in the casting of the skating doubles?
Oh, absolutely. I found the doubles, and it was really important for me to know that I had the right doubles for [the film] because it's a very specific job, and not everybody can do it. Also, the film was being shot at the same time as US Nationals, and the caliber that you need are the people who would normally be in US Nationals, so I was lucky enough to find two doubles.
Take note of the stadium and skating double via EightVFX 
Are the movements that were put on skaters' bodies in the '80s and '90s different than the movements you would put on a body today, and if so, is it difficult to train a body in 2018 to do these moves?
It was a simpler way of movement. It was more linear and more athletic in Tonya's time, and Tonya in particular had a certain style of movement that was very deliberate and aggressive and athletic. Today's style of movement is more dance-incorporated. 
So Tonya Harding's music differs from what I assume a classic skating sequence would usually use. How would music like Harding's choice of Batman and ZZ Top effect the choreography and the skater's performance? 
I think the music choice absolutely affects and should affect the way the skater interprets [a sequence] because the music and the movement are supposed to become one. That's the goal; it's a marriage for the really good skater. So [Tonya] really wanted to make her own statement, and not be like the other skaters. She really wanted to set herself apart and stand out. That was her type of personality. It was hard for her, because in those days, it wasn't so accepted to have different kinds of music, whereas today, the music selection is extremely broad.
I watched countless videos, looked at charts, and even watched a breakdown of what a triple axel is, but it's still really complicated in my mind visually. Can you break it down for me, and explain why it's such a hard move to accomplish?
It's hard because it has an extra half a turn. When you think triple, you think three times, but it's really three and a half times around. So [the skater] takes off on a forward outside edge, and then she rotates once, twice, three times, which would bring her back to forward, but then she has extra half a turn [in the air] in order to land backwards on her other foot, her right foot, on the back outside edge. And that's what makes it difficult. There's no assist with the toe to help give you the trajectory.
So because the triple axel is so hard to land, did the skating double actually achieve it?
It's such a rare move that I was not able to get skating doubles who could do a triple axel. Truly, there's maybe, at the most, five women in the world who can do it. It's not an everyday trick. First we tried putting the doubles on wires, but the movement was too floaty, the rotations and the trajectory, it just floated too much and it didn't look real. So then we decided to do it through editing and camera work and we used both doubles to create the triple axel. [The skaters] did a series of double axles, they must have done at least thirty double axels in order to get the shot in the way [EightVFX] needed to give you the triple axel.
Is there a different kind of drive in an actor versus a professional skater? How did Margot compare to someone with previous skating experience?
I think it was really interesting that [Margot] was so focused. I was very surprised by how focused and interested she was in learning to skate and accomplishing the movements, and she would even look around and marvel at the other skaters on the ice and wonder, "How do these skaters do it?" She was very in tune with what she needed to accomplish.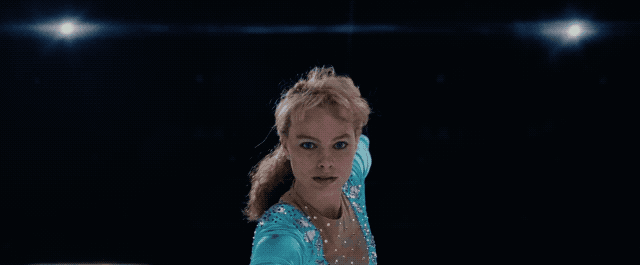 Juliet Tierney, VFX Producer
For someone who doesn't understand the technological magic of your work, can you break down a little bit of what you and EightVXF did for I, Tonya?
We had our people on set taking references on what they needed, and we had witness cameras [separate cameras used to capture extra data] photograph the stadiums. Then we used CG [Computer Graphics, the same as CGI] to recreate the people in the stadiums, and we worked with the editor and the director. Having known that we were going to do facial replacements on this movie, we used a scanning rig [a piece of equipment that photographed different angles of Margot Robbie with multiple cameras], which was then used to create the digital double with high-res textures, skin tones, eyes, and so on. With the rig, you can make whatever you want and animate specifically to the shot.
While shooting complex tricks that the body double did, we were able to put Margot against blue screens and capture her reactions, so we had real face reactions from her that we could use. And then it's our job to look at the edits that require facial replacements and decide what is the best technique to use. If we're lucky and have a good blue screen, we can just take that face and digitally track it onto the body double. And if there is nothing we can use, we have a backup with our 3D face. Then we have to choose the reaction and hand animate to make it all look seamless.
Margot Robbie in the High-Res Camera Apparatus aka the scanning rig via EightVFX
What were the biggest challenges of working on the film?
There were a lot of shots and with a short amount of time — we had three months from receiving shots to delivering everything — it was quite fast-paced. There is this one big shot at the end of the movie where [Tonya] is at Lillehammer, and the whole sequence is three minutes long and made up of three different shots. The first and the last shot have Margot skating for real, and the middle shot is [CG], so knowing that the viewer is going to see one continuous shot, and a third of it [being our work], it had to be perfect. That was challenging and scary, but it all worked out in the end.
Margot Robbie as Tonya Harding at Lillehammer
Can you tell me a bit about the decision to shoot the skating scenes on film, as well as if you would have had a different or more difficult process adding CG if the scenes were filmed on a digital camera?
It's kind of a bit of both: The film itself was more complicated because everything has to be processed, and with digital cameras you don't need to process the film. So the film had to be processed every time, but to some degree, because the footage has a slightly more grainy feel in general, that could actually make it a little more forgiving. [Choosing film over digital] was the director's choice, a creative choice based on the look and the feel of the film [Craig Gillespie] wanted.
So with the triple axel being so hard to achieve, was that extra turn and a half was all you?
The final shot is made up of plates that were created in the edit. There aren't very many people in the world that can do a triple axel!
I, Tonya is still in select theaters, and is also available on Blu-Ray and DVD.
Top photo: I, Tonya
More from BUST
"Jessica Jones" Actress Rachael Taylor On What She Loves Most About Trish: BUST Interview
Hamilton's Mandy Gonzalez Talks Social Media, Music, And Representation On Broadway: BUST Interview
Shannon And The Clams Peel Back The Layers On New Album "Onion": BUST Interview