I have always loved Harry Potter. I first picked up Harry Potter and the Sorcerer's Stone in 2003, and, as a third grader, I fell in love with the magical world that J.K. Rowling created. I was drawn to the characters, to the idea of magic, and to the warm feeling I got every time I spent hours reading. Now a college graduate, I've re-read the series nearly 10 times through, and I still get the same warm feeling I got as a 9-year-old. The release of Harry Potter and the Cursed Child, the script that serves as the eighth installment of the series, has only rekindled a fire that has never really gone out.
After reading through the seven books recently, and with my copy of The Cursed Child pre-ordered and ready for pick-up, I realized the reason I hadn't yet outgrown the series was because, although they are marketed as children's novels about magic and wizards with funny names, they are actually built on a strong foundation of morally important messages and complex ideas. There's a reason that science says kids who read Harry Potter end up becoming better people: A study conducted found that young people who made an emotional connection with the characters in Harry Potter were less likely to be prejudiced against minority groups because of J.K. Rowling's allegorical story-telling style.
Reading Harry Potter has left with me a love of books and five morally sound tidbits of advice that I've been able to call upon in almost any situation.
1. Never underestimate the power of friendship.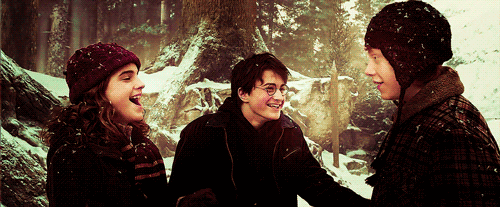 Harry said it himself inThe Order of the Phoenix — he wouldn't have been half as successful in his fight against Voldemort without the help of his friends. Professor Snape often used this fact to belittle Harry, claiming that rather than relying on talent, Harry skated through life on good luck and intelligent friends. If anything, this is the most important takeaway from the series: Your friends can be your lifelines, and it's OK to ask for help, just the way it's OK to lean on your friends for support in times of trouble.
2. Love conquers all.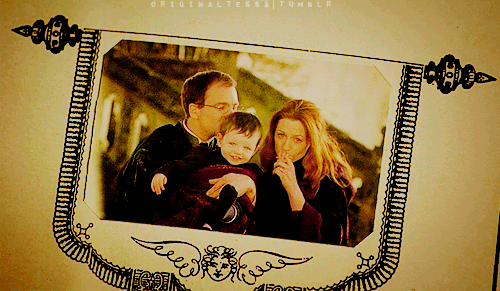 Love is the underlying thread that holds the Harry Potter novels together. It's what keeps Harry alive and safe for the first 17 years of his life, and ultimately, it's the reason he's able to destroy Voldemort. Lily Potter's love for her son protected him, and Harry's love for his friends is what kept him alive and fighting, even when he was presented with the choice to move on peacefully. Love is the strongest motivator: Snape's love for Lily is what pushed him to leave Voldemort's ranks and act as one of the most valuable assets for the Order. Love pushes and motivates each of the characters, whether it's toward the "good" side (being the Order), or farther into Voldemort's clutches, as it does to Narcissa Malfoy as she clings to Death Eaters to protect her son.
3. Allow yourself to have faith.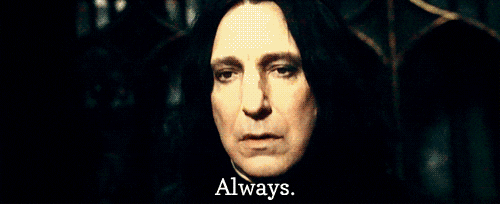 Even when he was doubtful, Harry kept his faith in Dumbledore. Even when all the odds were against him, even when it seemed undeniable that Dumbledore had brought Harry right to his death, like a pawn in a very well-played game of Wizard's Chess, Harry believed that he had his reasons, and placed all his trust into Dumbledore's hands. Even if you find your resolve beginning to waver, as Ron's did in the Deathly Hallows, you always have the choice to return, to reinstall your faith in whoever you had previously placed it. Conversely, J.K. also showed us that it is more than OK to change your mind, to remove your trust in one group and place it with another as we learn that Snape leaves Voldemort's side to join Dumbledore and the Order. J.K. also shows us what happens when we don't choose whom we leave our faith with carefully through Lily and James Potter: they picked the wrong person to act as Secret Keeper, and it cost them their lives.
4. Everyone is tempted by evil, but whether you give in to that evil is what matters.
Even inherently "good" characters are tempted by evil, by the greedy thoughts of power and success, by self-serving temptations. Dumbledore, Snape, and Voldemort were all tempted, and each person did fall, even if just briefly for some cases. However, even giving in to the temptation of power can be rectified. Dumbledore defeated Grindelwald, who was considered one of the most powerful Dark Wizards of all time, even though he was his closest friend. Dumbledore could have easily fallen in step with Grindelwald, as he had once planned to, but he pulled himself out and went on to become arguably the most powerful "good" wizard who lived. Snape joined the Death Eaters shortly after his time at Hogwarts, but once he saw what that evil could do and whom it could take from him, he switched paths. Being tempted is normal; it's human to be drawn to power and the subsequent pleasure it brings, and having temptations to do bad does not necessarily make you a bad a person.
5. Your past does not define you.
As Dumbledore once said, "It matters not what someone is born, but what they grow to be." It doesn't matter where you come from; all that matters is where you go and how hard you push yourself. Harry grew up in an oppressive household, never shown love or affection, but that didn't leave him incapable of feeling or strip him from the opportunity to form close bonds with others. Hermione — a girl who was raised by Muggles — was the brightest witch of her age, and she was never exposed to magic prior to Hogwarts. She's called Mudblood, a vicious slur based on her blood status, but she doesn't let this get to her—she doesn't let where she comes from hold her back. The Weaselys aren't financially well off, but this doesn't hold back the Weasely children from growing and succeeding. Charlie leaves to train dragons in Romania, Bill climbs the ranks at Gringotts Bank, Percy finds a place in the Ministry, and the twins open their own business. Almost every character, good and bad, overcomes his or her past to create a new future for him or herself, and this is another big takeaway from Harry Potter. Your past can only define you if you let it.
Elissa Sanci is a twenty-something writer who's now a grad student studying journalism in New York because she was reluctant to start the real world. Besides drinking too much coffee and daydreaming about traveling the world, she spends most of her time writing, reading and complaining about the weather. Follow her on Twitter and Instagram at @elissasanci. 
Photos: Harry Potter/Warner Bros.
More from BUST
JK Rowling Loves Black Hermione Casting In 'Harry Potter And The Cursed Child'
Harry Potter, Depression And Black Girl Magic: BUST True Story
You Can Make Harry Potter's Fizzing Whizbees At Home — No Magic Required