'A Manual For Cleaning Women' By Lucia Berlin: Book Review
Short story author Lucia Berlin's A Manual For Cleaning Women tells of the rough-and-tumble experiences of working class women. These 43 stories are by no means a cakewalk.
Berlin drags us on callused heels through the dreary laundromats and dirty houses where her characters reside. Berlin's life was colored by struggles with alcoholism, divorce, blue-collar jobs, and single motherhood, and her characters are like herself. It's not common to see a cleaning woman as a heroine, but Berlin gives us all the perverse details we didn't ask for, including wiping down her employer's coke mirror. In "Tiger Bites," we follow a woman who travels to Juarez to get an illegal abortion. "Unmanageable" is the tale of a woman counting her pennies, trying to hold out until the morning when the liquor store opens.
There's something about Berlin's vivid sentences and no-time-for-fuckery delivery that brings these grim-sounding plots to life and peppers them with insight, humor, and compassion. Her stories pull us into sunken circumstances with an earnest appreciation for the simple things. The stories in A Manual for Cleaning Women are insightful and real, and readers will be warmed by Berlin's unexpected observations and spellbinding voice.
Read more on BUST.com:
Help Bluestockings Bookstore Thrive For Five More Years
5 Reasons To Love Elena Ferrante's Neapolitan Novels With All Your Feminist Heart
5 Vital Travel Tips For Your Next Crazy Adventure
Just in case you ever need a travel guide while wandering the deserts of Tanzania, trekking through waist-high weeds of Indonesia or hopping country to country on the Eurorail: look no further. From beer in Munich to pot in Saigon, Ayun Halliday, is no foreigner to the secrets of adventurous traveling. In No Touch Monkey! And Other Travel Lessons Learned Too Late, she shares her wisdoms through hilariously candid personal tales of her mishaps on the road and the lessons she learned along the way. Originally published in 2003, the book is back in 2015 with a fresh new cover and an updated foreword from the author. Though the book of personal essays is packed with lessons to be learned (and cool illustrations of primates), five stick out as essential for any world traveler who likes to spice up their trip with a little risk. Let's take a look:
1. Bathing as little as possible will win you free food and drinks.
Like Ayun and her (then) boyfriend Nate at Oktoberfest in Munich, if you are thirsty and low on funds, being dirty and grimy enough could cause some of your new foreign friends to mistake you for starving Hungarians. The discovery of the error may also help you get free booze all evening from some Irish folk.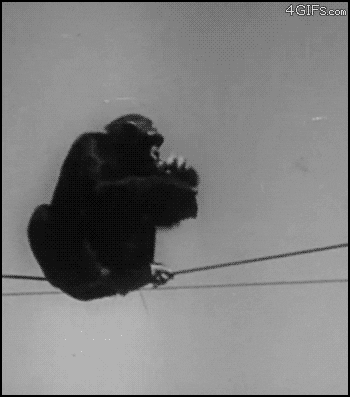 "'We thought you were starving Hungarians,' Jim howled. 'Because of the looks of you, see. No offense, but I'd never heard of an American as dirty as the two of you.'"—Ayun Halliday, No Touch Monkey!
2. Be wary of the weed you buy from kids in Saigon.
When traveling abroad and looking for a little pick-me-up, don't buy marijuana from the first little salesman you find—his goods could be laced with something you're not so used to. Ayun and her traveling buddy, Greg, are surprised when their weed ends up taking them on a trip where words like "Steerumphed," exist and the whole world seems like it is actually a reenactment of the first scene in the film Apocoaypse Now.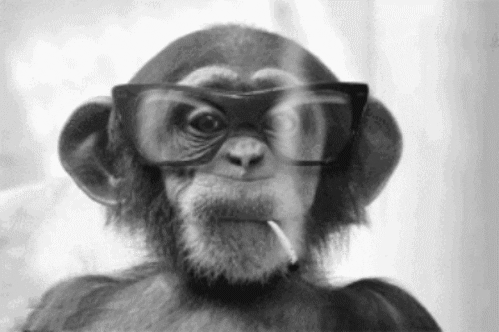 "We had trouble getting the key in the door because the lock was melting."—Ayun Halliday, No Touch Monkey!
3. When you dislocate your knee in Indonesia, seek an Islamic bone healer—not a western doctor.
Venturing to see the flying foxes in Bukittinggi, Ayun takes a tumble causing her knee to pop out of its socket. With her injury swelled to the size of a cantaloupe and no help in sight except for a local attempting to massage her with a mysterious healing cream called "jamu," what you can learn from Ayun's agony is that seeking out local healers is probably the quickest road to recovery. After a few pops of her leg by an Islamic healing man, Ayun's leg was snapped back into order.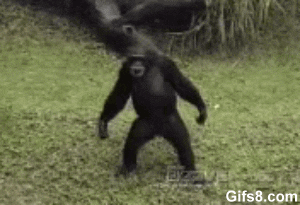 "The dislocated knee snapped back into alignment with the resounding crack of a gunshot. The audience at the window burst into spontaneous applause while I gasped…"—Ayun Halliday, No Touch Monkey!
4. When life gives you malaria, make malaria-ade.
Otherwise known as making an Australian nurse your roommate, who will instruct you to take pills your own doctor said would cause blindness. Also, misery loves company, so make sure that there are others suffering with the same sickness, preferably two frat boys. Ayun recalls her travels in Tanzania, Rwanda, and Kenya and reminisces that the photos feel more memorable than the actual experience. Sometimes adventures take you to lessons learned instead of fond memories made.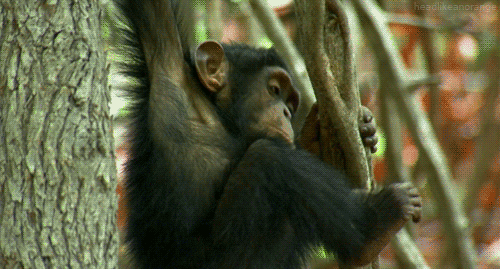 "Lots of mosquitoes bit me that first night in Tanzania, but this one was special. This one had a snoutful of malaria…that caused me to stagger across our campsite two weeks later like a lion-felled gazelle erupting at both ends."—Ayun Halliday, No Touch Monkey!
5. If "No Touch Monkey!" isn't clear enough, then you probably don't want to venture into the Monkey Forest of Bali alone and in the dark.
You might find an angry dog. Or two. Or six. Trying to crash a Balinese wedding to enrich her cultural experience, Ayun wanders into the Monkey Forest, where there are clear instructions not to touch the monkeys, but little instructions on what to do if met by an angry pack of dogs. She manages to escape by backing away slowly, but long story short, as she says, "Traveler can not return home with any stories if Traveler's throat has been ripped open for her on the journey."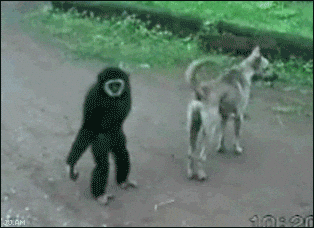 "That damn dog, couldn't he see I was no ordinary tourist? I was there because I wanted to learn more about his culture!"—Ayun Halliday, No Touch Monkey!
Learn from Ayun; get out there and explore. She proves that the worst thing that could happen sometimes ends up being (literally) one for the books!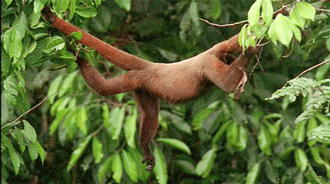 Grab your copy of No Touch Monkey! And Other Travel Lessons Learned Too Late, for some easy reading while you travel to your next adventure (or dream about your next adventure from the bathtub).
Image via ShutterNomad.
GIFs via Giphy, Giphy, Giphy, Giphy, Giphy and Giphy.
More from BUST.com:
5 Reasons To Love Elena Ferrante's Neapolitan Novels With All Your Feminist Heart
BUST's Favorite Reasons Why Jersey City Is Your New Fave Tourist Destination
Stunning Photographs Of A Tiny Village Where Girls Run Society
5 Reasons To Love Elena Ferrante's Neapolitan Novels With All Your Feminist Heart
The fourth and final of Elena Ferrante's Neapolitan Novels, "The Story Of The Lost Child," was released today, and it seems like everyone is catching "#FerranteFever." Ferrante's four-volume series follows the complicated friendship of two women, Elena and Lila, as they grow up in Naples, Italy in the 1950s, '60s and '70s.
If you haven't picked up the Neapolitan Novels yet, you should. Here are five reasons to love Elena Ferrante with all your feminist heart.
1. Elena and Lila's relationship shows all the complexities of female friendship.
The Neapolitan Novels devote well over a thousand pages to the friendship between Elena and Lila, and it's still not enough. Forget stereotypical "frenemies" or "BFFs" -- Elena and Lila's relationship defies all categorization.
2. Ferrante thinks critically about feminism.
Asked if she considered herself a feminist in a recent email interview with Vanity Fair, Ferrante wrote almost 800 words on the significance of the "personal is political" slogan and referenced feminist writers including Judith Butler and Shulamith Firestone. Ferrante side-stepped the question of identification but wrote, "In short, I am a passionate reader of feminist thought."
3. Ferrante gives her characters sexual agency.
Ferrante doesn't shy away from depicting the Elena and Lila's sexual coming-of-age, writing uneuphemistic descriptions of her characters' first sexual encounters, experiences with sexual assault, sex within marriage and extramarital affairs.
4. Ferrante shows you the feminism of the 1960s.
Although Ferrante's novels are centered around Elena and Lila's friendship, they also show how drastically the world changed in the 1950s, 60s and 70s. We see the impact of the sexual revolution, the Pill and feminist academics on Elena and Lila's lives.
5. Ferrante is anonymous — despite the literary world's sexist reaction.
Ferrante insists on remaining anonymous and does little to promote her books. Of course, some critics have speculated that this means that she must be a man. We've seen this same sexist reaction to anonymous or simply private female writers from Jane Austen to Harper Lee.
"I believe that books, once they are written, have no need of their authors. If they have something to say, they will sooner or later find readers; if not, they won't," Ferrante wrote in a letter to her editor in 1991. Obviously, Ferrante's novels are have found plenty of readers — and have so much to say.
Read more on BUST.com:
Thirteen Books By Women You, You, You Oughta Know
Judy Blume Hates That Feminism Is A "Dirty Word"
Carrie Brownstein's Book Tour Will Feature Amy Poehler, Aidy Bryant And Questlove
Grace Jones Slams Madonna, Beyoncé, Rihanna And Every Other Pop Star In New Memoir
Before she sang the iconic Pull Up To The Bumper, or appeared as a Bond villain in A View To Kill, Grace Jones had her first orgasm.
In her memoir, ironically titled, I'll Never Write My Memoirs, Jones describes her tears and feelings of "fireflies scattered through the sky" when she arrived to the magical land of orgasm for the very first time. And that is only one of the stories we get to hear from the '70s icon who was queen before Bey–and she won't let anyone forget it.
The 384-page memoir is set to be released Sept. 29, and it journeys from Jones' childhood in Jamaica all the way to her criticism of celebs like Miley Cyrus, Rihanna, Lady Gaga, Beyoncé, and Madonna calling for them to find their own voices instead of borrowing from her legacy.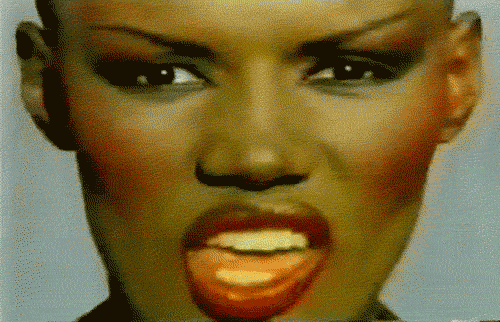 "It all backfired on me, because I set out to inspire other people, but those I inspire tend not to be inspired in that they do their own thing, but in that they do my thing, a little their way, but not much," Jones writes.
Jones impacted pop culture with her famous androgynous style that defied gender norms, and she is obviously upset that stars like Rihanna have pulled some tricks out of her book. She explains in detail how Keith Haring painted directly on her body, while more recently RiRi was wearing a painted bodysuit modeled after hers. "I don't even know if she knows that what she's doing comes from me, but I bet you the people styling her know," Jones says.
In the center of the book, there is a 16-page treat of gorgeous glossy-print color photos with entertaining captions from the pioneering artist.
The caption for this photograph calls Madonna out for stealing designer Jean Paul Gaultier away from her.
"Performing in 2009 at the Island Records 50th anniversary show in London. A Philip Treacy hat that could lift me into outer space, and a Jean Paul Gaultier corset. I still wore Gaultier even after Madonna stole him from me years before."–Grace Jones, I'll Never Write My Memoirs
Perhaps one of the most enjoyable parts of the entire book is reading the rider listed in the back of the book of the specifics required for Jones at a performance. Between the six bottles of Louis Roederer Cristal Champagne and two-dozen oysters on ice, it is clear that this woman is a queen, but the parenthetical "Grace does her own shucking" makes it dually clear that Jones is also the shucking best.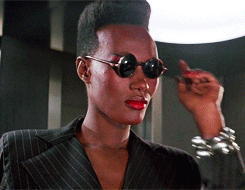 Jones' memoir, as told to Paul Morley, will be released Sept. 29. She will be appearing at book a signing in Los Angeles on the release date, and in New York on Oct. 1.
Images via Afropunk, Haring, UrbanImage.

More from BUST.com:
8 Female Singers To Cure Your Monday Blues
Top 8 Scene-Stealing Lady Sidekicks
This Photo Series Features A Little Girl Dressed Up As Black Heroines And It's Amazing
Carrie Brownstein's Book Tour Will Feature Amy Poehler, Aidy Bryant And Questlove - And We Can't Wait
Carrie Brownstein, who you may know as Portlandia writer and lead actress, guitarist and singer for Sleater-Kinney, and BUST cover girl, is now adding author to her extremely impressive resume. Brownstein's memoir Hunger Makes Me a Modern Girl is set to be released October 27th.
As if we weren't already totally pumped, yesterday Brownstein announced her book tour dates, and the list of guest interviewers she has lined up for the tour sent all of us here at BUST into excitement overload. Some major ones to look forward to include THE Amy Poehler, SNL's Aidy Bryant, Brownstien's Transparent co-star Gaby Hoffman, and Pitchfork senior editor Jessica Hopper.
Here's the full list of tour date, venues, and guest interviewers:
10-27 Brooklyn, NY - WORD Bookstore at Saint Vitus Bar (Questlove)
10-28 New York, NY - Barnes & Noble Union Square (Gaby Hoffman)
10-29 Philadelphia, PA - Philadelphia Free Library at The Merriam Theater (Aidy Bryant)
10-30 Chicago, IL - Pitchfork's In Sight Out at the Museum of Contemporary Art Chicago (Jessica Hopper)
11-01 Austin, TX - BookPeople at Central Presbyterian Church (Liz Lambert)
11-03 Los Angeles, CA - Vroman's Bookstore at Pasadena Presbyterian (Amy Poehler)
11-04 San Francisco, CA - Jewish Community Center of San Francisco (Dave Eggers)
11-05 Portland, OR - Powell's Books at The Newmark Theatre (Special Guest TBA)
11-06 Seattle, WA - Elliott Bay Book Company at The Neptune Theater (Maria Semple)
11-16 Montreal, Quebec - Drawn & Quarterly at The Rialto Theatre (Jessica Hopper)
11-17 Toronto, Ontario - Toronto Public Library's Appel Salon (Johanna Schneller)
Via Pitchfork
Read more on Bust.com:
Carrie Brownstein's Reading List: How Many Have You Read?
Sleater-Kinney's Carrie Brownstein And Corin Tucker Answer Hard Questions From Teenagers
Carrie Brownstein Understands All Your Feelings
Search
On Newsstands Now: Oct/Nov 2015
Trending on BUST