The closest I came to noticing how repressed I was in my teens was the way one particular Star Trek: The Next Generation (TNG) character appealed to me. The connection I felt to a certain android made him my favorite long before I called myself a Trekker, but even though the Freudian symmetry there speaks for itself, there was no way I could have connected our frustrations. There was too much empty space in me for the synapses to fire between my search for the person I could be, and his.
Brent Spiner's Lieutenant Commander Data was a beautiful soul, even though the concept of a "soul," as we know from our Ghosts in the Shell and Blade Runners, gets complicated when it comes to AI.  To develop his own humanity, he yearned to understand what it meant to his crewmates. Studying the theory of laughter, putting extensive research into how one might initiate a relationship, he took great pains to understand the minutiae of joy and suffering across seven years of TNG and well into the film franchise. He even took in a pet cat, Spot, to nurture and care as humans do, without knowing his own expressions of love flowed effortlessly anyway.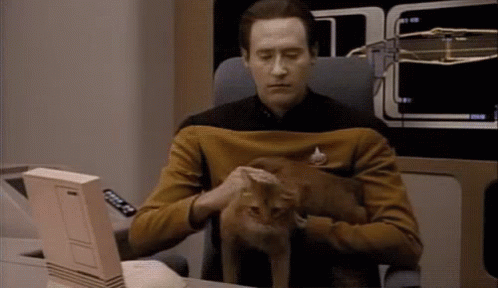 Something about this ongoing existential crisis spoke to me. I wondered how I could be more like Data. There must have been a secret to accepting my flaws as a precious part of my humanity, and finding a loving community that accepted me as I was — like Data, the first serving android in Starfleet, as part of the Enterprise crew. But while Data would find ways to understand humanity in the line of duty, I was apathetic, and didn't even think to turn to more Trek or other sci-fi to answer my loneliness. I would have to endure through my teens and into my twenties before finding there was no hidden key to being accepted. Trying to be as weird as possible got me noticed, of course, but not in the ways I wanted. Instead, the solution was in something that had been there the whole time. An erotic urge that hid in plain sight in a corner of my psyche.
When I was 20, I let my sci-fi geek spirit loose when I was introduced to a little show called Farscape. On an experimental space mission gone wrong, astronaut John Crichton gets sucked into a black hole and spat out onto the bioorganic ship Moya. She's populated by the scum and villainy of planets scattered beyond our known galaxy. D'Argo, Zhaan, Rygel, and Pilot banded together, outcasts all, in the midst of intergalactic conflict while also being chased by the Peacekeepers, monstrous military beings that look like us. A pursuit filled with kinky wonders, the show could use its cult feel to the fullest by exploring interplanetary discovery and relations like Trek, fantastical exploration, religion, myth and faith like Star Wars, but more than either, flesh out their journeys with the grimy underdog of social exploration; the equally uniting and polarising connection of all peoples through sex.
Sadomasochism, the act of physically and metaphysically inhabiting another's body, and the nebulous nature of the female orgasm – all of these are explored in Farscape, and helped me to find new means of self-acceptance and expression. But it also opened a door to seeing other likeminded media in a new light, a more mature way of realizing how sexuality is social, and why I had ignored this key part of myself until then.
Farscape
Getting into Star Trek: The Original Series and coming to know and love Spock, just before actor Leonard Nimoy died, I discovered my own shame in him and his native culture. Stranded between total Vulcan logic and human irrationality, he probably feels the humiliation of Pon Farr more than most of his paternal race. In the series two episode "Amok Time," pitted against a challenger chosen by his betrothed mate and bound by tradition to fight for her affection, Spock must enter into a battle to the death with Captain Kirk; an unwitting rival, as he only came along as Spock's customary entourage of closest friends, completed by Dr. Leonard "Bones" McCoy.
Faced with severing all of the familiar, comfortable bonds he had formed aboard the Enterprise, I now see my own fear reflected. The feeling that if I gave into these strange, powerful desires, that I would be abandoned by anyone dear to me. I hid them from my ex, the denial subconscious at the time, for fear that he would be disgusted with me and throw me away sooner than try to understand. With hindsight, it seems the repression was mutual. It was stifling, just as Vulcan custom smothers their ancient animal ancestry. Like Spock, I had to learn to accept something natural that comes from my experience, my mind, my emotion, my humanity.
The Klingon race, in contrast, has a violent sexuality that's just as deep a part of their societal rituals as war. Sex and violence overlap more naturally than some would realize or feel comfortable with, and I certainly felt ashamed of this side of my own self. As much as Spock and his society feel condemned to repeat their primal urges, burying them deep inside through conventional suppression, Worf's recurrence in TNG and Deep Space Nine brings it around to normalcy, just of different strokes. Their culture is ours intensified, just as built upon empiric violence, familial honor, and sex.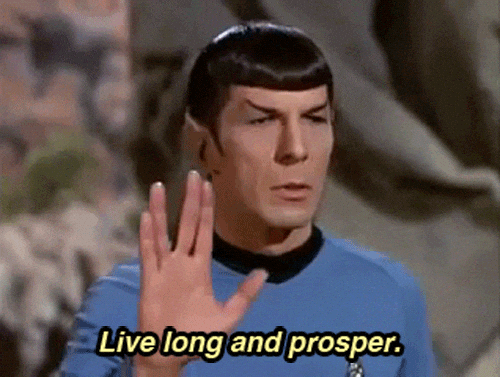 And as for Data, despite his longing for true humanity, one of the baser components is right there in his programming. "In every way, of course. I am programmed in multiple techniques. A broad variety of pleasuring." Well, Data. As far removed as that episode is now, Trekkers and Data's many amorous fans alike will always remember this scene. It does make a resurgence, and you're crushed by the sexual tension when the Borg Queen runs a finger across the living skin she's bestowed on him in First Contact. But beyond that, his sexuality is squirrelled away like a particularly hi-tech vibrator you'd keep hidden in your knicker drawer.
Maybe this is why I couldn't understand my curiosity for being ravaged by androids and alien warlords with suggestively-ribbed foreheads. Maybe I shouldn't have been a Spinerfemme, but one of Spock's girls. I wish I could have spent longer as one of Nimoy's following before he died, because I get the feeling his wisdom, transferred to his pointy-eared performance, would have taught me lessons about myself that I was too shy to ask for from others. But if there's one thing I've also come to learn, it's that worrying about the past can only lead to confidence-sapping dread over how you're supposed to go on. Sci-fi takes me as I am, and lets me see a future where I can be a BDSM submissive by night, and take that courage to the light of day. Data's sensitivity and self-doubt were his human charms, and though they saw him stumble, they were never his defeat.
More from BUST
A History Of Star Trek's Portrayal Of Women
Ten Women We Want To See Play The Captain In 'Star Trek'