In the political hellscape that is 2017, we could all use some Netflix and chill time. And I'm not talking about sex — I'm talking about turning off Twitter for 28 minutes and trying not to draw those inevitable political parallels from an episode of Parks & Recreation. Well, Netflix announced A LOT of news this past week, giving us some binge-watching to look forward to along with the apocalypse:
1. Orange Is The New Black
OITNB dropped a brief trailer for its fifth season, Netflix announced the premiere date (June 9), and actress Danielle Brooks (aka Taystee) revealed that the entire season takes place in just three days: ""I think the stakes are higher in this season than they have been in a while just by virtue of the compressed time and seeing people in compressed circumstance really raises the stakes." The trailer simply shows the faces of some of our favorite inmates before ending with the shot from last season of Daya (Dascha Polanco) aiming a gun at the camera. We're intrigued.
2. Dear White People
You might remember the smart and funny 2014 satire movie Dear White People, starring the wonderful Tessa Thompson. Now, the movie is being turned into a Netflix series, out on April 28th. The first trailer dropped this week, and while it made us mark the premiere date in our calendars, some "alt-righters" (aka white supremacists) started calling for people to unsubscribe from Netflix because the show is "racist against white people" (WHICH IS NOT A THING). Series creator Justin Simien (who also created the film) responded: "Equality feels like oppression to the privileged and thus three benign words send them into a fight for their very existence, which happens to it actually not [being] in any real danger. This is how a minute long date announcement becomes a distorted call for white genocide in the minds of some people. Despite all signs to the contrary."
He also tweeted, "Thanks for helping me make a simple date announcement the most viewed in Netflix history for a new series bro!"
We'll definitely be watching.
3. Anne Of Green Gables
Netflix also released the trailer for the long-awaited reboot of Anne Of Green Gables. Again, it doesn't show much, but what it does show makes us want to see more — especially because Netflix promises that it will explore "timeless and topical issues including themes of identity, feminism, bullying and prejudice."
4. The Magic School Bus
Netflix gave us the dream casting we didn't even know we wanted by announcing that Kate McKinnon will voice Ms. Frizzle in the reboot of every nerdy millennial's favorite childhood TV show.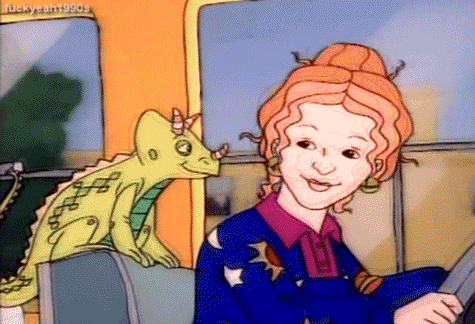 5. Bill Nye The Science Guy
Netflix announced its Bill Nye reboot a while back, but we got the first trailer for the show (out April 21) promises a lineup of celebrity guests (Rachel Bloom! Tim Gunn!), some familiar cheesy special effects (that spinning head!) as well as some sex facts (after Bill Nye's defense of abortion, we're in). We just hope that the theme song will make an appearance, too.
6. Stranger Things
Netflix has been teasing Stranger Things Season 2 for a while, but this week brought us the most info yet, thanks to a new trailer that premiered during the Super Bowl, and a cover and feature in Entertainment Weekly. Season 2 will feature the original cast, but is set one year later; there are some newcomers, it's going to be darker, and the trailer promises some creepy waffles, too.
7.  The Crown

The Queen Elizabeth II biopic announced some new cast members for its second season: Michael C. Hall will play JFK, Jodi Balfour as Jackie Kennedy, and Matthew Goode will play Princess Margaret's husband-to-be Lord Snowden. (Unfortunately, as we know because of history, Philip is still going to be there.)
8. Renewals
Love (starring Gillian Jacobs) has been renewed for season 3 and the OA has been renewed for a season 2! Release dates have not yet been announced.
9. Premieres dates galore!
Netflix also announced a TON of premiere dates: Grace and Frankie returns March 24, NasyGal-inspired Girlboss will premiere April 21, Casting JonBenet arrives April 28, and House of Cards returns May 30. (Among others – these are the ones we care about!)
Top photo: OITNB
More from BUST
Bill Nye The Science Guy Walks The Runway At NYFW, Is Our New Favorite Model
11 Scary-Sweet 'Stranger Things' Gifts
OITNB's Selenis Leyva On Being A Latina Actress And Her New Movie 'Chapter & Verse': BUST Interview