Last week's episode explored two realities — one true, the other alternate — where Abbi and Ilana still became friends. This week, we're back to reality.
Abbi accidentally ships a package to her old workplace, Soulstice, and somehow ends up training Shania Twain (for real this time) with not-so-former-lover Trey. Ilana goes through her own work journey by being hired at a high-end, cut-throat sushi restaurant in Manhattan, run by none other than RuPaul.
Here were our reactions.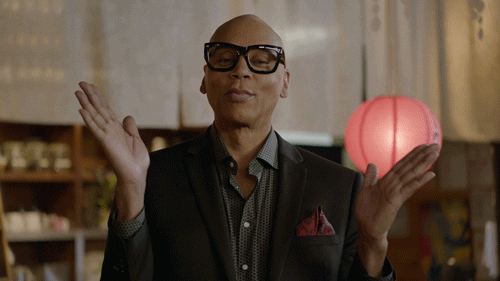 When they were volunteering at a clinic:
Danielle: Oh my god, they're blowing weed on the protesters! They really need that.
Lindsay: Christians have so much pent-up anger about PG-13 sex scenes. This will be really good for them.
On Shania Twain:
Danielle: That's Shania Twain? She's blonde!
Lindsay: You know if you don't like your hair color you can make it different.
Danielle: BUT HER IDENTITY IS A BRUNETTE.
*Two minutes later*
Danielle: That's Shania Twain, right? It's not an actress portraying Shania Twain, right?
*Shania sings "Man, I feel like a smoothie."*
Danielle: *snaps fingers* That's the one.
On RuPaul's restaurant :
Lindsay: SANDRA BERNHARD'S IN HERE TOO? This episode's star power is unreal.
Danielle: Is this RuPaul's restaurant or is it cultural commentary? Is it like this because of RuPaul or is it like, a metaphor? You know the restaurant Dick's? People go there to get yelled at. Is it like that?
On Shania Twain (again):
Danielle: Why would you make up that very specific lie about training Shania Twain though?
Lindsay: Oh my god, Shania's trying to get them off during her training session.
Danielle: SHE'S CANADIAN?
Lindsay: No, the actress playing her is.
Danielle: Her skin is so clear!
Lindsay: Why did Abbi leave while Shania was singing? THAT WAS A FREE SHANIA TWAIN CONCERT.
Abbi's big sex scene:
Danielle: THEY'RE GONNA BAAAAANG.
Lindsay: There it is! Everything you wished for!
Danielle: OH MY GOD? IS THAT WHAT YOU DO WHEN YOU HAVE A BONER? WHAT IS HE DOING? IS THIS A SECRET AMONG MEN?
Lindsay: Wait. Did he have a magnifying glass? Oooooh. It's a mini fan! Why can't he just go in the shower instead of using circulated air?
Danielle: Is there something I missed out on in sex ed?
Lindsay: Yeah, I definitely never learned about boner maintenance.
On Shania Twain (we know):
Lindsay: What if "Shania Twain broke my dick" was your party story?
Danielle: One time at a party, my friend told a cute girl his grandpa invented the Glow Stick. I thought he was just trying to impress this girl, but his grandpa really did invent it.
Trying to grasp this episode:
Danielle: She never got her package!
Lindsay: There are so many questions I have about this potato and aluminum foil. For one, what happened to her dinner potato?
Danielle: She ate it.
Lindsay: But wouldn't she save it for dinner if it was her dinner potato?
Danielle: But she ate it. I don't know what else to tell you… But is this tin foil some pop culture reference I'm missing out on?
Lindsay: I don't. I … no.
Danielle: I don't understand why she put the tin foil in the toilet. Can we agree that we didn't understand this episode?
Lindsay: Yes.
On Shania Twain (this is the last time, we promise):
Danielle: I still don't think that's her.
Images via Broad City/Comedy Central
More from BUST
 "Broad City" Recap: Season 4, Episode 1 — "Sliding Doors" 
These's A "Broad City" Sex Toy Line, And Yep, There's A Pegging Kit For Bae
Look Inside This Dope New Coloring Book From "Broad City"Look Inside This Dope New Coloring Book From "Broad City"