The Broad City season 3 finale, "Jews on a Plane," left us with Abbi and Ilana being tackled to the ground and accused of terrorism on an Israel-bound plane. In reality, Abbi unexpectedly got her period and Ilana attempted to discreetly crowdsource for a light-flow tampon. (Now we know who uses those.)
But in season 4, we have no idea if they're alive. If they got deported back to the United States. If their bags got lost. Or if they're enjoying their Birthmark trip. That's because the premiere episode, "Sliding Doors," goes back in time to a simpler time.
New York City 2011. Four Loko. "Forget You" by Cee Lo Green. On an iPod nano. #Winning. An Obama presidency. Donald Trump was only yelling at celebrity apprentices instead of literally everyone.
The train is coming, but Abbi's metrocard doesn't have a sufficient fare. Ilana, to the rescue, swipes her in, only to jump over the turnstile because she didn't have enough on her card for two rides.
In the style of the Gwyneth Paltrow movie Sliding Doors, the season 4 premiere, "Sliding Doors," follows two realities. One reality entertains Abbi and Ilana getting on the train and going on with their lives, and the other entertains the duo's first day of stoned hijinks. Fortunately, in both realities, Abbi and Ilana become best friends.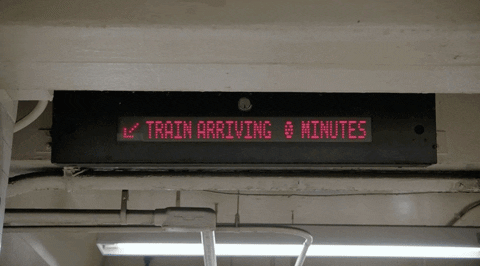 Here are some of our reactions, which you can find every week of season 4.
On the coffee shop scene:
Lindsay: How upset would you be if someone cut off your hair? Like, at least I wasn't murdered?
Danielle: I mean, I wouldn't chase the person who did that. What am I going to do with my hair at that point anyway? You can't glue it back onto your head.
Lindsay: I could do a GoFundMe for a really good haircut and maybe get enough sympathy money to add in some styling tools. I mean, I'd be OK if that were my haircut. That's not bad.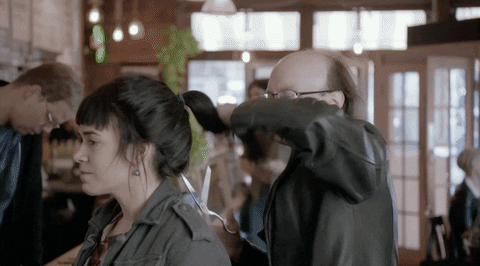 On the creepy guy selling bubble blowers:
Lindsay: Abbi had to pee really bad. Do you think she ever did that or if she wet herself while she was running after her ponytail? THE BUBBLE GUY TOLD HER SHE'D BE WET LATER. IS BUBBLE GUY THE ACTUAL PSYCHIC IN THIS EPISODE?
Danielle: BECAUSE SHE HAD TO PEEEEEEEEE!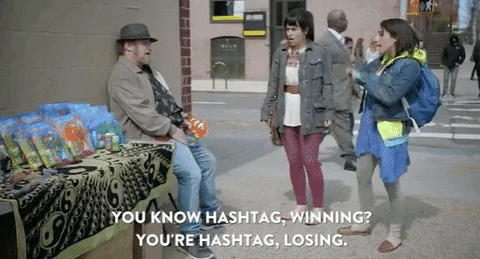 On Ilana's spontaneous presentation at NYU:
Danielle: Is she going to break out into song? Oh my God, this is turning into a musical.
Lindsay: This reminds me of the time I watched my fellow geology students hand in 100-page, bound reports and I had 10 pieces of paper stapled together.


On the suite meeting with all three Madisons:
Lindsay: LMAO THE AUDREY HEPBURN SCREENSAVER. But they are total Madisons tho. OK, which white-girl name do you hate the most? Mine's Ainsley.
Danielle: MELISSA!
Lindsay: This cut deep. I was once the problem roommate in college. Were you the Ilana or were you the Madisons?
Danielle: See, I was an RA, so I was none of them. I would appear later if they needed a roommate intervention.
Lindsay: What would you do if you walked into a… tenant? What do you call the students when you're an RA? Students? ANYWAY, what if you walked into a room and saw a porn wall like Ilana's?
Danielle: I really like the wall. Real creative expression going on there and I'd be for it. No beastality though, that sounds pretty graphic.
Lindsay: Always off the table.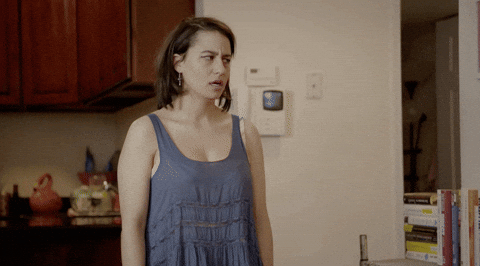 On thinking Abbi and Ilana might not be friends:
Lindsay: How unhappy do you think they'd be without each other? But they could be really driven and financially stable.
Danielle: Ilana would not be living in New York. She would be living at home.
Lindsay: What do you think Abbi would be like? Do you think she would have a cat?
On the plot twist:
Lindsay: THEY TRICKED US OH MY GOD. BUT ALSO, DON'T FUCK WITH PSYCHICS.
*two minutes pass*
Danielle: OH, THEY TRICKED US!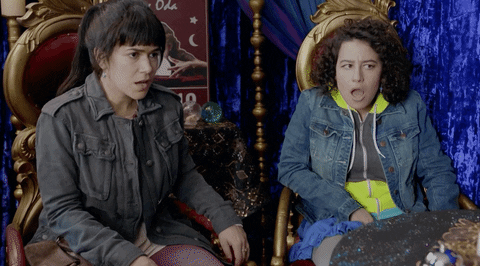 Images via Broad City/Comedy Central
More from BUST
There's A Broad City Sex Toy Line, And Yep, There's A Pegging Kit
"Broad City" Is Back For Season 4 With A "Fuck You, Trump""Broad City" Is Back For Season 4 With A "Fuck You, Trump"
"Broad City," Sarah Silverman, Janet Mock And More: BUST's Best Bets For September 2017
Lindsay and Danielle are Philadelphia-based freelance writers. Midwest native Lindsay's work, which you can learn more about on Twitter, has appeared on Care2, the Huffington Post, and One Green Planet among others. Wannabe Midwest native Danielle's work, which you can learn more about at daniellecorcione.com and on Twitter, has appeared in Teen Vogue, Esquire, and more.