Amy Schumer says she will no longer take pictures with fans thanks to one South Carolina man. This Saturday, the Comedy Central star posted a photo of a man on Instagram explaining the incident that brought on this new no-fan selfie policy.
She wrote, "This guy in front of his family just ran up next to me scared the shit out of me. Put a camera in my face. I asked him to stop and he said 'no it's America and we paid for you' this was in front of his daughter. I was saying stop and no. Great message to your kid. Yes legally you are allowed to take a picture of me. But I was asking you to stop and saying no. I will not take picture with people anymore and it's because of this dude in Greenville."
The asshat in question is named Leslie Brewer and following the incident, he reached out to FOX Carolina to tell his side of the story. He insists that Schumer's account of what happened is not accurate.
Brewer says he pulled out his camera to record the celeb but stopped recording when she asked. He may have stopped recording, but in the video he posted to Instagram, Schumer says, "That's rude. Can you delete that?" Obviously, he did not delete it because it's still on his Instagram. The caption of the now viral video says, "Amy Schumer just got mad at me and cussed me out lmao!!! Awesome."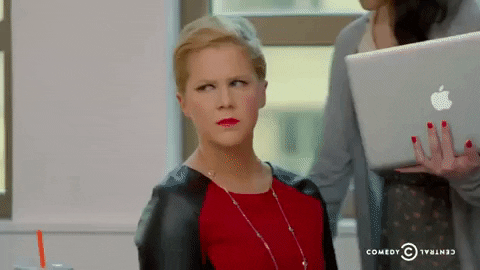 Later that day, Schumer returned to social media to reassure fans that she will still take pictures with "nice people" when she chooses to, but she says she doesn't owe anyone anything, and we agree. 
Images via Inside Amy Schumer, Instagram//Amy Schumer, Instagram//Leslie Brown, giphy, Twitter//Amy Schumer
More from BUST
Amy Schumer's 7 Most Hilarious Sketches
Famous Plus-Size Model Amy Schumer Goes On 'Tonight Show'
Amy Schumer Does Not Belong In Glamour's 'Plus Size' Issue. Let Her Tell You Why.