Happy 4/20 to all you hophead hotties! As a lady stoner, I am always seeking representation in TV and movies. There may not be a vast array of women who love weed, but there have been some high-quality female potheads popping up in media throughout the years. Here are 12 fictional stoner chicks we wish we could light up with: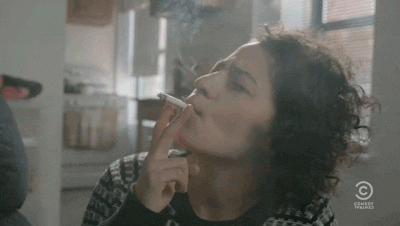 Ilana and Abbi — Broad City
The most obvious and boisterous ganja girls of today are Ilana and Abbi from Broad City. Those babes toke up with abandon in an NYC where it always seems to be summer. 
Frankie — Grace and Frankie
Toking up is not just for the youth. Frankie (Lily Tomlin) frequently lights up to free her mind and chillax.
Jackie — That 70s Show
That 70s Show wouldn't be half as amazing as it is without the smoking circles of every episode, and those circles would be totally lame without the coolest chick in the bunch. Jackie (Mila Kunis) may be uptight, but she still lights up with regularity, earning her the stoner title in our book.
Samantha Jones — Sex and the City
The ladies of Sex and the City aren't your typical potheads, but they do toke up from time to time. Samantha (Kim Cattrall) especially knows the value of a good stoned bone.
Penny Lane — Almost Famous
You don't tour with Stillwater and not get stoned every night. Penny (Kate Hudson) is the stoner babe of every music nerd's dreams.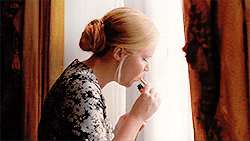 Amy —Trainwreck
Trainwreck centers around a woman who likes to party and drink and, of course, hit that one-hitter like it's her job—but it's not because she is a journalist who actually has her shit very much together for a movie called Trainwreck.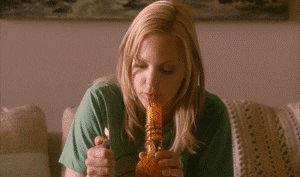 Jane — Smiley Face
Jane (Anna Faris) is most definitely the most stereotypical stoner on our list. She hits bongs on the daily and the idea of working seriously bugs her out.
The ladies of 9 to 5
Lily Tomlin, Jane Fonda and Dolly Parton have themselves an old-fashioned pot party and teach us that weed is a gateway drug for women's liberation.
Nancy —Weeds
Nancy (Mary Louise-Parker) is the stoner, dealer, badass mother we all aspire to be.
Mickey —Love
Mickey (Gillian Jacobs) is the kind of pothead that knows a good hotbox can cure anything: a hangover, an awkward first encounter, or that sensation of not being stoned.
Lynda P. Frazier — United States of Tara
Lynda (Viola Davis) is the fun, feminist friend everyone needs to smoke and chill out with. Lynda was there to encourage Tara both professionally and—like any good stoner friend—artistically.
Michelle — Dazed and Confused
This list of ultimate pothead ladies would be incomplete without Michelle (Milla Jovovich) from Dazed and Confused. Although most of her lines were cut because, you know, Hollywood, she is the all-time stoner babe. She plays guitar and lights up at every chance.
Happy Holidaze to all you chill stoner babes out there!
More from BUST
9 Weed Accessories To Celebrate 420
5 Sweatpants That Won't Lead To Divorce
Whoopi Goldberg Wants To Cure Your Cramps With Cannibis