Picture via Myspace
I show up bleeding from my left eye, dressed in fishnet thigh-highs and garter clips, a black and silver silken corset, brown hair piled on my head like a sloppy noose or a cinnamon roll. I never meant to be a part of neo-burlesque when I came to New York, but it happened and here I am with the bandleader outside Duane Park as he double-takes at my eye while I pay off the cab.
"Alabaster," his trumpet, dangles on two long fingers, "What the hell took you so long?"
 I slur, "Weather, eyelashes, finding keys," bustle my body into the back dressing room where Clams Casino stands in her pasties, double-fisting whiskey from rocks glasses. Or is that another room? Maybe the Starliner Lounge, what we call Corio, some place in Soho, where we put on a weekly noir strip show with live music (same bandman) and a major beauty with a shelf of boobs and a double-D set of pipes (name's Broadway Brassy to those in the know).
It's 2007. For $50 a night, I'm a stage kitten for hire, wearing pumps and panties for a crowd. I come out and bend over between acts, pick up boas, bras and anything solid or slippery the real dancers left behind.
Photo via Flickr
There are countless ways for a girl to get nearly-naked. There's the glove pulled with grit teeth. The slow shimmying down of a floor-length fringe dress. A quick tear of velcro lining an otherwise 100%-librarian "button-down" shirt.
I watch the girls take it off from off-stage, the reed-like redhead Weirdee Girl, the dead-eyed bombshell Ruby Valentine, the time-step wiggling Potani Sisters. I watch them all, but I watch their clothes more. I mark where each lace bra and sequin mesh falls so I can retrieve them in time for the next Calamity Chang or Lux LaCroix to bare all.
These are women, I reminded myself. Women in New York and now I'm one, too. The bandleader pulls me aside after the show. Is it the show where my eye bleeds, or the one where I fall down onstage? The one where my ex-boyfriend's brother sits in the audience, then tells me you look real nice and I say, "Want to buy me a drink?" like the words come readymade in my mouth? Every day, the bandleader asks if I'd like a routine. He'll play the trumpet for me, he says, any song in the whole world I like.
I hit bottom just left of Ruby Valentine's veil. I drink a bottle of white wine at work, skip out early, slip out of my clothes in the back of a cab, hit the side of my face on the side of a door, limp around in my stage kitten outfit, join the dancers in the backroom for drinks. After, I meet with the audience, the ex-boyfriends, their brothers at the one, two, three, any, bars that I like.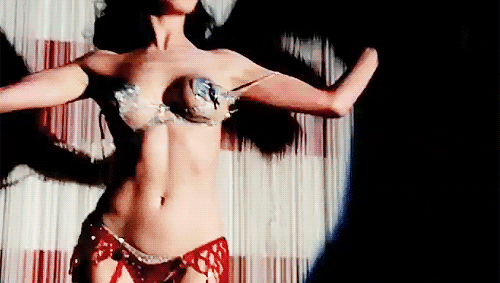 Now it's 2009. Every night is the same night. I'm a Woman in New York, proper nouns, I live in the Lower East Side in a walk-up with strangers, a bartender-musician, an American Apparel shop girl. It's true what they tell you she tells me. He's a sick fuck. Can you make me a drink? One of the roommates beats up the other. This, I think, is what they call real love. I slide in and out of the kitchen halfway conscious for negronis while the smack of flesh is followed by screams. I pass out on a mattress on the floor in a room with three bright yellow walls, my underwear on a bookshelf, pigeons warbling copulations in the air chute outside. Every now and then my door opens. A strange face, always male, gazes down through the light. "Sorry," he says, like he actually means it. I put my arm over my eyes, pretending to sleep.
When I was eleven, my friend Liz turned our camp cabin into a legend when, after lights out and chaperones gone, she burlesqued her way between bunk beds, sashaying hips, rubbing skin against wood, making up a breathy, undulating song. "Mr. Wall. Can you feel me? Mr. Wall."
We laughed until our stomach dropped, sixth grade girlie gonads slipping down to line our womb's thickening, throbbing floor. A shag carpet of hormones— this kind of awakening sparks from sleepovers and summer camps everywhere. Everywhere girls feel something slick and warm and erogenous enter into our lives. That weekend we began to transform into sexual beings, millimeter by moist millimeter at a time.
From Mr. Wall to the burlesque goes like this: I grow up in the San Fernando Valley of California, the capital of adult entertainment. I learn at the end of the day, a woman with genitals (any genitals) has still got a job. I grew up in the center of the adult film industry, after all. The San Fernando Valley? The San Pornando Valley, a joke I learn at sixteen. Before I lost my virginity, I hear my mom mention love letters from convicts, MILF scenes, and swing parties. She teaches me never to doubt the power of sex in a chauvinistic world. She offers me her old fuck-me pumps. She tells me always be kind, but implies never let another person stand in your way. Now in New York, my stage kitten heels aren't BDSM gear. All the same, I feel a gin-slickened comfort when I recognize the family business. Leaving home, I find myself in her shoes.
The first time I take my top off in a room full of strangers is my fifth class at the New York School of Burlesque. The first time I rub my butt on a chair in a room full of strangers is a few months before that. My sorority sister, Amy, and I sign up for a ninety-minute session of Striptease Dos-and-Don'ts the day an actor-bartender-boyfriend of mine tells me he couldn't play these games anymore. Or is it the trust-fund son of the genius? Or is it the food writer twenty years older than me? Either way these games involved me running in front of cars crossing Ninth Avenue shouting if I die I don't care and I know you don't either. These games involved me sleeping with other men because I needed to be free. But not free like single, just free. These games involved me biting so hard in bed we have a talk. Why can't you be gentle? Girls should be gentle.
Girls should be…
In Striptease Dos-and-Don'ts, we squat as low as we can while a busty woman in hot pants named Gal Friday shouts "Lower! Lowww-errr!" and tells Amy, buttocks mere inches from ground, "Great job. You're a natural."
One time I regain consciousness in a coat-check for a booze-soaked hotel pool party and a man I don't know has his hand down my top, cupping my breast. Or is it being stuck on a subway car with a man jerking off? Or is it the guy I went home with who wakes me up twice already inside me even though I don't know his name? I tell him stop and he won't until I literally have to come to enough to push his body away. Every time while it is happening I feel a rush of memory like blood to the brain: this has happened before. This will happen again.
I am a Woman in New York. I refuse to feel pain.
I bend over in a chintz-patterned room to pick up stray fuchsia feathers and the inside out condom fingers of a glove. Here is a new thought for me dropped on the floor: what is sexy if not power? It is not power here. Sequins glued over nipples? My mom to her fans? Me to the front row, as I fold at the waist? Sancerre, Fruilano, Chablis in my veins?
Picture via Pinterest
I end up in a threesome with an en-fiancéd Mad Men-ish journalist and his Ice Road Trucker friend. I'm on a PR mission, hoping to get my client press. (This is the day job I speed to burlesque from.) While they peel clothes off me, my boyfriend sleeps down the hall. The Mad Man and Ice Road Trucker and I drink until our faces fall off with our underwear. Hours of arguing over if I need drugs to be fun in a glass-walled penthouse overlooking the Atlantic City lights. Then the Ice Road Trucker concedes. "Yeah, you don't need coke, you're crazy enough as it is."
He photographs me as I lay on the sheets, as the Mad Man gets up and showers, as the sun comes over the ocean and I am forced to remember I am slightly more than a body. It is better in the black out, the high heels, the dissolve. After I come to New York but before I get sober, during the long stretch of limbs that turns me into not just a Woman, but also New York (for I am part of it now, as much its dirt as my skin) – that whole time: am I burlesquing?
Even now: am I not?
Sooner or later, my eye stops bleeding, or the show ends, or the bus arrives, or my mom stops giving me secrets, or her love runs out and the world goes cold and I find my dress with the other girls' in the pile and the bandleader stops worrying and the whiskey stops working and my body loses magic and danger all at once. I put my coat on. I walk outside. No one catcalls me, or they do and I don't hear them. Or they do and I don't grab the words in my hand to pump up and down in their face. I let them talk without letting myself hear it. I find the horizon. I walk west, just myself, towards the sun.
This piece was originally published in The Pinch, Issue 35.2. Reprinted with permission from The Fem.
Cait Weiss has been published in FIELD, The Pinch, Tupelo Quarterly, Slipstream, Anomalous, and The Cortland Review among others and has been named a finalist or honorable mention in poetry contests by Tupelo Press, Crab Creek Review and AWP's Intro Journal Project. She has served as a Poetry Line Editor at the Los Angeles Review of Books, founded and facilitated the Ohio State University's MFA Community Creative Writing Workshops in Columbus-area public high schools, and currently teaches Multi-Genre Creative Writing at OSU while serving as the Online Editor of The Journal.
More from BUST
Beautiful Aging Burlesque Stars Sit For Striking Portrait Series
Check Out These Rad Photos Of Mid-Century Burlesque Babes!
Become A Vintage Vixen With This Monthly Dress Subscription