*Spoilers for Gilmore Girls: A Year In The Life below, though it's been four months and you really should have watched it by now, or at least not clicked this link if you wanted to remain un-spoiled.*
When the Gilmore Girls revival season ended with those long-teased four words — "Mom?" "Yeah?" "I'm pregnant." — we thought that Netflix was setting us up for a sequel, even though creator Amy Sherman-Palladino has said in interviews that she's had those in mind as the FINAL four words from the very first season.
Turns out we were right — maybe. Netflix's chief content officer Ted Sarandos has revealed that Netflix is in talks with Amy Sherman-Palladino and her husband and executive producer Daniel Palladino about another season.
Asked if there could be more seasons of Gilmore Girls, Ted Sarandos told Britain's North-West Evening Mail:
'We hope. We obviously loved the success of the show, fans loved how well it was done, it delivered what they hoped. The worst thing is to wait a couple of years for your favorite show to come back and for it to disappoint you but they sure delivered and people were really excited about more and we have been talking to them about the possibility of that.'
He added that the talks were 'very preliminary."
In interviews, Sherman-Palladino has been pretty coy about the possibility of more seasons. In November, she told the Hollywood Reporter:
'We really had a very specific journey in our minds and we fulfilled the journey. So to us, this is the piece that we wanted to do. And the whole thought about, 'Is there more, is there more, is there more?' — this has to go out into the universe now. We've got to put this to bed. And then whatever happens, happens.'
The latest season had its good points (Emily's grief plotline; Lorelai and Emily reconciling; everything Paris Gellar) and bad (the fat-shaming and trans jokes; Rory failing at journalism and being overall extremely annoying; THE FUCKING STARS HOLLOW MUSICAL). I've just about given up hope on Gilmore Girls ever giving Lane the becoming-a-rock-star storyline she deserves, or even an interesting scene or two.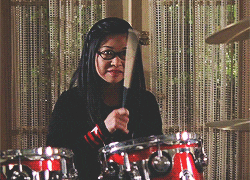 But if it happens, I'll definitely be watching. And I'm hoping the inevitable answer to the "who is Rory's baby daddy???" plotline is the Wookie.
Top photo: Netflix
More from BUST
What's On Rory Gilmore's Bookshelf?
Gilmore Girls: A Year In The Life — The Good, The Bad, And The WTF
I Discovered 'Gilmore Girls' After My Mom Died, And It Helps Me Remember Her