At this year's Comic-Con, women aren't just dressing up as characters from their favorite movies and TV shows, like Inside Out—they're leading and speaking on panels and taking the reins with their version of feminist fandom.
"It's a newly visible thing," Sam Maggs stated in an after panel interview. The panel, "Nobody's Damsel: Writing for Tomorrow's Women," discussed the role women play in entertainment and how future writers, actors, and producers "can create characters that are relatable to the upcoming generation of women."
Maggs is no stranger to the topic, coming from a background of feminism and fan girl culture. In May, she published "The Fan Girl's Guide to the Galaxy," and regularly contributes to The Mary Sue.
While the change in attendees at comic-con is evident – at least half are women – the industry isn't seeing the same effect. Only 13 percent of comic and game professionals are women. This means the other 87 percent has little understanding of what real women – the women who make up half the geek culture audience – want. Can we expect a new game to include all voices with these kinds of numbers?
According to Maggs, the future is bright thanks to social media – giving women a chance to speak freely about what they want. If this is true, and Marvel or DC will start to take women seriously, then let it be known:
We need more female superheroes that are equally as badass as the men who grace the covers (not just Scarlett Johansson in a tight-fitting suit standing in the background) and better-developed women protagonists in video games. We want depth and a storyline that will make fans – men and women – want to be her.
When we take a step back to analyze the industry, there are few female characters that stand out. Most recently, the popular video game Tomb Raider received a makeover. Protagonist, Lara Croft, is more rugged, more human, and even passes the Bechdel Test (unlike the movie). We see a character as admirable as Scott Pilgrim or John Marston from Red Dead Redemption. This new Lara Croft no longer caters to men with a lust for large-breasted women they can control, but to a generation of female gamers who want a storyline with a female they can relate to.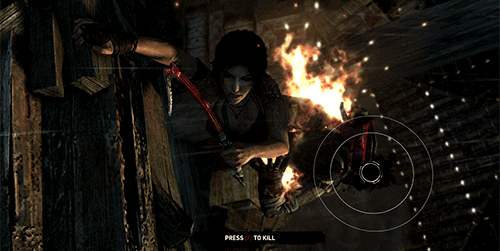 Unfortunately, Tomb Raider has long been popular and is only one example. If Maggs is right, and this is due in part to social media, then we can certainly be giddy towards the future.
Let's hope Maggs is right. 
Original article via The New York Times
Photo via USA Today

Read more on Bust.com
Cara Delevingne Says Superhero Movies Are "Totally Sexist"
Watching Female Superheroes May Make You Feel Bad About Yourself, Says Science
Marvel's CEO Says Women Can't Carry A Superhero Movie, And Here's Why He's Wrong