Friday September 26
Since the termination of the Miss Rockaway Armada in St. Louis last
summer, former crew members have been collaborating on new creative projects that have grown out of the energy of the Mississippi river. After an installation at MassMOCA last April, the crew was invited to create an installation in Amsterdam to coincide with the American elections. Now they need the cash to get there and buy materials!
Two floors of ceiling shaking goodness to twitch your tail to. Bands
downstairs to thump your toes to: DARK DARK DARK, The GAMUT, VAMPIRE
HANDS, U.S. GIRLS, Trillions of Gallons of Gas and Brownbird Rudy Relic; Tunes upstairs to shake the rest of you: DJ DIRTY FINGER DJ RUSTY LAZER playing new orleans bounce; live silkscreening to make you look good while doing it plus cheap tacos & beer.
Surreal Estate
15 Thames St, between Morgan Ave. & Bogart St., Brooklyn
9pm doors-late; $5-$7 Suggested Donation
www.missrockaway.org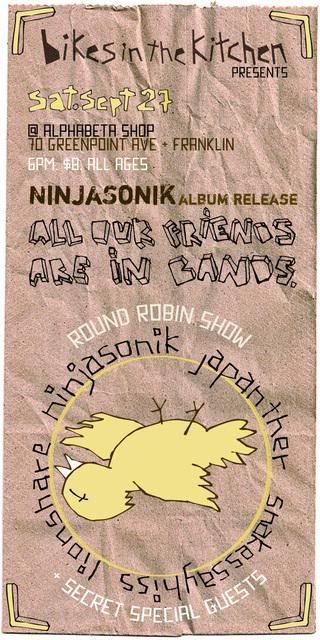 Saturday September 27th.
 Bikes in the Kitchen release party for 'ALL OUR FRIENDS ARE IN BANDS' Remixes of all the homies by the the homies (ninjasonik!) Our (Callie, Master Ripps, and myself) band is playing!
Round Robin show with:
Japanther
Ninjasonik
Snakes say hiss
3-Pacs
Lionshare
+ DJ DirtyFinger and Rusty Lazer
@ALPHABETA 70 greenpoint ave……
$8 all ages.