We already rounded up the Oscars moments you should care about, including wins from Moonlight, Viola Davis, and Mahershala Ali. But we think you might enjoy an Oscars-related laugh as well. Here are the best memes from the 2017 Oscars:
1. And the Best Picture goes to…
Twitter/Jen Lewis, @thisjenlewis
When the La La Land/Moonlight switch up happened, a La La Land producer held up the Best Picture card to show that he wasn't kidding when he said that Moonlight was the real winner. Now, people are photoshopping the card to show other winners — like Beyoncé's Lemonade or Hillary Clinton for the 2016 elections. (IF ONLY.)
Twitter/rachel, @ohhoe
2. Steve Harvey's, M. Night Shyamalan's, and Miss Universe's reactions
Twitter/Steve Harvey, @IAmSteveHarvey
Steve Harvey, Miss Universe, and M. Night Shyamalan had great responses to the mix up.
Twitter/M. Night Shyamala, @MNightShyamalan
Twitter/Miss Universe, @MissUniverse
3. Plus this work of art…
Twitter/rafael, @rafaeljkls
4. Mahershala Ali with his Oscar
Twitter/Michael Brown, @boyinquestion
Another expert Photoshopper edited the scene from Moonlight where Mahershala Ali's character teaches Chiron (Alex Hibbert) to swim, replacing Chiron with a giant Oscar.
5. Me or my self or my other self
Twitter/@DAREDEVIILS
A perfect twist on the "don't talk to me or my son ever again" meme, starring the three actors who play different ages of Chiron in Moonlight.
6. Leo and his Oscar
Twitter/Keely Flaherty, @flahertykeely
Leonardo DiCaprio may have finally won an Oscar last year, but that didn't stop the Leo Oscar jokes.
Twitter/#1 Rachel, @rachel
7. Asian representation
Twitter/Preeti Chhibber, @runwithskizzers
Quite a few white actors who have played whitewashed Asian characters were on the red carpet or up for awards — which led to a few great tweets.
8. Gary from Chicago

Twitter/Alex Medina, @mrmedina
Gary from Chicago was the only bright spot of a cringeworthy prank in which Jimmy Kimmel brought in some plebs from a tour bus to be impressed by all the celebs. Tourist Gary from Chicago introduced himself to the crowd, as well as a ton of celebs — and when Jimmy Kimmel asked him if he was ignoring white celebs, he had a great answer.
9. Nicole Kidman's clapping
Twitter/#1 Rachel, @rachel
Just……..what is this.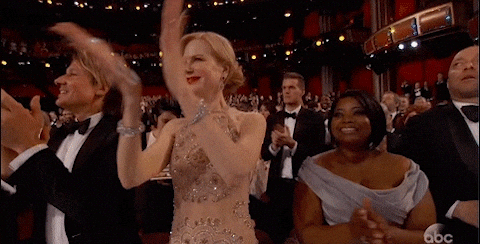 More from BUST
11 Oscars Moments You Should Actually Care About
And The Ultimate Winners Of The 2017 Oscars Are…Men!
'The Edge Of Seventeen' Director Kelly Fremon Craig On Making Not-A-Teen Movie and Hailee Steinfeld's Oscar Snub: BUST Interview