As many of you BUSTies know, the holiday season is in full swing, and unless you've been hiding out under a rock, or hibernating in the depths of your over-heated apartment, that usually means a fair amount of travel. Plane, train, automobile or whatever the method, schlepping your tired limbs and overcrowded luggage across state lines can be understandably exhausting.  Well, fret no more, weary travelers, because a certain cat, or girl if you want to buy into that whole politically correct bag, is here to make your flight just a little more fabulous!
EVA Air, based out of Taiwan, has in its possession a HELLO KITTY JET that is essentially a flying ode to anything and everything adorable, from the festooned exterior to the soaps in the bathroom. If you've ever felt you weren't eating enough cheese in the shape of a cartoon character, then this is the airline for you.
Now, to the joy of Hello Kitty fanatics everywhere, the flights are coming to even more locations in the U.S. The jet has only graced Los Angeles with its presence thus far, as well as Paris and several locations in Asia. Houston is her next stop, with a direct route from Taipai to Texas beginning in May 2015.  Featuring 333 seats, in-flight Wi-Fi, as well as text messaging technology so you can send up-to-the-minute snaps of the most epically cute flight of your life, the airline is sure to brighten even the most disgruntled of passengers. Hello Kitty forever!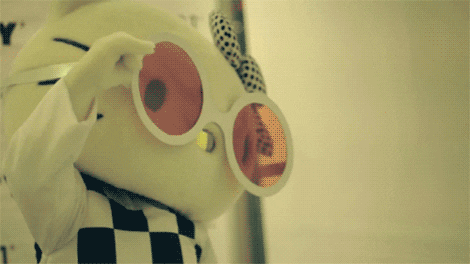 images c/o: Huffington Post, giphy