In what seems like an endless string of heart-wrenching losses, Harper Lee joins those we have to mourn. The author has died at age 89.
She has been with many of us since seventh grade when our English teaches passed out To Kill A Mockingbird— usually the only female author seen on such reading lists. Lee only ever published two books, the 1960 classic To Kill a Mockingbird and the contemporary "sequel" Go Set a Watchmen, but her influence is infinite. Her debut novel won her the Pulitzer and sold over 30 million copies around the world.
Lee was a notoriously private person and managed to spend most of her life out of the spotlight despite being such an influential novelist. The people of her hometown Monroeville, Alabama respected her and rarely gave intrusive interviews.
In the early years of her career, Lee assisted Truman Capote in research and writing In Cold Blood. She conducted interviews on behalf of Capote; his garish personality was often offputting to the locals. However, Harper Lee was able to gain their trust and gather more in-depth interviews. Capote did not include her in the acknowledgements of the book but did dedicate it partially to her. She is reported to have started a non-fiction novel, The Reverend, about an Alabama serial killer that was sadly never published. 
Lee's influence was not overlooked by America, though. Throughout the 1970s and 80s, she held a position on the the National Council of the Arts at the request of President Lyndon B. Johnson. And in 2007, President George W. Bush awarded her with the Presidential Medal of Freedom.
Neither how poorly Go Set a Watchman was received, or the insulting rumors that Lee did not actually write To Kill a Mockingbird, can take away from this quiet, intelligent absolutely resilient woman's legacy. I hope there are hundreds of seventh grade classrooms right now discussing Scout Finch and her endless curiosity and the importance of the amazing woman who created that character. We will miss you Harper Lee.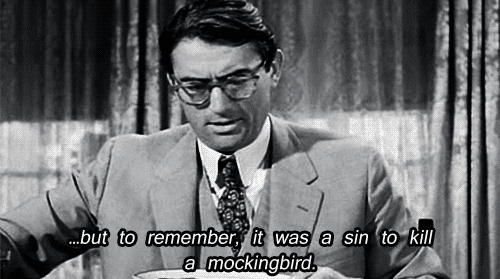 Images via Biography and Pinterest
More from BUST
Women Modernist Artists Painted More Than Just Vagina Flowers
These True Crime Books Will Fill The Serial-Shaped Hole In Your Heart
8 Times Jane Austen Understood Your Love Life